News of all that's transpired on and off the football field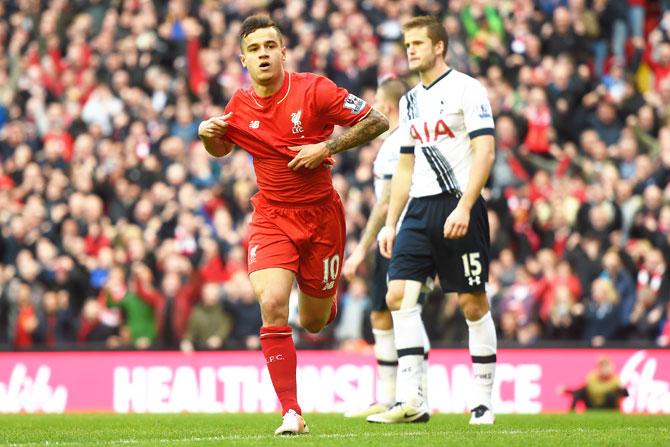 IMAGE: Liverpool's Brazilian striker Phillipe Coutinho. Photograph: Michael Regan/Getty Images
Barcelona are ready to mount a new bid for Liverpool playmaker Philippe Coutinho in January, the club said on Wednesday.
The Catalan side made multiple attempts at signing the Brazilian earlier in the year but according to reports, the Premier League club were holding out for 200 million euros ($237 million) and kept the midfielder.
Barcelona CEO Oscar Grau said the club have a record predicted revenue of 897 million euros for the 2017-18 season, up 189 million on the previous year.
"We are ready to sign Coutinho or any other player the technical staff request in the winter window," Grau told a news conference.
"We want to have the most competitive squad possible. The club will be sustainable, we don't want losses. If that is the case, we will look for means to generate income."
Club president Josep Maria Bartomeu said in October 2016 the club were targeting one billion euros in revenue by 2021.
Barcelona sold winger Neymar to Paris St Germain for a world record fee of 222 million euros in August, before spending an initial 105 million euros on Borussia Dortmund's Ousmane Dembele.
"We're presenting figures for this season which are the highest of any club in the world," added Grau.
"No other teams, even in the NBA and NFL, reach these numbers. The club is on track to hit its target by 2021."
Pakistan barred from international football
Pakistan has been suspended from international football because of what global soccer body FIFA described as undue third-party interference in the country's football federation (PFF).
FIFA said in a statement that the suspension would prevent Pakistani teams, including the national side, from playing in international competition and the PFF from benefiting from FIFA development and training programmes.
"The PFF offices and its accounts remain in control of a court-appointed administrator, which constitutes a violation of the PFF obligations to manage its affairs independently and without influence from any third parties in accordance with the FIFA Statutes," said FIFA.
"The suspension will be lifted once the PFF offices and access to the PFF accounts are returned to the PFF."
A PFF spokesman told Reuters by email they had no immediate comment but were preparing a statement to explain "the background which led to this and also our views on the suspension".
According to FIFA records, Pakistan, 200th of 211 teams in the world rankings, have not played a full international since a 0-0 draw with Yemen in a World Cup qualifier in March 2015.
Pakistan have never qualified for the World Cup.