News of all that's transpired on and off the football field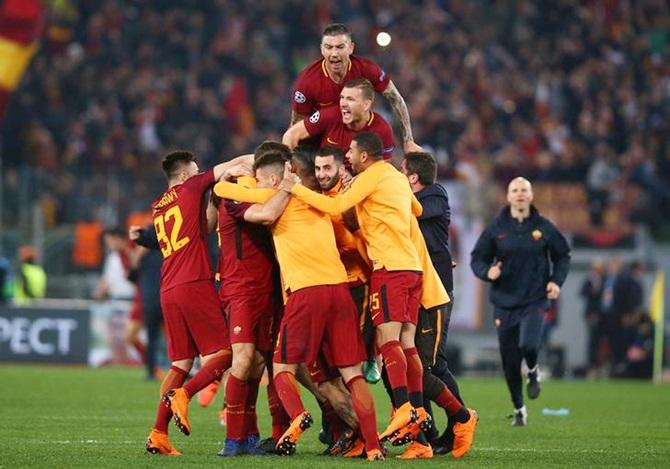 In a novel gesture, Italian football giant AS Roma on Friday announced that it will auction off five match-worn shirts from the first team players to help raise funds for flood-ravaged Indian state, Kerala.
"After #ASRoma's first home match of the Serie A season, the club will auction off five match-worn shirts from our first team players to help raise money to donate to the disaster fund to #RebuildKerala," AS Roma's official English twitter handle said.
Roma will play its first home match against Atalanta BC on August 28 at the Stadio Olimpico in Rome. The Serie A side expressed solidarity and also urged its fans to donate for the cause.
"The thoughts of everyone at #ASRoma are with those affected by the floods that have caused so much devastation in #Kerala. We're in touch with the authorities to see what support we can offer. Fans can make a donation to the relief fund @ https://donation.cmdrf.kerala.gov.in/ ," AS Roma English tweeted.
English Premier League side Liverpool FC also tweeted in solidarity and asked its fans to help the victims of the flood-hit state.
"Our thoughts are with everyone affected by the floods in Kerala. Those willing to help in any way can reach out to our official supporters club in the state - @KeralaReds," LFC India tweeted.
Spanish La Liga winners FC Barcelona had also expressed their condolences to the families of the victims in Kerala.
"FC Barcelona expresses its condolences to the families of the victims of the floods in India and offers its support to all those affected," Barcelona said through a facebook post.
Kerala is struggling to find its feet after the devastating floods that left 231 people dead in a fortnight and displaced over 14 lakh people.
Vieira persuaded Balotelli to stay at Nice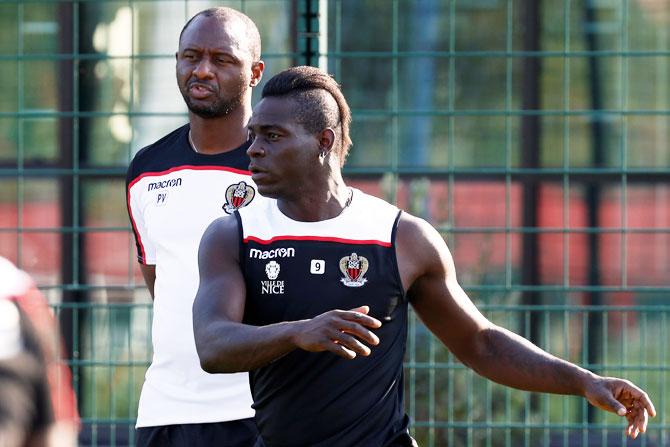 Nice striker Mario Balotelli says he was persuaded to stay at the club by new coach Patrick Vieira despite having offers from five other teams, including one in China.
Balotelli angered Nice fans by missing training sessions during the summer as he weighed up his options before deciding stay on for a third season at the club. His decision was confirmed on Monday.
"I had the intention to leave and the club knew it," he told the club's television channel in an interview, adding that one of the offers came from Nice's bitter rivals Olympique de Marseille.
"I understand the fans but they need to understand my side," said Balotelli, who has scored 43 goals in 66 appearances for the club.
"Nice are not playing in Europe, Marseille are playing in Europe. It's nothing to do with the supporters, I look at what is best, in the end I stay here."
In the end, the former AC Milan, Inter Milan, Manchester City and Liverpool forward said that Vieira "changed 80 percent of my decision".
He added: "It is my choice because nobody tells me what to do. I do what I feel and what I want... the final decision in my career is always mine. I can have people who give me advice but the final decision is always mine."
Balotelli, who in May was given his first Italy outing in four years by new coach Roberto Mancini, said his target of playing at Euro 2020 had dissuaded him from going to China.
"I had a big offer of money from China but not for now... I want to play the Euro 2020 for the national team and if I go to China that would be difficult."
Palestinian FA head banned after call to burn Messi shirts
The head of the Palestinian Football Association, Jibril Rajoub, was banned from all soccer-related activity for a year by FIFA on Friday on charges of inciting hatred and violence before a friendly planned between Israel and Argentina.
Rajoub protested after Israel switched the venue of the June game from Haifa to Jerusalem. He urged Palestinians to burn shirts bearing the name of Lionel Messi if Argentina's star went ahead and played there.
The change of venue came at a particularly sensitive time, after U.S. President Donald Trump had recognised Jerusalem as Israel's capital, infuriating Palestinians who want the eastern part of the city as the capital of their own future state.
Global soccer body FIFA said on Friday its disciplinary committee considered Rajoub's statements "incited hatred and violence". It banned him for 12 months and fined him 20,000 Swiss francs ($20,000).
Rajoub, it said, was banned from "taking part in any future match or competition taking place during the given period". That included attending matches in any official capacity and participating in media activities at or near stadiums on match days, it added.
Rajoub and the Palestinian Football Association did not immediately respond to the announcement. Israel's association declined to comment.
Argentina decided to pull out of the friendly, which would have been their last appearance before the World Cup, as political pressure mounted over the game.
Rajoub has long tried to get soccer's world governing body, FIFA, and the International Olympic Committee to impose sanctions against Israel. This is mainly because of the Israeli government's settlements policy in the West Bank and because it has imposed travel restrictions on Palestinian athletes citing security concerns. Those bodies have not heeded his calls.
Tottenham captain Lloris charged with drink driving
Tottenham Hotspur and France captain Hugo Lloris has been charged with drink driving, British police said on Friday.
Lloris, who won the World Cup with France last month, was stopped by police in central London in the early hours of Friday.
"A man has been charged following a routine patrol stop in Gloucester Place, W1," Metropolitan Police said in a statement.
"Hugo Lloris, 31, of East Finchley was charged with drink driving on Friday, 24 August. He has been bailed to return to Westminster Magistrates' Court on Tuesday, 11 September."
The 31-year-old Lloris joined Spurs from Olympique Lyonnais in 2012 and has made 254 appearances for the Premier League club.
Spurs next face Manchester United at Old Trafford on Monday.
Former Arsenal manager Wenger receives Liberia's highest honor
Liberian President and former football star George Weah awarded ex-Arsenal manager Arsene Wenger with the country's highest honor in a ceremony on Friday for services to African football that included launching Weah's own acclaimed career.
Wenger found Weah playing for Cameroon's Tonnerre Yaounde and brought him to French side Monaco in 1988, paving the way for a career playing striker at some of Europe's top clubs, including AC Milan, Paris St Germain and Chelsea.
In 1995 Weah was named World Footballer of the Year and won the Ballon d'Or, still the only African to win either award.
"You proved yourself as a teacher when you revolutionized forever the approach of scouting young talents all over the planet, particularly throughout Africa," Weah said of Wenger during a ceremony in the capital Monrovia.
Wenger was named a Knight Grand High Commander of the Humane Order of African Redemption, the highest rank in Liberia's Order of Distinction. Fellow coach Claude Le Roy, who first told Wenger about Weah's talent, also received the award on Friday.
Thousands of spectators clapped and cheered as Wenger received his medal in a hall at the national stadium adorned with the national red, white and blue. Thousands more listened to the ceremony on the radio in the stadium, once a shelter for people displaced by a civil war that ended fifteen years ago.
Weah's footballing successes helped launch his political career back home. His unlikely rise, from kicking a ball on the dusty streets of a Monrovia slum to world fame, won him support in one of the world's poorest countries where development has been hobbled by the 14-year civil war that ended in 2003 and an Ebola outbreak which killed thousands from 2013-16.
He succeeded Nobel Peace Prize winner Ellen Johnson Sirleaf as president after a landslide election victory in December last year.
Burnley fan stabbed in Athens ahead of Olympiakos defeat
A Burnley fan was stabbed in the leg and four others were injured in clashes before Thursday's 3-1 Europa League playoff defeat by Olympiakos in Athens, the Premier League club said.
The BBC reported that 23 Burnley fans were arrested for being drunk and disorderly. The club said the majority of their 900 travelling supporters were "impeccably behaved".
"However, five of our supporters were unfortunately injured - including a person who received a stab wound to the leg - and received medical attention at the stadium," Burnley said.
"Those injured all travelled independently to the stadium, outside the organised travel operation."
The defeat was Burnley's first of the Europa qualifying campaign. Chris Wood's first-half penalty cancelled out Kostas Fortounis' opener before Andreas Bouchalakis put the hosts ahead after the break and Fortounis scored his second.