Rinus Michels, the Dutch coach who invented the concept of "total football," died on Thursday aged 77. He led the Netherlands to the 1974 World Cup final and the 1988 European Championship title.
Michels, who had recently undergone heart surgery, died at around 0400 GMT in a Belgian hospital, the Dutch soccer association KNVB said.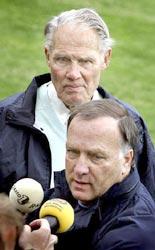 Nicknamed "The General," Michels famously compared football to war and was renowned for his no-nonsense coaching style during a career at clubs including Ajax Amsterdam, Barcelona, FC Cologne and Bayer Leverkusen.
He won the 1971 European Cup with Ajax and the Spanish title with Barcelona in 1974.
"He was one of the best coaches we had in history," KNVB spokesman Frank Huizinga said.
Michels will be best remembered as the architect of "total football" -- in which every outfield player felt comfortable anywhere on the pitch, creating an attractive brand of play which captured the imagination of fans around the world.
In 1974, Michels led a Dutch team built around Johan Cruyff and Johan Neeskens to the World Cup final, where they lost 2-1 to hosts West Germany in Munich.
"He was the man, who together with Johan Cruyff, made Dutch football big," Dutch state secretary for health, welfare and sport Clemence Ross-van Dorp told Dutch news agency ANP.
COACH OF THE CENTURY
Michels, named coach of the century by world governing body FIFA in 1999,
always retained the bearing of a military man. He was stocky, kept his hair cropped short and had a square jaw. His manner was decisive, straightforward and down-to-earth.
Michels played 269 matches as a centre forward for Ajax in the 1940s and 1950s and won five caps for the Netherlands. He scored 121 goals in all.
After his army service he became a sports teacher before embarking on a career as a coach.
He started coaching Ajax in 1965 and by 1971 they were European champions for the first time, beating Panathinaikos of Greece in the final at Wembley.
At the heart of that side was Cruyff, and after Michels left for Barcelona later in 1971 he returned to Amsterdam to sign the great forward for the Catalan club.
After further stints at Ajax and Barcelona, he moved to the Los Angeles Aztecs, then on to Cologne before finishing his club coaching career with Bayer Leverkusen in Germany in 1989.
He lived for soccer and even at an advanced age still went to matches.
He was born Marinus Hendrikus Jacobus Michels on February 9, 1928, in Amsterdam near the Olympic Stadium in the year of the Olympic Games there.
He started his career as a player for Ajax aged 18 against ADO of the Hague, scoring five times in a match which the Amsterdam club won 8-3.
(Additional reporting by Marcel Michelson and Emma Thomasson)