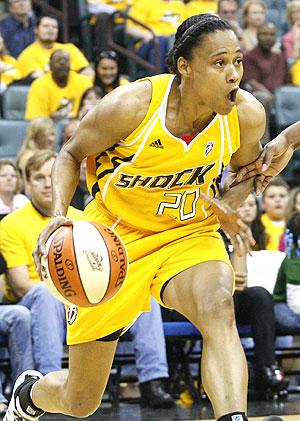 Disgraced former American Olympian Marion Jones made her professional basketball debut for the Tulsa Shock on Saturday.
However, her contributions to the WNBA game were negligible as she had no points to show and spent most of the game on the bench.
Jones played less than four minutes and was held scoreless. She took no shots and had one foul against her name. Charde Houston scored 17 of her 21 points in the second half for Minnesota Lynx.
Eventually, Tulsa Shock lost their inaugural game 80-74 to the Minnesota.
Jones, who won a national women's championship for North Carolina in college, made her return to basketball after more ten years.
Jones was stripped of her five Olympic track medals - including three golds - and served time in prison for lying to federal investigators.
Jones, once regarded as the world's greatest female athlete, insists her return to basketball is not an attempt at redemption and not about the money.
The league's average salary is about $35,000, a fraction of the millions in endorsements and appearance fees she would have earned before her demise.
The 34-year-old is not the WNBA's oldest player but she is the league's most senior rookie.