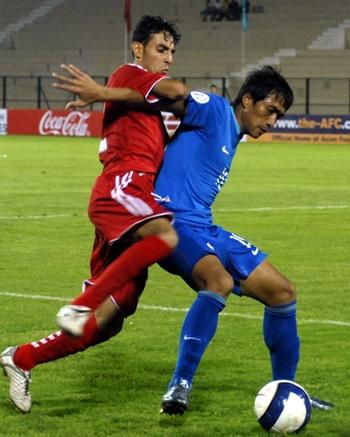 National team defender Gouramangi Singh has begun his two-week trial stint at the Melbourne Heart FC and the coach of the Hyundai A-League side was impressed with the abilities of the Indian.
Gouramangi began his trial stint on Sunday and he is accompanying the team on a pre-season trip to the Gold Coast, where he will feature in Heart's few practice sessions besides playing against A-League side Brisbane Roar in a friendly match at Toowoomba on June 25.
"He did pretty well, showed good anticipation, made some precision crosses and was good in the tackle. He certainly seems to have some good qualities in him and is a quick learner. We shall monitor him more closely over the next week and see how things go," said Melbourne Heart FC coach John van't Schip.
"Despite his age, Gouramangi is very experienced at international level, which is a credit to his maturity and ability to rise to a challenge. While Indian football is very much unknown outside of the sub-continent, we are hopeful Gouramangi will be able to make an impression," said van't Schip in a club media release.
"However, the Hyundai A-League is a very unique competition, requiring a certain set of qualities to succeed, while as a club, we look for players who are adaptable and possess strong technical ability," added the former Ajax and Dutch World Cup star.
The 24-year-old Churchill Brothers centre-back was also happy with his trial stint so far.
"It was great to train with the team today. The training sessions are held at a much vigorous pace over here then back home, but in all, I am content with my performance. I know I can do better, and I will do that in the coming days as my body adjusts to the cold climate," Gouramangi said.
Gouramangi played a pivotal role in India's victorious 2008 AFC Challenge Cup campaign, helping the country secure direct qualification for next January's Asian Cup in Qatar after 26 years.
He was adjudged the 'Best Defender' of the 2008/09 I-League as he helped Churchill win the crown. He has so far earned 21 international caps.
Melbourne Heart FC will make their Hyundai A-League debut this season.