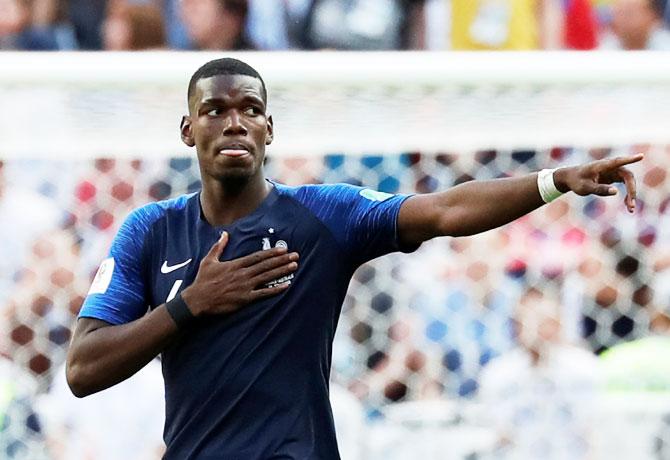 France midfielder Paul Pogba said the finals in Russia might be his last World Cup but he hopes he will be fit for more.
"It might be my last World Cup," the Manchester United player, 25, told a news conference ahead of Tuesday's Group C final game against Denmark.
France have already qualified for the last 16 and will secure top spot if they avoid defeat.
"I'm realistic, we don't know if I'll be called up, maybe other players will be better than me," added Pogba.
"I hope I'll play more. I've already had the chance to play two, some can only dream to play one."
Serbia appeal to FIFA over refereeing in defeat to Switzerland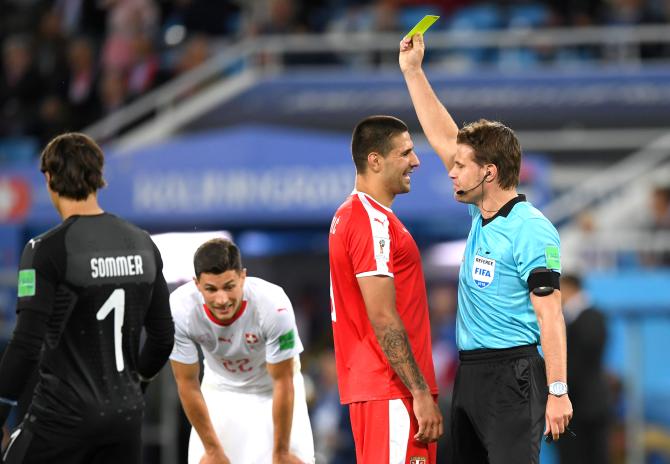 The Serbian soccer association said they have appealed to FIFA over referee Felix Brych's officiating during the thrilling 2-1 defeat to Switzerland on Friday in World Cup Group E which jeopardised the nation's hopes of reaching the last 16.
"We have submitted seven video-recordings clearly showing Brych's tendency to make decisions against our national team," said a statement from the Serbian association.
"The footage reveals Brych's double standards in brandishing yellow cards, as he was quick to book our key players while he didn't do the same in similar situations at the other end."
Chief among their complaints was the decision to not award Aleksandar Mitrovic a penalty in the second half when the game was poised at 1-1, an incident where referee Brych chose not to consult the video assistant referee (VAR).
A strike from Xherdan Shaqiri in stoppage time completed Switzerland's comeback from a goal down and means Serbia face the daunting task of beating Brazil in their final game on Wednesday to guarantee their place in the next round.
If they draw with Brazil, however, they would qualify in the unlikely scenario that Switzerland lost to Costa Rica by more than one goal in the other Group E game.
"The most glaring poor decision was not awarding Serbia a penalty for a foul on Mitrovic with the score 1-1, and awarding the spot kick could have turned the match our way," added the statement.
"The whole world saw the penalty except Brych and it should have gone to VAR analysis.
"We are wondering why Serbia is the only team in the World Cup where the match official chose to ignore controversial situations at it raises the legitimate question whether the VAR is being used selectively."
Swede Durmaz subjected to race hate storm after Germany loss
Sweden substitute Jimmy Durmaz was subjected to a storm of racial hatred and threats on social media after giving away the free kick that led to Toni Kroos's late winner for Germany in their Group F World Cup clash on Saturday.
The stream of abuse on the 29-year-old's Instagram account began almost as soon as the ball hit the back of the net and his team mates jumped to his defence with striker and fellow substitute John Guidetti praising his colleague.
"He ran and fought the whole game, it's unlucky -- it's completely idiotic to subject him to hate for that," Guidetti told reporters.
Durmaz, who was born in Sweden to Assyrian parents who had emigrated from Turkey, played down the abuse.
"It's nothing I'm bothered about," Durmaz said. "I'm here proud and representing my country."
The Swedes looked like securing a draw until Kroos struck deep into stoppage time to secure a 2-1 win and emotions boiled over after the final whistle as an angry Sweden coach Janne Andersson accused German officials of taunting his side.
Sweden substitute Pontus Jansson said he had lost his temper with the Germans but accepted they had ultimately regretted their actions.
"Some of them celebrated in a disrespectful way in my opinion. There was a lot of feelings, we had just let in a goal and lost the game, so it was pretty sour," Jansson said.
"Maybe there was unnecessary anger (from me), but they apologised afterwards so it's just a case of accepting it. There were a lot of feelings in the heat of the moment."
The Swedish tactic of closing down the centre of defence and allowing the Germans space on the wings looked like paying off until Kroos's late goal and they now need to recover and beat Mexico to be sure of advancing to the second round.
"In the dressing room we said we have everything in our own hands," Jansson said. "Obviously we're angry and sad but we need to reload and do it in the next game."
Sweden play Mexico in Ekaterinburg on June 27.
'Modric could be Ballon d'Or winner if he was Spanish or German'
Croatia defender Dejan Lovren says team mate Luka Modric would be a contender for the Ballon d'Or award if he was Spanish or German and is under-valued because of his nationality.
Modric scored a superb solo goal in Croatia's impressive 3-0 win over Argentina and he was also on target, from the penalty spot, in the opening win over Nigeria.
The Real Madrid midfielder has formed a strong midfield partnership with Barcelona's Ivan Rakitic but Lovren feels that Modric's ability is under-rated.
"It is a real pleasure to play with Luka Modric, who is one of the best players in the world right now," said the Liverpool defender.
"Modric would probably be getting more attention than he is right now if he was a German or Spanish player. He would maybe even be a Ballon d'Or winner.
"Because we are a smaller country, he does get less attention than he deserves. But we are all football lovers and we know Modric is an incredible player. He is one of the best in the world right now," he said.
No Croatian has ever won the annual award for the world's best player although Davor Suker finished second in 1998, the year Croatia reached the semi-finals of the World Cup.
With Croatia already assured of a place in the last 16, coach Zlatko Dalic has indicated he will field a largely second string side against Iceland on Tuesday as he looks to protect six players who have yellow cards against their name.
A second yellow would lead to a suspension and while Group D rivals Argentina and Nigeria will want Croatia to go all out for a win, Lovren says they have to think of their own needs.
"I fully understand Argentina's concerns and their wish for Croatia to play a full team for the next game as well. But we must also think about the fact that we should not be playing the players who have yellow cards," said Lovren.
"That's also our concern we need to keep in mind. The coach is the one who will make the final decision. All of us are ready.
"Our goal of course is to get all nine points and we do not think the win over Iceland will be easy. We have played them in the past and we know they are a team that needs to be respected," he said.
Lovren said that Croatia's reserve players had beaten the first-choice eleven twice in three in-house games.
Rakitic, Ante Rabic, Sime Vrsaljko, Mario Mandzukic, Marcelo Brozovic and Vedran Corluka are the six Croatian players who are one booking from suspension.
Missing Argentina soccer fan in Kerala found dead
The body of a 30-year-old Argentina football team fan was recovered from a river near here today, two days after he left home upset over poor showing of the South American team in the World Cup, police said.
Dinu Alex, an ardent fan of Argentina football team and its captain Lionel Messi, was missing since he left his home in Arumanoor near here on Friday, saying, in a note, he was going to end his life upset over Argentina's 0-3 rout against Croatia in the World Cup.
Police, along with the Fire and Rescue service personnel, were searching for his body in the nearby Meenachil river.
It was found in the river near Illickal Bridge, about 10 km from his village, police said.
In a suicide note, which was found in his room, Alex had said he was upset with Argentina's defeat and was going to end his life.
Alex's father had said his son was a great fan of Messi.
Argentina has just one point from two games in so far in the World Cup in Russia.