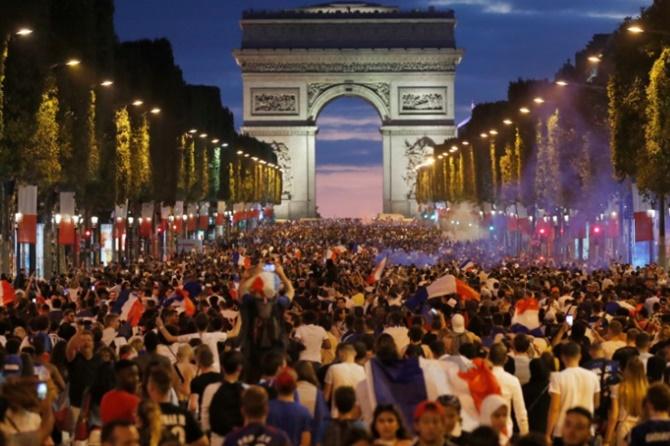 Millions of jaded but jubilant French were recovering on Wednesday after a night of celebration following the team's 1-0 World Cup semi-final win against Belgium, a victory that has generated a rare but contagious mood of optimism.
For those who returned to work, many had barely slept after the spontaneous explosions of revelry, dancing and car-horn blaring from the streets of Paris to the smallest village squares of a nation heaving to the beat of football chants.
The Champs Elysees and the vast circle around the Arc de Triomphe were packed with an estimated 200,000 fans, who danced, sang and drank late into the night.
The immediate question on most people's minds on Wednesday was who will reach the final to face Les Bleus. England and Croatia play in the other semi-final in Moscow at 1800 GMT.
There was no consensus about which team would be a preferable - meaning easier - opponent for France and its hopes of triumphing in a competition it has won just once before, on home soil in 1998.
On social networks, soccer buffs shared space with more light-hearted commentators, some of whom were more interested in the historical and political ramifications of a final face-off between arch-rivals England and France.
"Winning the final over England would be sublime, but losing to them would be so awful that I'm hoping for Croatia," said one Twitter fan by the name of Antoine.
Another contributor made fun of France's rivals on the other side of the channel, saying: "Just spoke to an English friend. He tells me England's playing Croatia on Wednesday. So I'm like, 'What a coincidence. We're playing them on Sunday.'"
French TV channels and radio stations talked about little but soccer, relegating coverage of weightier issues such as a fractious NATO summit to a few seconds. An estimated 19 million of France's 67 million population watched the Belgium game, with that number only likely to grow for the final.
Football pundits and celebrities waxed lyrical about the young French side, particularly lightning fast striker Kylian Mbappe, one of the stand-out stars of the tournament. In Paris, graffiti popped up on one wall reading "Liberte, Egalite, Mbappe!", a play on the national motto of "Liberte, Egalite, Fraternite" (Freedom, Equality, Brotherhood).
In the Belgian capital Brussels, Wednesday morning commuters had to endure more than the pain of the previous evening's loss.
Honouring a bet between the cities' respective metro operators, the Brussels subway train company piped music by late French singer Johnny Hallyday over its sound system.
One member of the French team, towering midfielder Paul Pogba, took to Twitter to dedicate his side's triumph to the team of young Thai soccer players rescued after 17 days trapped in a flooded cave in the country's far north.
Alongside photos of the 12 rescued boys, Pogba wrote: "This victory goes to the heroes of the day, well done boys, you are so strong."