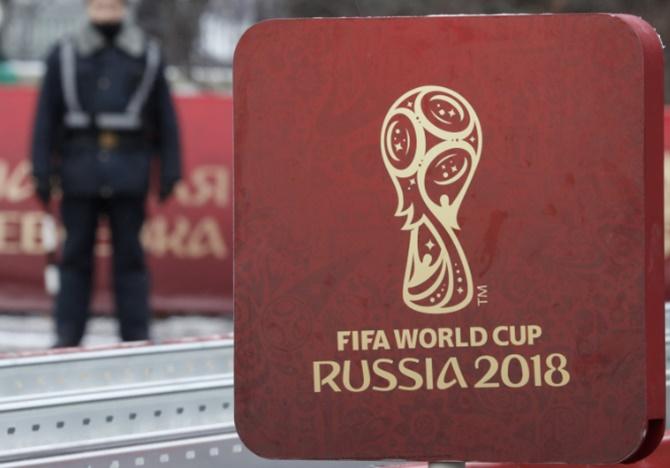 Police staffing is so stretched in several Russian cities as officers are deployed to bolster security at soccer World Cup venues that one union leader says criminals could benefit.
Several police officers in cities across Russia said their staff were working long hours, patrols had been reduced and response times to incidents had slowed.
"The situation is very dangerous …. This could lead to grave consequences," said Vladimir Vorontsov, who represents Russia's Inter-regional Police Trade Union which has 17,000 members.
"You could get to a situation where there are simply not enough police to do the work. And the only people who benefit from that are the criminals."
Russia has deployed thousands of police to the 11 cities hosting matches to deal with an influx of potentially rowdy fans and other security threats such as the risk of Islamist terror attacks. The tournament starts on June 14.
There are about 900,000 police officers in Russia. Reuters was unable to confirm how many are involved in World Cup security.
Vorontsov is pushing for higher basic pay and improvements in other working conditions.
In addition to the rank-and-file officers represented by his union, detectives, special units, anti-extremist specialists and the state security service will also play a major role in World Cup security. Reuters has not looked into staffing levels of these other units.
Soccer's governing body FIFA said it had confidence in the Russian authorities.
"FIFA has complete trust in the security arrangements and comprehensive security concept developed for the 2018 FIFA World Cup by the Russian authorities and the LOC (local organising committee," a FIFA spokesperson said.
"As demonstrated during the FIFA Confederations Cup last year, the high security standards already in place in Russia have been adapted to meet the specific needs of such major sporting events."
Alexei Lavrishchev, who is head of the Main Operations Control Centre for Security at the World Cup, said that police were not overstretched, and that sufficient numbers were available to secure the tournament and cities not hosting the World Cup.
A senior regional police officer told Reuters that officers were on call 24-hours a day and, even when not working, needed permission to leave their accommodation. He said the working day typically lasted around 14 hours.
"The food is dreadful, the conditions are spartan," the officer said.
Vorontsov said officers were paid a per diem allowance of just 200 roubles ($3.23) on top of their regular salary.
"Staff are unhappy, the actions of the commanders are ill-thought out, they (rank-and-file staff) are completely wrung out, there's a big staff shortage, no one wants to join, the treatment of subordinates is inhuman," he said.
Two other police officers gave a more positive picture. They said detectives and special units were working effectively.
Several police officers said that their deployment away from home had contributed to shortages elsewhere. Lavrishchev said police number in other cities were sufficient.
"The whole situation is being completely controlled throughout the country," he said.
De Gea wants Spain's PM to offer public apology
Spain's David de Gea wants the country's new Prime Minister Pedro Sanchez to publicly apologise for comments made about the goalkeeper's alleged involvement in a sexual assault case two years ago.
The Manchester United player was not charged, however Sanchez, who was then leader of the opposition, publicly stated that he was 'uneasy' with De Gea as Spain's number one heading into the 2016 European Championship.
"From the off I gave a press conference saying it was all a lie but people spoke about me," De Gea told Spanish sports newspaper Diario AS. "In the end the truth comes to light and you could see that it was all a lie."
Sanchez visited the Spain World Cup squad last week, of which Dea Gea is an integral member, before they left for Russia, using the occasion to clear the air with the 27-year-old face-to-face.
While appreciative of the personal apology, De Gea believes he should be given a public one.
"I accepted his apology politely. The thing is that what he said back then was in public and for that I think that his apology should also come in public," he said.
"It's also true that the majority of public people have disrespected me and haven't bothered to apologise to me in private. It's easy to talk about others in this country."
A police officer in Murmansk region, in comments also passed to Reuters by Vorontsov, said there was often no one left to go out on patrol, or escort prisoners.
"Regions have been stripped bare," the senior regional police officer said.
Ukrainian hunger striker to Russia on eve of World Cup: I won't back down
A Ukrainian film director jailed in Russia on what he says are political charges has promised to press on with a hunger strike that could end his life while Russia is hosting the soccer World Cup, which kicks off on Thursday.
Oleg Sentsov, who has been on hunger strike since May 14, wants to highlight Russia's human rights record at a time when it is in the global spotlight, and also to secure the release of other Ukrainians jailed in Russia. Sentsov views them too as political prisoners, a description Moscow rejects.
Human rights activists and Ukrainian politicians hope that President Vladimir Putin might release Sentsov and others as a good will gesture for the World Cup or as part of a prisoner swap with Kiev, something Putin has so far declined to do.
More than 50 writers and figures from the arts world, including novelists Salman Rushdie and Margaret Atwood, have written to Putin asking him to free Sentsov, who has said he is ready to die to bring attention to his case.
A Russian military court sentenced Sentsov to 20 years in a maximum security prison in 2015 after finding him guilty of setting fire to two offices in Crimea, including one belonging to Russia's ruling political party, after Moscow annexed the territory from Ukraine.
Sentsov was also convicted of plotting to blow up a statue.