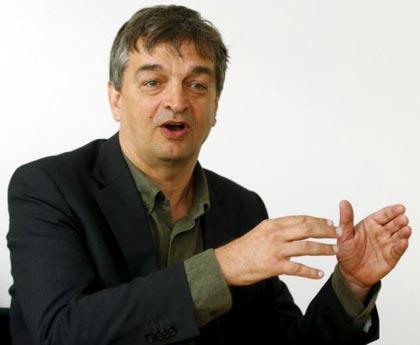 Alarmed at the financial gulf between soccer's haves and have-nots, FIFA presidential candidate Jerome Champagne says a more even distribution of riches will be a priority if he wins election in February.

Making his pitch for the top job at the governing body of a multi-billion dollar sport courted by household name sponsors and broadcasters alike, he says strong governance to spread the wealth is vital for the body engulfed in corruption allegations.

Highlighting the divisions, the former French diplomat pointed out that the top European clubs spend millions on players while Papua New Guinea's football federation struggles to pay air fares for its team.

"The 20 wealthiest clubs in the world have a cumulative turnover of 6.2 billion euros ($6.90 billion) per year, but more than half the 209 national football federations survive with less than 2 million euros a year (each)," he told Reuters.

"The national team of Papua New Guinea plays only two matches a year because they cannot afford the plane tickets. The annual budget is not even half a million euros."

He sees those disparities across the sport - not least in the Swiss city of Zurich, the home of FIFA, and where the election will take place to replace Sepp Blatter, who stepped down after the body became submerged in police and ethics investigations.

"Near my flat in Zurich is a park; there are six football pitches, five natural and one artificial; this suburb of Zurich has more good quality pitches than the whole of the Democratic Republic of Congo, with 70 million inhabitants," he said.

"In the Congolese professional league, at the Stade des Volcans in Goma, they play on volcanic sand," he said.

How FIFA spends its cash will be one of the biggest challenges facing whoever takes over from 79-year-old Blatter.

It is mired in the worst crisis in its 111-year history with Blatter and UEFA president Michel Platini, who had been favourite to replace him, both suspended for 90 days pending a full ethics investigation. Both deny any wrongdoing.

Swiss authorities are investigating the decision to award the 2018 and 2022 World Cup tournaments to Russia and Qatar respectively and the United States Department of Justice has indicted 14 soccer officials and sports marketing executives on a series of corruption charges.

Since 2010, FIFA's own Ethics Committee has banned more than a dozen current and former members of the executive committee, either while in office or after they had left, for unethical conduct including bribery.

"OCEAN OF INEQUALITY"

Despite the repeated dents to FIFA's credibility, Champagne said its role is more important than ever. He said that FIFA needs to spend more on development to try to even out the financial differences.

"We need strong governance; football became so globalised and powerful that it needs a central authority," said Champagne, who worked at FIFA from 1999 until 2010 under Blatter.

"The current development programmes are a few drops of water in the ocean of inequality. We need to do more."

Champagne, in a letter to FIFA's 209 member associations to launch his presidency bid, listed a number of proposed reforms, including term limits for FIFA officials, disclosure of their salaries and a changes in the composition of the all-powerful executive committee.

He dismissed suggestions that he is too closely associated with Blatter. "I spent 11 years in FIFA and I'm proud of those 11 years," he said.

Among his achievements, he listed the so-called solidarity mechanism which allows clubs to receive a percentage from subsequent transfers of players they have trained.

One result of this, he said, was that when Anthony Martial recently moved from Monaco to Manchester United in a reported 36 million pound ($55.41 million) move, tiny Parisian suburban club Les Ulis, where he was raised, received 600,000 euros.

Champagne said the presidential campaign had got off to an ugly start and called for televised debates among a field that is starting to get more crowded as the October 26 deadline for candidates approaches.

"So far in this campaign, we have seen empty slogans, individual issues, agreements behind closed doors and hidden agendas," he said.

Champagne wanted to run for the presidency earlier this year but failed to get the written backing from five national football associations (FAs) that is needed to register. He told Reuters he now has the five.

Jordanian Prince Ali Bin Al Hussein and former Trinidad and Tobago midfielder David Nakhid are also running in the February 26 vote.

Former Brazil World Cup player Zico wants to stand but has said he is struggling to get the backing of five FAs and Asian soccer chief Sheikh Salman Bin Ebrahim Al Khalifa of Bahrain has said he is taking soundings about a possible run.
Image: Jerome Champagne
Photograph: Reuters