Ferrari have compared the disappearance of leading manufacturers from Formula One to an Agatha Christie murder mystery, with the finger of guilt pointed at former FIA president Max Mosley.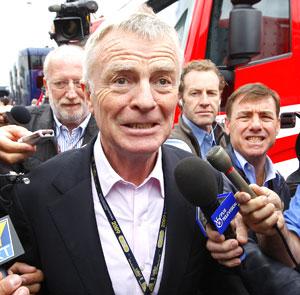 Toyota announced on Wednesday that they were quitting the sport, less than a year after Japanese rivals Honda pulled out and only days since BMW said their farewells in the season-ending Abu Dhabi race.
Sole tyre supplier Bridgestone have also said they will leave at the end of 2010 while Renault's board were reported to have met on Wednesday to consider the future of the former champions.
"It could be seen as a parody of "Ten Little Indians," the detective novel by Agatha Christie...but the reality is much more serious. Formula One continues to lose major players," Ferrari commented on their website (www.ferrari.com).
"The reality is that this gradual defection from the F1 fold has more to do with a war waged against the major car manufacturers by those who managed Formula One over the past few years, than the result of any economic crisis.
"In Christie's work of fiction, the guilty party was only uncovered when all the other characters died, one after the other," it added.
"Do we want to wait for this to happen or do we want to pen a different ending to the book on Formula One?"
Formula One should still have more teams next season than the 10 that competed in 2009, with four newcomers already confirmed and the former BMW-Sauber team also in line to return under new owners.
However Ferrari, the sport's most successful and glamorous team, said the new entrants were no substitute for those that had gone.
"Can we claim that it's a case of like for like, just because the numbers sitting around the table are the same?" asked the website.
"Hardly and we must also wait and see just how many of them will really be there on the grid for the first race of next season in Bahrain and how many will still be there at the end of 2010."
Formula One manufacturer teams clashed repeatedly with Mosley this year, even threatening to set up their own championship over the Briton's plans to introduce a budget cap as part of radical cost-cutting measures.
Mosley stepped down as International Automobile Federation president last month, with former Ferrari team boss Jean Todt winning an election to replace him.