Nadal, Roger get in the groove for the Big W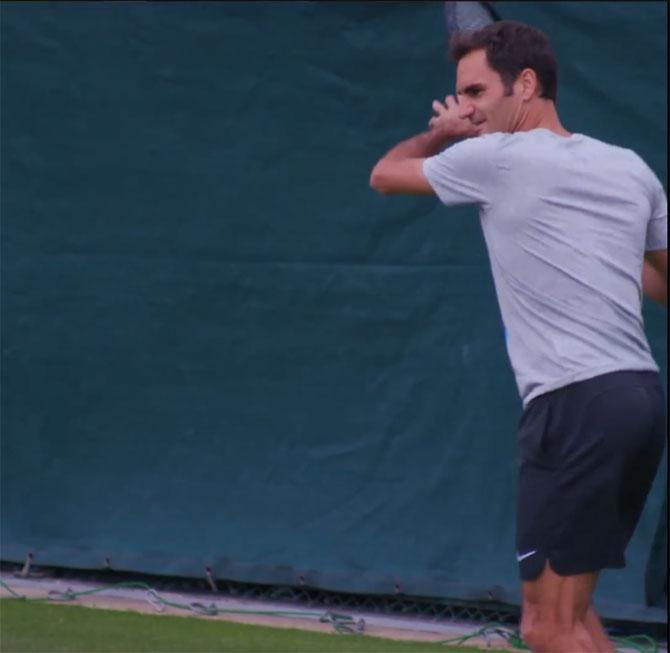 IMAGE: Roger Federer hits during a training session. Photograph: Roger Federer/Faceboook
It's that time of the year again when the scent of grass beckons our favourite tennis pros.
As the lush lawns of the All England Lawn Tennis and Croquet Club at Wimbledon readies to host the 3rd Major of the year, the modern greats are getting set in their tracks to chase more glory.
Among the big names going through the routines was 18-time Grand Slam champion Roger Federer.
Federer took to the turf and practised for around 'half-an-hour per day at the Championships courts', while taking questions from fans on Facebook Live.
Federer, who is chasing another Wimbledon title, looked relaxed at the training session and revealed his favourite match from the past.
"Hard to pick one. Maybe, the Australian Open from this year against Rafa... I think there was so much on that match, it was perfect.
"And here at Wimbledon, I have had many. Maybe the Sampras match or the Roddick match (2009). Sampras in 2001 was unbelievable, playing my hero here, was my first time on centre court at Wimbledon. Then the Roddick one was special because it was the all-time Grand Slam record... legends were sitting in centre court and I lost the year before -- the epic match against Nadal and I wanted it so badly and so did Andy. Somebody had to win and it was just a perfect tennis day," he added during the Facebook live streaming.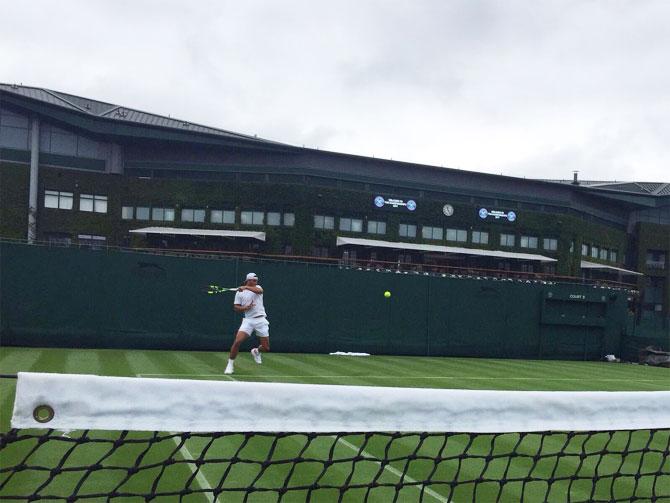 IMAGE: Rafael Nadal goes through the grind during training on Thursday. Photograph: Rafael Nadal/Twitter
Also training in right earnest was World No 2 Rafael Nadal who hit the lawns of Wimbledon and practiced under dark clouds.
The Spaniard, who recently clinched his 10th French Open title posted a picture of his training session on Twitter.
"Training at Wimbledon", he wrote alongside the photograph of him going through the grind.
Wimbledon begins on July 3.