Rafael Nadal and Roger Federer will meet in the semi-finals of the Sony Ericsson Open after the old rivals advanced to the last four in contrasting fashions Thursday.
The pair have not met on US soil since Federer's win at Miami over the Spaniard five years ago, despite meeting 20 times in the years that have followed.
- Paes-Bhupathi in final of Miami event
Federer, who is down 14-8 in meetings between the pair, said he expects a classic.
"I think we really get up for these kind of matches against each other because we know the world is watching," he said.
"We always have these incredible points and incredible matches against each other."
Federer was gifted his spot after Gilles Simon retired with a stiff neck six minutes into their match, while world number one Nadal battled to a 6-2, 3-6, 6-3 win over Tomas Berdych in a two-hour, 17 minutes match under the lights on a balmy night in South Florida.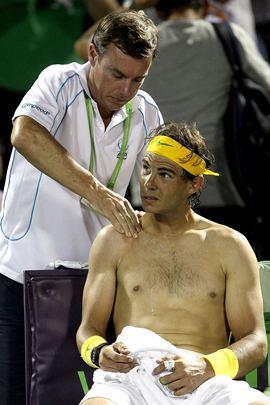 Berdych was overpowered by Nadal's fierce serve in the first set, but regrouped and broke in the second game of the second set. The Czech, making good use of his own powerful serve, secured his first set against the Spaniard since October 2006 but then was hanging in for most of the third.
Luck was not on Berdych's side as two net cords fell badly for him, Nadal breaking to go 5-3 up in the third and to the delight of a packed stadium court, held serve to set up a mouthwatering semi-final with the world number three.
Nadal, who received some intense massage work courtside, said he had suffered from some pain in his right shoulder and neck area but was confident it would not hamper him on Friday.
However, he conceded it had distracted him against Berdych.
"When it happens for the first time, it's something where if you don't know what's going on you lose concentration (and start) thinking about the arm.
"If it happens tomorrow it's not going to be nothing new and it will be easier to manage the situation. So I am sure that the arm is not going to affect the match."
BOOED BY CROWD
Federer barely broke sweat in his match as Simon, having being broken twice and losing the opening three games, asked for a medical break. The Frenchman shook hands with his opponent and the official before walking off court.
A disappointed crowd booed Simon as he headed to the locker room, leaving fans with only a doubles game to watch for the rest of the afternoon session.
Simon said he had suffered a recurrence of a niggling back injury during the warm up.
"I tried to relax after the warmup. I tried everything. I mean, anti-inflammatories, hot cream, just trying to feel better," Simon told reporters. "Just after the second forehand, I tried to hit it very hard; I felt it very hard also. I knew I had no chance to play today."
Federer said he sympathised with the Simon, who had beaten him twice in the three previous meetings.
"It's not a whole lot fun honestly because you see the guy being booed off the court, which he clearly doesn't deserve," said Federer.
"I understand the frustration from the people paying a lot of money to come see us play for multiple hours potentially, and then it's over within 10 minutes. It's not great."
Photograph: Getty Images