'The fact that Narsingh's roommate at the camp has also tested positive for the same substance, it clearly looks to be foul play.'
'Only these two guys have failed it and this clearly indicates that something is wrong.'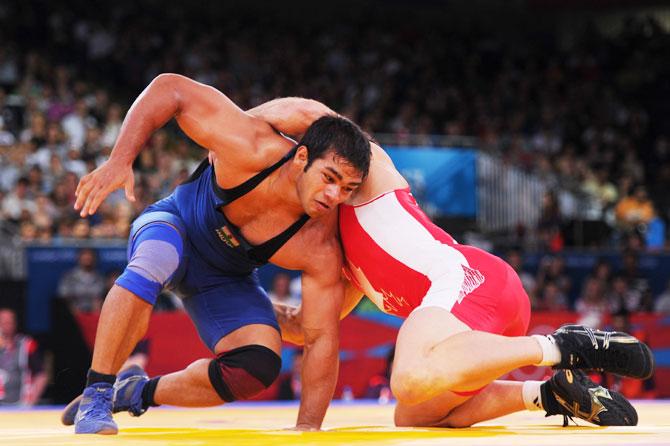 IMAGE. Narsingh Yadav, left, tested positive for the banned anabolic steroid methandienone. Photograph: Michael Regan/Getty Images .
With Narsingh Yadav's roommate Sandeep Yadav, at the Sports Authority of India Sonepat camp, also testing positive for the same banned substance, the Wrestling Federation of India said it strengthens the conspiracy theory and indicates at a clear case of sabotage.
"The fact that Narsingh's roommate at the camp has also tested positive for the same substance, it clearly looks to be foul play. Both the wrestlers were consuming the same supplements as they were room mates. It arises suspicion," WFI assistant secretary Vinod Tomar said.
"There was a high quantity of steroid in the sample, which is hard to believe. It seems like a deliberate thing. Why would anyone take such high dose?" he questioned.
Asked if anyone else in the camp also failed the dope test, the official replied in negative.
"No. Only these two guys have failed it and this clearly indicates that something is wrong."
NADA Director General Navin Agarwal, on Sunday, confirmed that Narsingh's 'B' sample tested positive for a banned substance.
Sources said that he had returned positive for methandienone, a banned anabolic steroid.
With his Olympic dreams in jeopardy after the failed dope test, Narsingh has claimed innocence, saying the entire episode is a conspiracy against him.
"This is a conspiracy against me. I have never taken any banned substance," said Narsingh.
Narsingh, who was picked ahead of double Olympic medallist Sushil Kumar to represent India at the Rio Games in the 74kg freestyle category, has been handed provisional suspension and is virtually ruled out of next month's Olympics.
The 26-year-old wrestler's Olympics accreditation has also been withheld.
The WFI also cried foul, claiming that Narsingh has a clean history and it was a clear case a sabotage.
On the basis of Narsingh bagging the 74kg Olympics quota berth with a World Championships bronze last year, the WFI named him to represent India at the Rio Games and Sushil's demands for a trial were rejected by the federation as well as the Delhi high court after a lengthy legal battle.