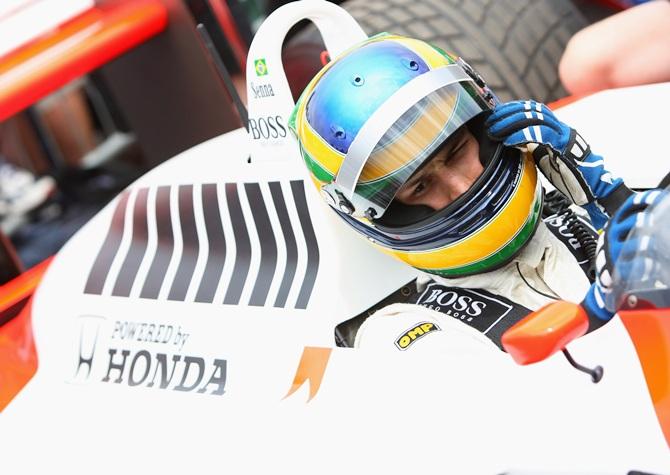 Bruno Senna of Brazil and the nephew of the former F1 legend Ayrton Senna prepares to drive his uncles world championship winning McLaren Honda MP4. Photograph: Mark Thompson/Getty Images
Honda's new V6 turbo hybrid Formula One engine will make its track debut at Silverstone on Friday in the back of a McLaren development car.
McLaren are starting a new partnership with Honda next season and announced on their Twitter feed on Thursday that they would be "parading the interim Honda-engined MP4-29H" at a filming day.
The car, to be driven by British tester Oliver Turvey, is only allowed to do 100km under testing restrictions with demonstration tyres in what is effectively a 'shakedown' to ensure everything works.
McLaren, who are in the last season of a 20-year partnership with Mercedes, are expected to test the car properly for the first time in Abu Dhabi after next week's season-ending race.
McLaren have yet to confirm their drivers for 2015, with Spaniard Fernando Alonso expected to join from Ferrari to partner either Denmark's Kevin Magnussen or Britain's 2009 champion Jenson Button.
Caterham packing cars and parts for Abu Dhabi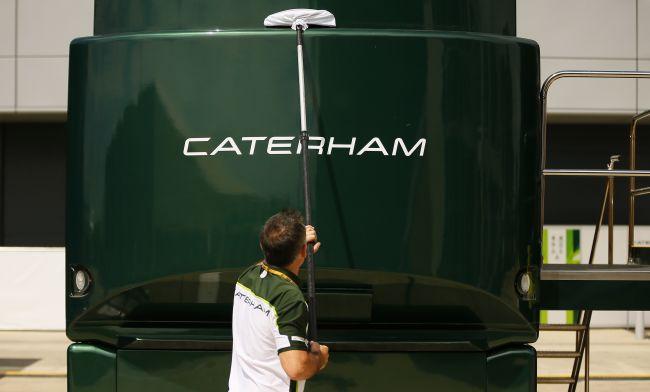 A member of the Caterham Formula One team cleans one of the team vehicles. Photograph: Phil Noble/Reuters
The Caterham Formula One team are planning to race in next week's Abu Dhabi season-ender even if they fail to raise a targeted 2.35 million pounds ($3.68 million) by Friday's deadline, an administrator said.
The British-based team, who have missed the last two races, still had to raise nearly a million pounds through a crowdfunding website with 13 hours remaining.
However administrator Finbarr O'Connell, representing Smith & Williamson, told Reuters he expected the team would be going to Abu Dhabi anyway.
"I am 90 per cent confident that we are going," he said, adding that the team's cars and parts were being packed into transport containers and loaded onto trucks at the Leafield factory.
The freight is due to be flown out of Britain to Abu Dhabi's Yas Marina circuit at the weekend.
"In the last few days three interested buyers have come forward," said O'Connell. "They are people with F1 connections who are seriously interested and who if any of them bought it (the team), the world would say 'that makes sense'."
He said talks with a number of drivers, some with Formula One experience and others in need of a superlicence, were also advanced. He declined to divulge any names.
Caterham, who have never scored so much as a point in five seasons, went into administration last month after being overwhelmed by debts.
The previous management, who took over from Malaysian aviation entrepreneur Tony Fernandes in July, have departed with O'Connell now the acting principal pending any sale.
He expected some deals to be completed on Friday, which would give administrators "the comfort we need to be 80 per cent of the way there.
Formula One has had just nine teams at the last two races after Marussia, who also went into administration last month, ceased trading.