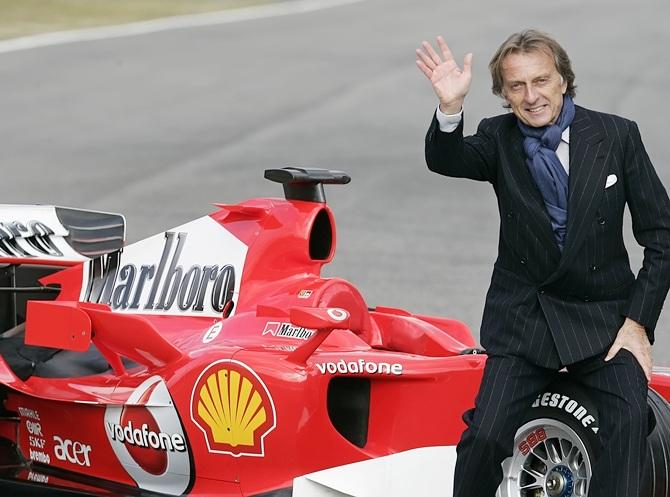 Ferrari's Formula One chairman Luca Cordero di Montezemolo waves as he poses with the Ferrari Formula One race car. Photograph: Tony Gentile/Reuters
Luca di Montezemolo's resignation as Ferrari chairman on Wednesday severs an historic link with the company's late founder Enzo and marks the end of an era for Formula One's most successful and glamorous team.
Without him in Maranello, or followed by a media scrum on his rare visits to the F1 paddock, Ferrari may seem a little less flamboyant and the sport a little less colourful. But both will survive.
The Prancing Horse's era of dominance on the track has been over for a while, however. The Italian team have not won a championship since 2008, or a race since May last year. Their last pole position was in 2012.
"I suppose we're approaching the end of an era in F1, dear old Luca, it started back when we were all so young," said former International Automobile Federation (FIA) head and old sparring partner Max Mosley, who stepped down in 2009.
"But in truth, Ferrari have never been quite the same since Jean (Todt) left. If they want to win races again they need to find another outstanding manager," he said after Montezemolo announced he would leave on October 13.
The same day, the newly merged Fiat Chrysler Automobiles (FCA) is due to be listed in New York.
The suave Montezemolo - who combined a passion for racing with an elegant manner and extensive contacts among the world's social and political elite - was in many ways the embodiment of the Italian sportscar maker.
One of the big personalities who strode the stage as the sport was transformed into a billion dollar global business from the 1970s onwards, taking over at Ferrari after Enzo's death in 1988, he was also sounding increasingly at odds with the newer generation.
He had favoured a return to the old and expensive days of in-season testing, and with Ecclestone had been a vocal critic of the new and much quieter V6 turbo hybrid engines favoured by volume manufacturers like Honda and Renault.
Executives from the automotive industry call the shots now, with Montezemolo's job taken by Marchionne and former Ferrari North America president Marco Mattiacci as team principal.
And while Montezemolo's old rival Ron Dennis remains in overall charge at McLaren, and Frank Williams is enjoying a revival at his team, the landscape has changed with Mercedes and Red Bull the pacesetters.
Ferrari's millions of fans will care mostly that their drivers are given the tools to be triumphant again.
Verstappen has first test with Toro Rosso
Max Verstappen speaks with members of the media in the paddock. Photograph: Mark Thompson/Getty Images
Dutch 16-year-old Max Verstappen had his first proper Formula One test on Wednesday as Toro Rosso ramp up preparations for his race debut next year as the sport's youngest ever driver.
The Italy-based team said in a statement that Verstappen, who will be 17 on Sept. 30, drove the 2012 Toro Rosso at the Adria circuit near the Faenza factory.
The son of former F1 racer Jos Verstappen attempted a mixture of short and long runs, as well as practice starts and pitstops, and completed 148 laps of the 2.702km circuit.
"I was looking forward to my first drive in a Formula One car on a proper race track and I really enjoyed it," he said.
"It was a good opportunity to work with Xevi (Pujolar), who will be my race engineer next year, as well as having a chance to get used to all the buttons on the steering wheel."
Team sporting director Steve Nielsen said the youngster had done "a very competent job, giving the impression he has been driving a Formula One car for quite a while, not like someone on their first day behind the wheel.
"He made no mistakes all day, seemed confident and once he was told something he remembered it. In general, he coped very well with this first test."
Toro Rosso's signing of the teenager has been controversial, with some questioning the wisdom of bringing a driver into the sport two years earlier than the previous youngest ever debutant.