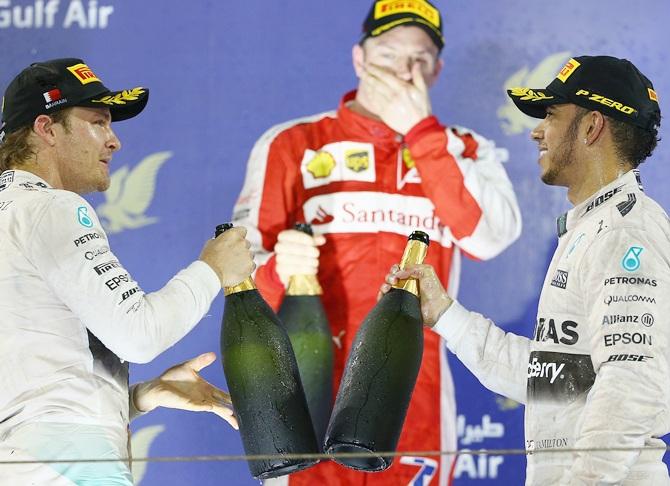 Second placed Nico Rosberg, left, of Germany and Mercedes GP celebrates with race winner Lewis Hamilton, right, of Great Britain and Mercedes GP as Kimi Raikkonen, centre, of Finland and Ferrari looks on. Photograph: Clive Mason/Getty Images
Ferrari team principal Maurizio Arrivabene welcomed back the Kimi Raikkonen of old on Sunday after the 2007 world champion stepped back on the Formula One podium in Bahrain after a long absence.
Hamilton wins again under Bahrain floodlights
The Finnish 'Iceman' took a strong second place in the floodlit race at the desert Sakhir circuit for his first top three finish since he was second for Lotus in South Korea in October 2013.
It was also his first podium finish for Ferrari since 2009, the final year of his first stint at Maranello. The Finn returned in 2014.
"I'm happy for Kimi because now I can say officially that...Kimi is back and we have two strong drivers," said Arrivabene.
Raikkonen is out of contract at the end of the season, although Ferrari have an option for 2016, and the 35-year-old has indicated he wants to stay on at the sport's most successful team.
His form has certainly picked up, after a disappointing 2014 alongside Ferrari's Fernando Alonso when he scored only 55 points to the Spaniard's 161, but so too has the team's performance.
The arrival of four-time champion Sebastian Vettel from Red Bull has already brought Ferrari their first win since 2013 and Raikkonen said on Sunday he wanted a piece of the action.
Red Bull add to the firework display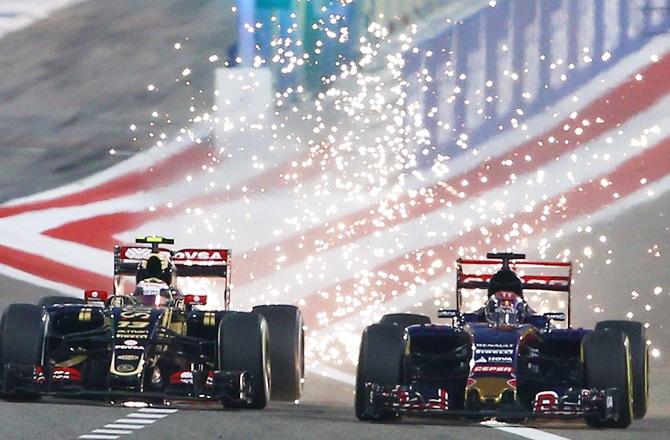 Pastor Maldonado of Venezuela, left, and Lotus and Max Verstappen of Netherlands and Scuderia Toro Rosso. Photograph: Mark Thompson/Getty Images
The night sky lit up as Lewis Hamilton crossed the finish line to win the Bahrain Grand Prix for Mercedes on Sunday -- and moments later Daniel Ricciardo's Renault engine joined the pyrotechnics.
"All the fireworks went off and the engine felt like it needed to join in," Red Bull principal Christian Horner commented wryly.
"A fairly spectacular finish, it failed 200 metres before the line, but we had enough momentum to cross the line. I think that engine will be a coffee table in the future."
The Australian driver finished sixth, a better result than the former champions might have expected after multiple Renault engine failures at the previous race in China and earlier in the season.
After four races, Ricciardo has now gone through three of his allocation of four engines for the season -- which means he is sure to face a grid penalty later in the year even if the allowance is extended to five next month.
The situation is embarrassing for Renault, who powered Red Bull to four successive drivers' and constructors' championships with the old V8s before the introduction of the new V6 turbo hybrid power units last year.
Horner said he had flown back to Paris from China before Bahrain to discuss the situation with Renault Sport chairman Jerome Stoll.
"They don't want to be in this position. They want to be in F1 to compete and they want to win, they don't want to be in the situation that they are, so of course that is not going to come for free," he said.
"He recognises that and Renault seem committed to finding a solution.
"We have had problems in every race so far, but it has to turn... Renault can't afford for this situation to continue and they are acutely aware of that."
Despite the ongoing problems, Horner was otherwise relatively upbeat.
Rosberg loses ground but wins respect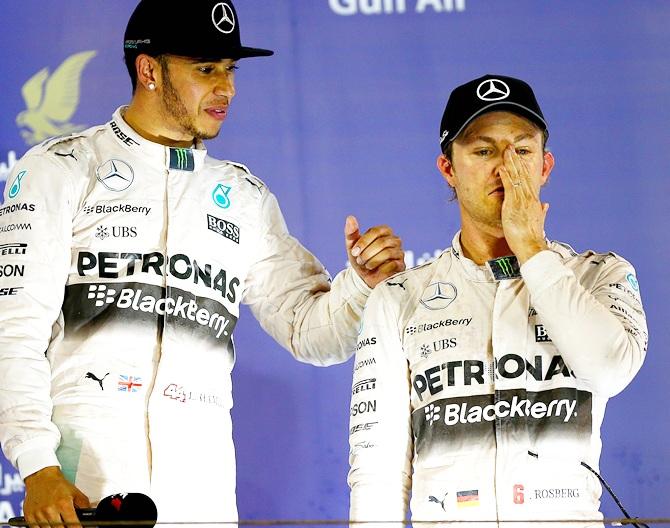 Lewis Hamilton of Great Britain and Mercedes GP celebrates next to Nico Rosberg. Photograph: Dan Istitene/Getty Images
Nico Rosberg slipped further behind championship-leading Mercedes team mate Lewis Hamilton in the Formula One standings on Sunday but showed at least that he had lost none of his fighting spirit.
The German is now 27 points behind the Briton after the double world champion took his third win in four races in Bahrain.
But for brake problems, which allowed Ferrari's Kimi Raikkonen to pass and denied Marcedes a one-two finish, the gap would have been narrower but Rosberg at least answered some critics.
"Everybody who ever doubted Nico saw Nico at his best, fighting hard and overtaking," said Mercedes motorsport head Toto Wolff after the German, accused by Hamilton of not trying and being too slow at the previous race in China, finished third.
"Losing that position because of a brake failure is a bit of a pity, but all in all a one and three must be satisfactory," he added.
"We are four races into the season and there are another 15 left, so I have no doubt that after his driving today, which was exceptional, we will have a very strong Nico bouncing back in Barcelona."
Rosberg was third on the grid, and immediately lost out to Raikkonen after being squeezed at the start.
From then on, while Hamilton led from pole, the meat of the race became the cut and thrust between Rosberg's Mercedes and the resurgent Ferraris.
Rosberg thrice passed Sebastian Vettel, only to lose out in the pitstops, before his compatriot made a mistake and damaged his car's front wing.
With Vettel no longer posing a threat, and finishing fifth, Raikkonen became more of one and the closing stages saw a battle between the two before Rosberg ran wide as the brakes gave out.
Qatar F1 race hopes appear to remain distant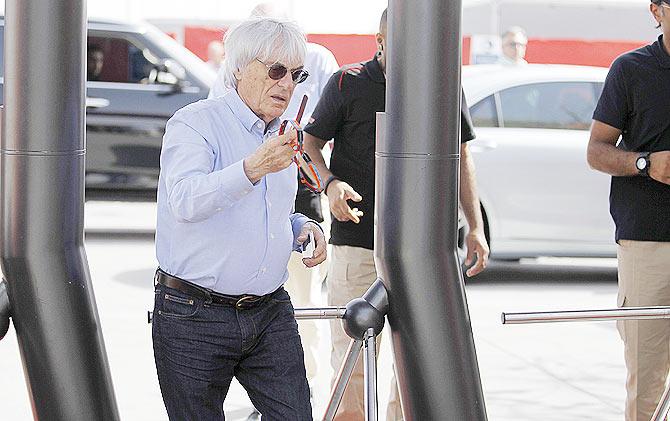 Formula One supremo Bernie Ecclestone arrives ahead of Bahrain's F1 Grand Prix at Bahrain International Circuit south of Manama. Photograph: Hamad I Mohammed/Reuters
Qatar's hopes of joining the Formula One calendar in the near future appear to have receded after commercial supremo Bernie Ecclestone indicated he was unlikely to add a third Middle Eastern race to the schedule just yet.
"I think we've got enough here, don't you?" the Briton told reporters at the Bahrain Grand Prix when asked about the possibility of a race in Doha.
Media reports have suggested that Qatar was close to signing a deal for a street race, possibly as early as next year.
Ecclestone confirmed last year that talks had taken place with the Qataris for a race that some reports have suggested would pay out 50 million pounds ($74.77 million) a year in hosting fees.
However, the Briton told reporters last December that Bahrain, who hosted the first race in the region in 2004, effectively had a veto on any new races that could overshadow theirs.
"I made a deal with the people in Bahrain and they said, 'If we are going to be something new in this area, which we are, will you give us a guarantee you won't put another race on in the area, in the Gulf?'," he said then.
Bahrain circuit chief executive Sheikh Salman bin Isa Al-Khalifa shrugged off talk of a veto but indicated the matter was not pressing.
"I heard Bernie asked about that in the media centre, and he said isn't two races enough for the region?," he replied when asked about Qatar.
"It's not for us (to say). It's for the rights holder. We welcomed Abu Dhabi when they came on board and we'll wait and see," he added. "I think Mr E appreciates the loyalty we have kept with him.
"As a businessman, as the way he is, he asks from his friends whether this is right or wrong, and that's where that concept is.
"I really don't have an answer for that but it's nothing we have seen that is serious, so until it is then we can't (answer)," added Shaikh Salman.
The chief executive said he wanted to extend Bahrain's deal beyond 2016 and talks were ongoing.
He also ruled out pushing for Bahrain, the fourth round of the calendar this year, to take the season-opening slot held by Australia. However, he indicated that the circuit would like an earlier date in future.