Team by team analysis of Sunday's US Formula One Grand Prix at the Circuit of the Americas (listed in championship order):
US Grand Prix PHOTOS: Hamilton races to victory No 10 at 'home'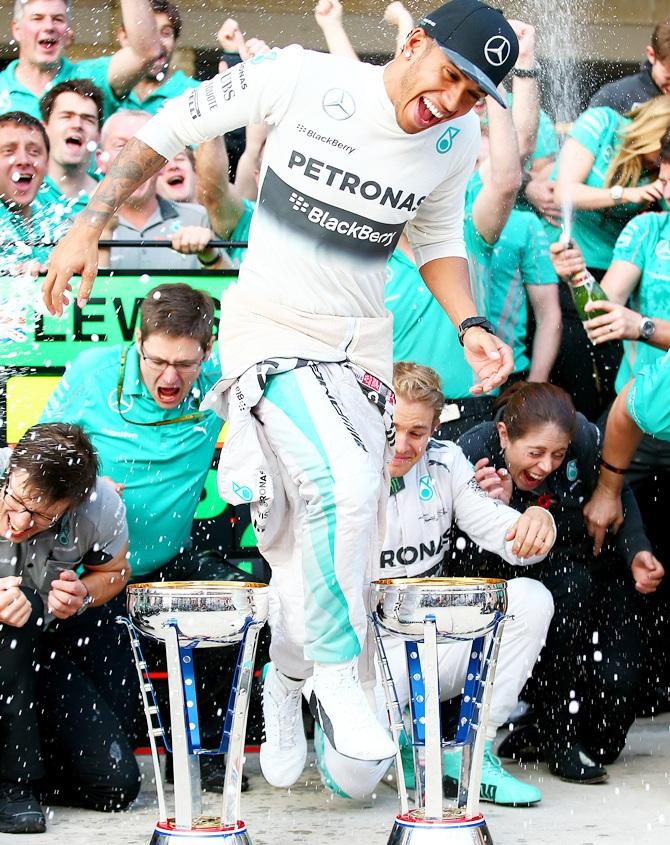 Lewis Hamilton of Great Britain and Mercedes GP celebrates his victory with his team after the United States Formula One Grand Prix. Photograph: Mark Thompson/Getty Images
Mercedes (Lewis Hamilton 1, Nico Rosberg 2)
Hamilton's 10th win of the season, fifth in a row and 32nd of his career. He is now 24 points clear of Rosberg, which means the title will not be decided until the final race even if Hamilton need not win again. Mercedes are sure of both titles now. They also equalled McLaren's 1988 record of 10 one-two finishes in a season. Rosberg started on pole.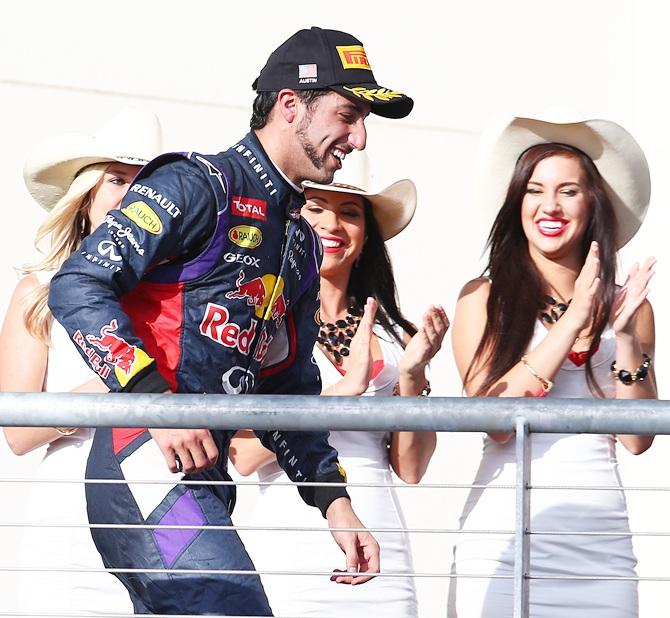 Daniel Ricciardo of Australia and Infiniti Red Bull Racing celebrates on the podium. Photograph: Mark Thompson/Getty Images
Red Bull (Daniel Ricciardo 3, Sebastian Vettel 7)
Ricciardo's title hopes are mathematically over. The Australian jumped both Williams drivers in the pitstops but also made some fine overtaking moves. Vettel started from the pitlane after exceeding his engine allocation, passed seven cars in the last seven laps and claimed the fastest lap of the race.
Williams (Felipe Massa 4, Valtteri Bottas 5)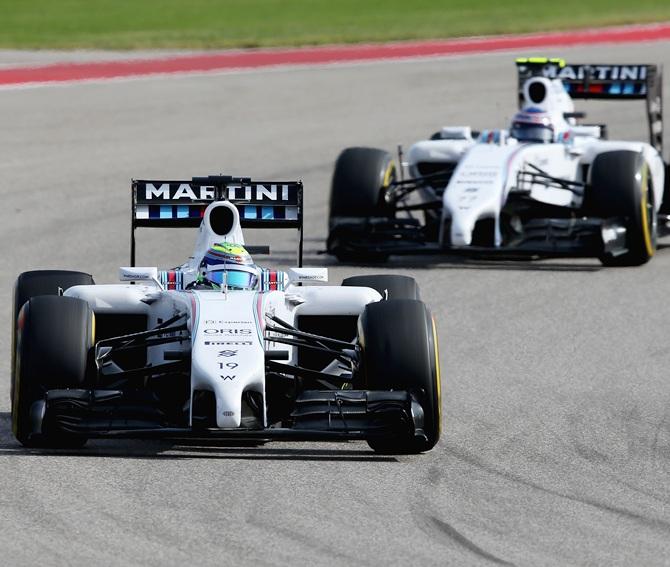 Felipe Massa of Brazil and Williams leads Valtteri Bottas of Finland and Williams during the United States Formula One Grand Prix. Photograph: Clive Mason/Getty Images
A disappointment for the team even if they increased their advantage over Ferrari to 42 points. Massa and Bottas had started third and fourth. Massa made a strong start but missed the podium after a slow pitstop.
Ferrari (Fernando Alonso 6, Kimi Raikkonen 13)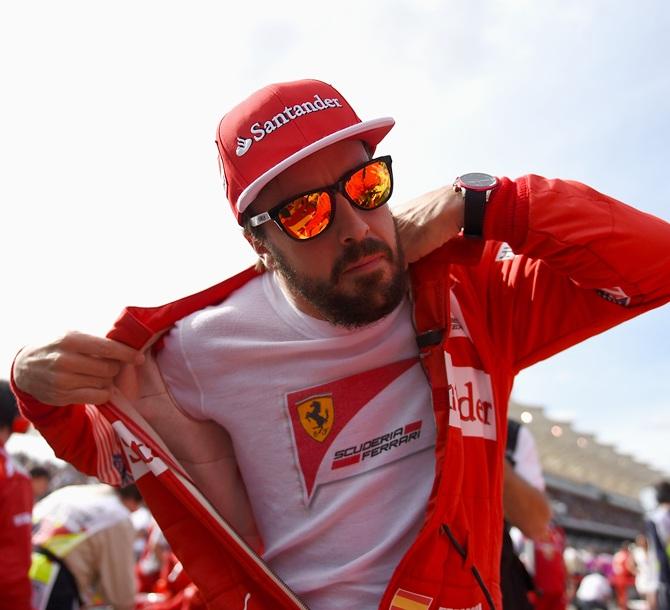 Fernando Alonso of Spain and Ferrari prepares. Photograph: Paul Gilham/Getty Images
Alonso finished where he started. Raikkonen suffered high degradation with the medium tyres and ended up having to make three stops. His car may also have been damaged after he was hit by Perez on the opening lap.
McLaren (Kevin Magnussen 8, Jenson Button 12)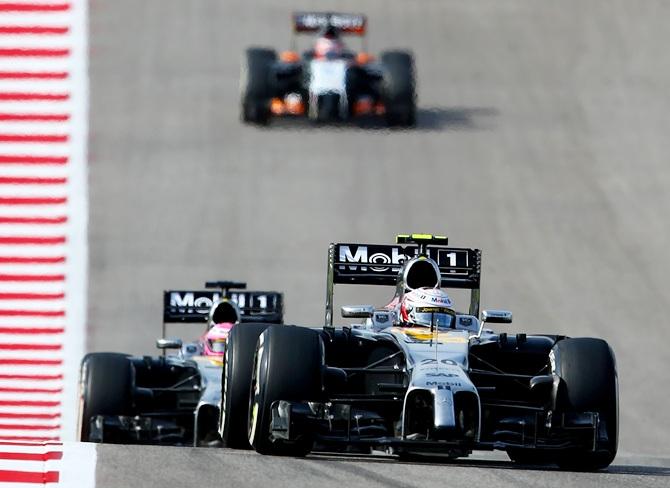 Kevin Magnussen of Denmark and McLaren leads Jenson Button of Great Britain and McLaren during the United States Formula One Grand Prix. Photograph: Mark Thompson/Getty Images
Button started 12th due to a five-place penalty for a replacement gearbox. He had a good early battle with Alonso but was then overtaken by a string of cars towards the end as his tyres went. Magnussen lost out to Vettel on the penultimate lap.
Force India (Sergio Perez and Nico Hulkenberg retired)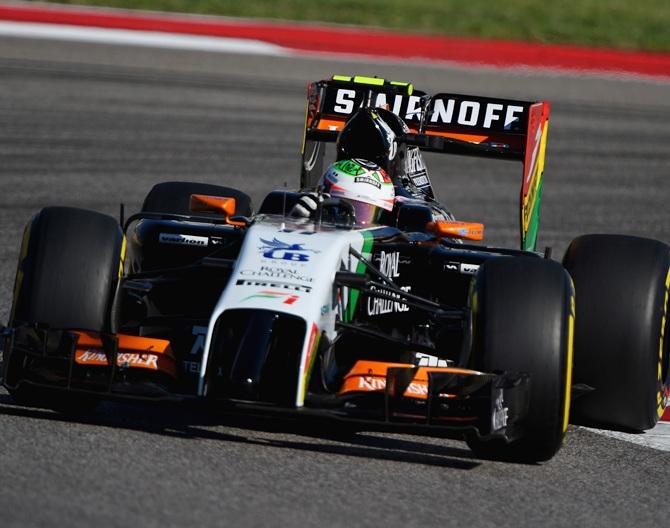 Sergio Perez of Mexico and Force India drives. Photograph: Paul Gilham/Getty Images
Perez hit Sutil on lap one and retired. He has a seven-place grid penalty for Brazil. Hulkenberg retired with an engine failure after 16 laps.
Toro Rosso (Jean-Eric Vergne 10, Daniil Kvyat 15)
Kvyat started last picking up a 10-place penalty for using a seventh power unit element. Vergne collected a five-second penalty for forcing Lotus's Romain Grosjean off the track.
Lotus (Pastor Maldonado 9, Romain Grosjean 11)
Maldonado scored his first points of the season. Grosjean was forced off while in eighth place in a move that damaged his car's floor and front wing.
Marussia (Did not race)
Absent from Austin after going into administration.
Sauber (Esteban Gutierrez 14, Adrian Sutil retired)
Sutil started ninth but hopes of the team's first points of the year vanished when he was hit by Perez. Gutierrez made up one place from the start.
Caterham (Did not race)
Also absent for same reasons as Marussia.