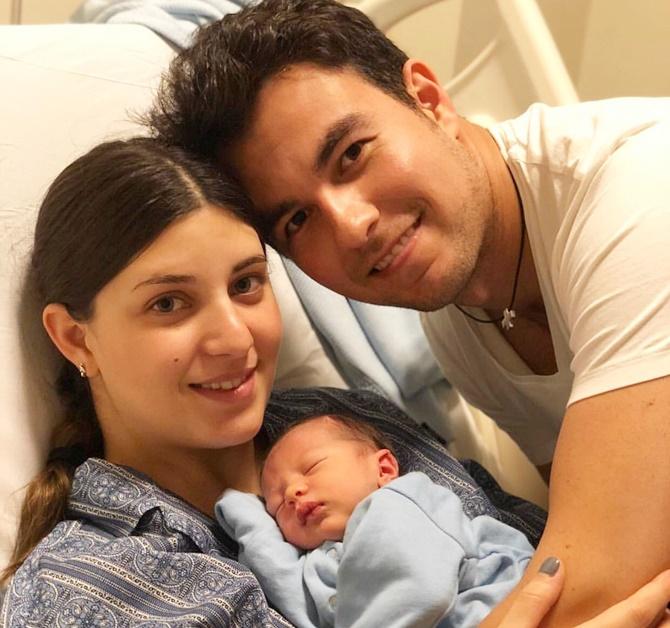 IMAGE: New dad Sergio Perez is starting his fifth year at Vijay Mallya's Force India. Photograph: Sergio Perez/Instagram
Fatherhood has changed Sergio Perez's life since the end of last season and the Mexican hopes the coming year in Formula One could be just as transformative on the track.
The 28-year-old, known as 'Checo', is starting his fifth year at Force India, the privately-run Vijay Mallya's team that has been fourth in the constructors' championship for the last two campaigns and become like a second family.
But that is still a long way from where Perez, whose son and namesake was born in December, ultimately hopes his talents will take him.
"Definitely it is a year that is going to determine my career, my coming years," the Guadalajara-born driver, who was linked last season to Renault, told Reuters during pre-season testing in Barcelona.
"This year it's going to be interesting to stay where we are and then see what's available. I definitely want to be in the best possible car I can be."
Just how good the new Force India is remains to be seen, with a big update promised for the March 25 season-opener in Australia and Perez saying that was needed after a fairly anonymous testing.
A Ferrari academy driver before entering Formula One with Sauber in 2011, and having a difficult year at McLaren in 2013, Perez has become one of the most dependable and consistent racers.
For some years he has talked about his desire to join a top team, only to stay put in the end. But this season could see movement.
The Mexican, who scored points in 17 of last season's 20 races, has been linked to Ferrari in the past even if others may now be ahead of him in the queue to replace 2007 champion Kimi Raikkonen.
The driver market is braced for a big shake-up, with 38-year-old Raikkonen out of contract at year end along with Finland's Valtteri Bottas at champions Mercedes and Australian Daniel Ricciardo at Red Bull.
Ricciardo will set the ball rolling if he moves, with Renault's young Spaniard Carlos Sainz only on loan from Red Bull pending the Australian's decision.
Perez, who took two second places and a third with Sauber in 2012 and has taken more podiums (four) with Force India than any driver, will look to impress but faces a stiff challenge from 21-year-old team mate Esteban Ocon.
The two clashed last year, missing out on a podium in Azerbaijan after a collision that led Force India to impose rules of engagement. Relations are now much better.
"I think we definitely had very intense moments in the team and thankfully everything changed for the good of the team, for the benefit of us," said Perez.
"Now we work well together, in the last races, and I really hope that trend continues. We have to work together, we have to be united to push the team forward and hopefully battle each other for good positions."
The Mexican said everything felt more natural going into his eighth season.
"You are more patient, you know what you need from yourself, how you have to prepare yourself, but every year you learn every single weekend. I learnt so much last year," he said.
"There are still plenty of things that I can improve, to become a stronger driver. I do think that this year I'm going to be stronger than I was last year.
"I'm working on my weaknesses that I had last year and also on my strengths. That helps. With experience you can understand a lot more things."
Fatherhood, said Perez, would not slow him down.
"It's incredible. People can tell you many things but once you live the moment, you get your son, it definitely changes your life," he said of Sergio Perez Jr's arrival.
"I can just see positive changes, as an athlete and as a human being... I am very happy and very stable and with a lot of peace.
"In the car you don't think about if you are a dad or not. You just think about how you can do better and take the next corner faster."
Ocon focuses on future after the fireworks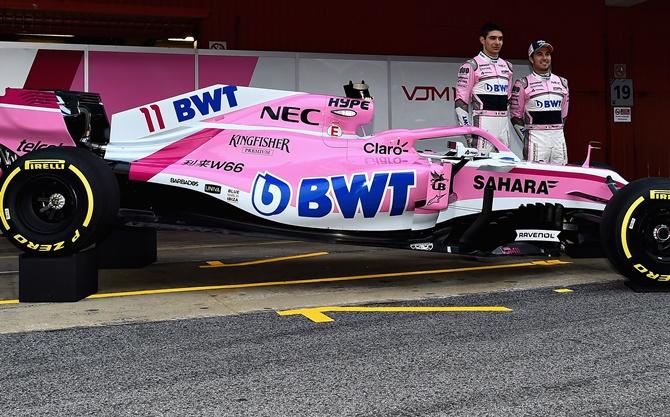 IMAGE: Sergio Perez of Mexico and Force India and Esteban Ocon of France, unveil the Force India VJM11. Photograph: Patrik Lundin/Getty Images
Esteban Ocon says Force India need have no concerns about any repeat of last year's clashes between him and Mexican team mate Sergio Perez when the Formula One season starts in Australia next week.
The Silverstone-based outfit had to rein in the drivers last year after the rivalry ran out of hand, with a podium chance in Azerbaijan slipping through their fingers when the cars collided.
There were sparks at Spa, too, with Frenchman Ocon accusing Perez of twice trying to kill him by squeezing his car towards the wall before they again collided.
"We went through a period which was quite tough, we were fighting for a 10th, for 100ths in practice and on tracks," Ocon told Reuters during testing in Spain for the season that kicks off on March 25.
"There was a time when we got too close but that's over now... I think there should be no worries that this will continue. I don't want it to happen."
The two -- equally determined and well-matched on the track with plenty of ambition -- will still form one of the more competitive pairings in the sport and there is always the possibility for friction.
Asked this month whether the fourth-ranked team would be reminding them of their responsibilities this season, chief operating officer Otmar Szafnauer did not hesitate:
"Yes. Daily, if not hourly," he replied.
"We're going to start off the season as we left it last year," continued the American. "The last few races they were allowed to compete against each other.
"One of the phases of team building is the conflict stage. And then when you get past the conflict stage, you work better together. I think that's the stage they're at now."
Ocon said he and 28-year-old Perez, now the only Latin American driver on the starting grid after Brazilian Felipe Massa's retirement, actually got on well enough.
"We would probably never go on holidays together, but we have no problem," declared the Frenchman, who is of Spanish extraction.
"There is a great atmosphere in the team, everyone's working closely and I work closely with him as well so there are no issues."
Perez said last year that Ocon needed to change his attitude and he felt that had happened.
"Esteban is one of the best drivers out there in terms of his capacity. What he did last year with not a lot of experience was quite impressive," the Mexican told Reuters.
"Everyone realised and spoke very highly about him, and that's good.
"I could see that towards the end of the year he's a different person, the way he approached things. I hope that just keeps getting better on him."
Ocon has plenty at stake this year, as a Mercedes-backed driver placed with customer team Force India to get experience while the world champions decide their next move.
If he continues to shine, and Valtteri Bottas fails to convince as four times world champion Lewis Hamilton's team mate, then Ocon could be next in line for one of the most coveted seats.
"My career is managed by Mercedes so it would be the logical way to go at some point in Mercedes but I fully trust my management side, they will decide on my future," he said, diplomatically.
There is also a home grand prix to look forward to at Le Castellet -- the southern circuit where he took his first single-seater podium and victory in Formula Renault 2.0 in 2012 and 2013 respectively.
Ocon said a new fitness regime, involving tramping through deep snowdrifts in the Pyrenees mountains during European winter training, had also paid off.
"Basically what I saw from last year was that we also could improve on my training regime. We did it now and I feel like I'm more complete as an athlete," he said.
"I'm more of an athlete than I was last year."
Alonso ready to fight on two fronts
Fernando Alonso faces the busiest year of any Formula One driver but the Spaniard has played down fears he could be spreading himself too thin by competing in two world championships at once.
The 36-year-old gets one campaign started next week when he lines up for McLaren at the Australian Grand Prix in Melbourne, the first of a record-equalling 21 F1 races around the world this season.
The double F1 world champion, who competed in the Indianapolis 500 last year, will also race for Toyota at the Le Mans 24 Hours in June and in the full World Endurance championship.
Alonso's road to Le Mans, as well as McLaren's new start in Formula One with Renault engines after three dismal years with Toyota's Japanese rivals Honda, will be among the top storylines of the motorsport year.
"The only concern is travelling," he told reporters during winter testing in Barcelona when asked about his ambitious programme. "Travelling is going to be energy-consuming and I need to be very efficient on that.
"Every delay on the flight or every connection that you miss is going to hurt this year. So hopefully everything runs smoothly."
The target is to become only the second driver to achieve the so-called 'Triple Crown' of motorsport, a feat completed by the late Briton Graham Hill in 1972.
It involves winning the Indy 500, Le Mans and Formula One championship, although it can also be the Monaco Grand Prix which Alonso has won twice.
The Spaniard, who led at Indianapolis before his car broke down, competed in the Daytona 24 Hours in January to acclimatise himself and is up for the challenge.
"There are many things that I am now in the point of my career that I can deal with. Probably a couple of years ago maybe I didn't have the knowledge of all of the areas," he said.
"So I thought now was the time to do it and I feel ready. I think in terms of mental approach it's going to be not an issue because every time you jump in the car you want to be competitive.
"Physically, while driving it's going to be OK."
McLaren executive director Zak Brown said Alonso was the kind of person who would be racing something during his down time anyway.
He also pointed out that while the WEC 'Super Season' ran to eight events, only five were this year with the rest in 2019 and ending at a second Le Mans. And one of the five was during the August break.
"What a lot people don't know is he's karting every weekend," added the American.
"If he wasn't going to be in a prototype, he would have been in a kart or something else. I've never seen someone who wants to literally live in a race car like he does... I just think if he's at a grocery store it would be 'let's race the karts'."
Alonso will not be doing anything more than drive for Toyota and WEC organisers have bent over backwards to fit in, to the extent of moving the Fuji Six Hours to avoid a clash with the U.S. Grand Prix in Austin.
If there are any conflicts, McLaren come first.
"He's a McLaren driver on loan for those weekends," said Brown, who was a key figure in Alonso's headline-grabbing Indianapolis bid.
"His responsibilities there are pretty much driving, so he's not going to have the same level of promotional work, sponsor commitments that would normally come along with that (involvement).
"And he's well studied and focused on what preparation takes. If he thinks he can do it, we have no reason to believe that he can't."