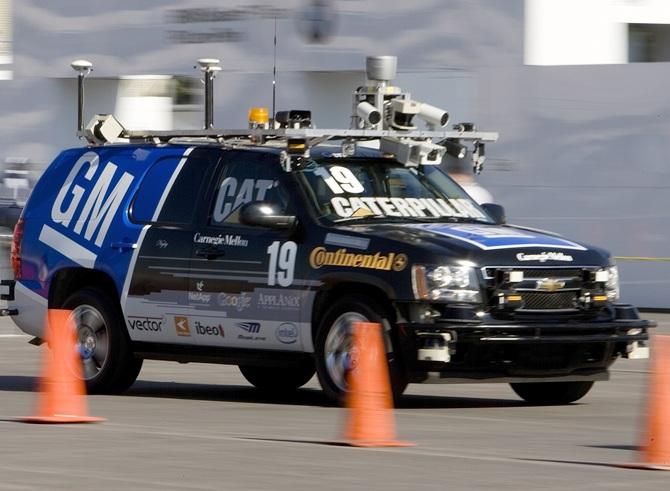 IMAGE: 'The Boss' a driver-less automobile. Photograph: David Paul Morris/Getty Images
Mercedes Formula One boss Toto Wolff has dismissed plans for the world's first driverless motor racing series as having little to do with sport, despite the German carmaker's interest in the technology.
"Autonomous driving is going to eventually happen on roads in road cars. It's going to make our lives easier. And that is the way the technology goes," he told reporters ahead of Sunday's season-ending Abu Dhabi Grand Prix.
"We are all here (in Formula One) mostly because we like to see racing drivers racing each other, gladiators in machines that are fascinating to watch," added the motorsport director, whose team have won both F1 titles for the last two years.
"So that (a driverless series) is not at all what I would consider a sport. That is a technological or R&D (research and development) playing field."
Formula E, the world's first electric car racing series that is now in its second season, announced last week that it planned to set up a driverless championship in 2016-17 as part of its support package.
It said the aim was to "provide a competitive platform for the autonomous driving solutions that are now being developed by many large industrial automotive and technology players as well as top tech universities."
The plan would be for the 'Roborace' event to take place before each Formula E round, using the same circuits in major cities worldwide with 10 teams each fielding two driverless cars.
"Roborace is an open challenge to the most innovative scientific and technology-focused companies in the world," declared Formula E chief executive Alejandro Agag.
Mercedes-Benz have already begun implementing advanced driver assistance systems on their cars and in 2013 a Mercedes S-class limousine drove between the German cities of Mannheim and Pforzheim without driver input.