'That's not the kind of race that you want but I never gave up. I kept going right to the end'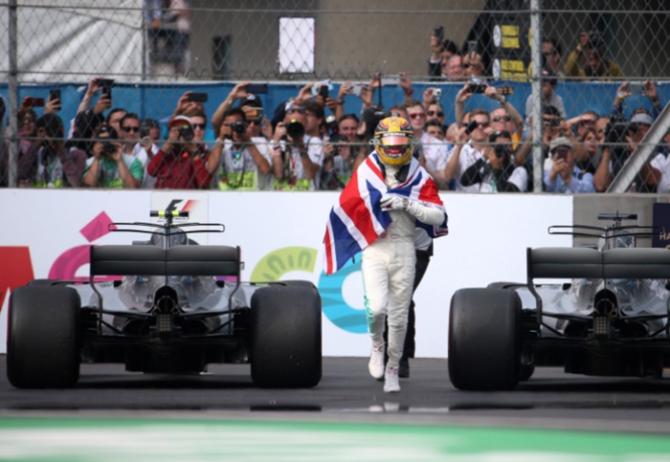 IMAGE: Lewis Hamilton celebrates after winning the World Championship. Photograph: Edgard Garrido/Reuters.
Lewis Hamilton turned a nightmare into a dream on Sunday with his worst race of the season ending with a fourth Formula One world championship.
The most successful British driver of all time, and the country's first four-times champion, had a rollercoaster afternoon before finishing ninth and wrapping things up with two races to spare.
"It was a horrible way to do it to be honest, but what could I do?," the Mercedes driver told Sky Sports television.
"Still I rise. I kept going and I kept coming back."
"I remember growing up in Stevenage and one day dreaming of being in Formula One. Here we are 25 years later and four-time world champion."
Starting third, the Mercedes driver went to the back of the field after a first lap collision with Ferrari title rival Sebastian Vettel and then began the fight back to the points with some battles along the way.
As he crossed the line, the relief was palpable.
Hamilton put his hands to his helmet, before producing the British flag for his slowing down lap. He then draped it around his shoulders, standing on the car before embracing his mechanics.
Afterwards, he ran down the pitlane pursued by fans.
"I did everything that I could. I had a good start. I don't really know what happened at Turn Three -- I gave him plenty of room," he said.
"I tried as hard as I could to come back," he added, thanking his family and team, who have now completed the title double for four years in a row.
"It doesn't feel real. That's not the kind of race that you want but I never gave up. I kept going right to the end."
Until Sunday, Hamilton had not finished lower than seventh this season.
"I hated every bit of that race," Mercedes team boss Toto Wolff said. "It was really bad and too long."
"The relief is huge. During the race you have mixed feelings, it's bittersweet because you're not where you should be. You could lose it and then it drags to Sao Paulo. It's a big relief now.
"I saw Lewis in the back (of the garage). I rarely hug half-naked, sweaty men but it was still a good feeling. It's ultimate happiness."