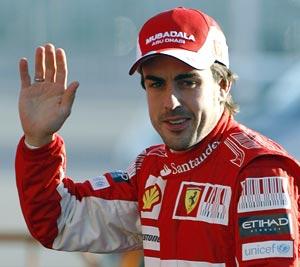 Fernando Alonso delighted his legions of Spanish Formula One fans on Wednesday with the quickest time in testing on an emotional debut for Ferrari.
The double world champion, who was cheered on by an astonishing 36,000-strong weekday crowd at Valencia's Ricardo Tormo circuit, played down suggestions of being the early favourite in the title race, however.
"No, I don't think so. It's just the first day," the former Renault driver said.
Traffic jams clogged the access roads in the morning as fans flocked to see their hero's first drive in the F10.
Alonso, who has replaced Finland's Kimi Raikkonen as Brazilian Felipe Massa's team mate at the Italian team, was immediately on the pace and stayed on top of the timesheets for the rest of the day.
The times were inconclusive, however, with fuel tanks doubled in size due to the ban on refuelling during races this season and some cars undoubtedly running lighter than others.
As a result, Alonso warned against expecting too much from Ferrari when the championship starts in Bahrain on March 14.
"I think maybe as we topped the times all three days it is related to fuel load or maybe because it's true we are competitive," he said.
"But before being competitive we need to make sure we do a lot of laps and that the car is strong and can finish all the Grands Prix.
"For me the priority was getting completely comfortable," he added. "There are many things to discover for me, many things to learn. We need to make the car very strong and, until Barcelona (the first race of the European season in May), I don't think we will look at the performance."
Alonso, who said his first day in a Ferrari had been a "very emotional one," completed 127 laps -- more than anyone else on Wednesday.
"I had a good base in the car thanks to Felipe's job during the first two days," said the 2005 and 2006 champion. "I think it was a really, really big help for me because I didn't lose time with the set-up of the car.
"I just concentrated on my comfort in the car because Felipe's set-up was good enough to keep running in the morning. I've been taking information from him which was a help."