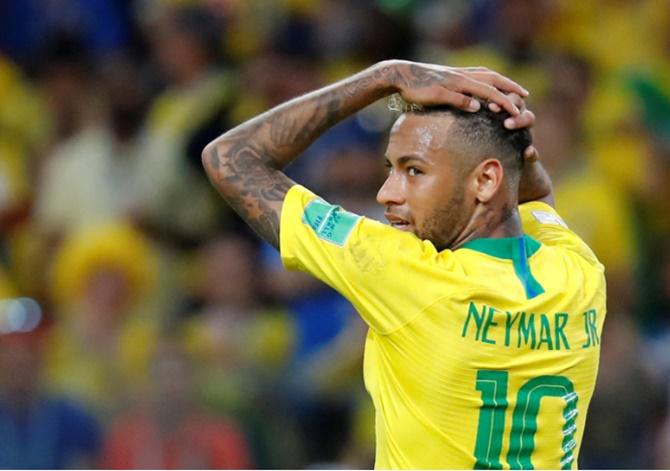 Police in the Brazilian state of Sao Paulo said on Tuesday they had indicted the woman who accused soccer star Neymar of rape, charging her with fraud, extortion and slander, in what could be a major relief for the Paris Saint Germain striker.
The former Brazil captain was accused of raping Najila Trindade in a Paris hotel room in May, but he alleged the encounter was consensual and prosecutors said in August they were dropping the case against him due to a lack of evidence.
Sao Paulo state police also said in a statement on Tuesday they were indicting Trindade's former husband, Estivens Alves, on fraud charges.
The BBC reported Trindade's lawyer as saying the indictment had taken him by surprise and that his client rejected the accusations.
The case received worldwide attention and posed sponsorship headaches for Neymar, as well as hurting his international career.
The former Barcelona and Santos forward always denied the accusations against him and released private chats and lurid photos he had exchanged with Trindade.
Late goal gives Peru 1-0 win over Brazil in LA
A late goal from Luis Abram gave Peru a 1-0 win over Brazil in Los Angeles on Tuesday and handed the five-times world champions their first defeat in over a year.
Abram nipped in ahead of goalkeeper Ederson to nod home a free kick with six minutes remaining to end Brazil's 17-match unbeaten run that began after the 2018 World Cup in Russia.
Brazil, who beat Peru in the final of the Copa America just two months ago, started without Neymar, Dani Alves and Thiago Silva, all of whom were rested, and they looked like they missed their stalwarts.
Although Richarlison was busy up front, forcing Pedro Gallese to tip one fierce shot round the post, Brazil never looked in full control of the game.
Even the second half introduction of Neymar and attackers Vinicius Junior, Lucas Paqueta and Bruno Henrique, could not lift Brazil, who lost to Peru for just the fifth time in 46 games.
"We had chances and they punished us from a dead ball situation," said full back Fagner. "It's a learning process and we'll grow from this, defeats happen and we need to take what we can from it."
Martinez scores hat-trick as Argentina hammer Mexico 4-0
Lautaro Martinez netted a hat-trick in just 40 minutes as Argentina blitzed Mexico 4-0 win in a friendly in San Antonio on Tuesday.
The Internazionale striker took advantage of shocking defending to fire three angled shots past Mexico goalkeeper Guillermo Ochoa in the 17th, 22nd and 39th minutes.
Leandro Paredes scored from the penalty spot in the 33rd minute.
Argentina dropped the pace in the second period but still faced little resistance from an untidy Mexico side who did not manage a shot on target throughout the 90 minutes.
Eight players were shown yellow cards in a match that rarely lived up to its 'friendly' billing, but the game will be remembered largely for the brilliant finishing that brought the 22-year-old Martinez his first international hat-trick.
"I'm delighted and emotional," he said.
"One has to make a lot of sacrifices to get here and it's not every day that you score three goals wearing this shirt."
The result was Mexico's heaviest defeat since they lost 7-0 to Chile in 2016. It was also the first loss for coach Gerardo Martino, who had guided them to 11 straight wins since taking over in January.
USA thwart Uruguay in friendly draw
The United States halted their two-game losing streak after Jordan Morris's second-half goal was enough to secure a 1-1 draw with Uruguay in a friendly international in St Louis.
Gregg Berhalter's side had been looking to bounce back after being comprehensively outplayed in a 3-0 loss to Mexico in New Jersey last Friday.
However the USA struggled to make much an impression against an under-strength Uruguay in humid conditions on Tuesday at Busch Stadium.
Bosnia coach Prosinecki rescinds resignation, stays in charge
Bosnia coach Robert Prosinecki has rescinded his resignation after the Balkan nation's football association (NFSBiH) asked him to stay in charge of the team, the governing body said on Tuesday.
"The NFSBiH executive board lends full support to Prosinecki to stay in charge until the end of the national team's Euro 2020 campaign, as stipulated by his contract," it said.
"We are certain that changing the coach at this point in time would not have a positive effect. Our chances of reaching the European Championship via the qualifiers are still realistic."
Prosinecki, who said he was stepping down after Sunday's 4-2 defeat at Armenia in their Euro 2020 Group J qualifier, told reporters in Sarajevo that his change of heart had been a "difficult decision".
"It wasn't easy because I try to stand by my decisions in life," said the 50-year-old Croatian, who won the 1991 European Cup with Red Star Belgrade and finished third with Croatia in the 1998 World Cup as a player.
"I changed my mind because of all the people who extended their support. It would be easy to run and say it's over but I decided to stay and I now hope we can turn things around."
The defeat left the Bosnians fourth in Group J on seven points from six games, 11 behind leaders Italy who have won all of their matches.
Second-placed Finland have 12 points and third-placed Armenia are on nine after their impressive home win over the Bosnians.
Although they have only a slim chance of reaching Euro 2020 by finishing in the top two in their group, Bosnia could still advance to the finals via the Nations League.
They topped their League B group ahead of Austria and Northern Ireland, meaning that they have qualified for the playoffs also including Denmark, Sweden and Ukraine, the winners of the second tier's other three pools.
The playoff winners will qualify for Euro 2020, which will be held across Europe next year.
Zhang says his youth will bring new ideas, new energy to Inter
Inter Milan president Steven Zhang believes his youth will help bring new energy and new ideas to his club and help them understand how people of his generation watch football.
Chinese businessman Zhang, 27, was appointed as president last October, promising to lead Inter, who have not won a major trophy since 2011, into a new era.
The son of Zhang Jindong, chairman of China's electronics retailer Suning Holdings Group which bought a majority stake in the club in 2016, he had been a club director for the previous two years.
Zhang said he appreciated that supporters of his age watched football differently to those of older generations.
"They don't watch the game for just 90 minutes any more, they actually watch video clips, Instagrams, Youtube clubs, social media," he told reporters after being elected onto the European Club Association (ECA) board.
"So, in a way, I can bring new ideas... for European football and a more global view and more technology-oriented."
"The age doesn't really bother me," he added.
"If you look at people working in the US and China, a lot around my age are already leading companies and projects. Such age should be an advantage in giving a new energy, new ideas, positive outlook and telling people what the new generations really want."
Zhang also appealed to the club's fans to give time to new coach Antonio Conte.
"We can aim for the best but, at the same time, I hope fans, the public have some patience for our players, our coach and everyone in the club, because a lot of people are new and we need some time," he said.
"I understand fans want to win the league and the Champions League, but everyone else wants to do that, all the clubs want to do that. A lot of our players are actually very young and it's important to let them work and, eventually in the next year, I am sure they will deliver the results."
Three-times European champions Inter have won 18 Serie A titles and the Coppa Italia seven times but have struggled since winning a Champions League, Serie A and Coppa Italia treble under coach Jose Mourinho in 2010.
Conte is the 13th coach since then and replaced Luciano Spalletti, who was sacked at the end of last season despite leading Inter into the Champions League.
Curacao goalkeeper Pieter dies aged 31
The Curacao team played a CONCACAF Nations League match against Haiti with heavy hearts on Tuesday following the sudden death of their goalkeeper, Jarzinho Pieter.
Pieter, 31, died at the Curacao team hotel in Port-au-Prince on Monday, CONCACAF announced in a statement.
Multiple media outlets reported the cause of death was an apparent heart attack.
Pieter made a dozen appearances for the small Caribbean island nation from 2013 through this year.
Teammate Leandro Bacuna took to Instagram to pay tribute to Pieter.
"A guy with a beautiful heart ... U will always be my brother from another mother and i will remember your name your soul for the rest of my life," wrote the midfielder-defender who plays club soccer for CardiffCity in the English Championship.
"I lost a very good friend and im asking myself why, why my friend?"
Curacao drew the match with Haiti 1-1.