News of all that's transpired on and off the football field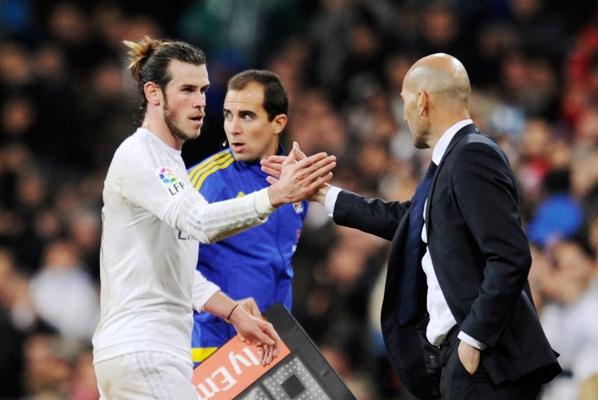 Gareth Bale "is not ecstatic" with life at Real Madrid but has never asked to leave the club, the Welsh forward's agent has said.
Bale's commitment to the 13-times European champions came under the microscope last month after he helped his nation qualify for Euro 2020 and then joined his team mates dancing alongside a banner saying 'Wales. Golf. Madrid. In that order'.
He was booed by Real Madrid fans during last month's match against Real Sociedad.
The 30-year-old forward was also involved in a tense stand-off with coach Zinedine Zidane in the off-season, with the Frenchman stating he was keen for Bale to leave, although a reported move to Chinese club Jiangsu Suning was scrapped.
"He's not ecstatic," Bale's agent Jonathan Barnett told the BBC's Euro Leagues Podcast.
"He has got a contract and as long as he is a Real Madrid player he will play at 100% - and do very well.
"He has never asked to leave. If the right opportunity came along for him and it's something he wants to do we have to have a chat with the president of Real Madrid and see where we are."
Bale was absent from training on Thursday and Spanish newspaper Marca said he would miss Saturday's La Liga match with Espanyol as well as Wednesday's Champions League game at Club Bruges due to a hamstring strain.
Bellerin lost for words after latest Arsenal defeat
Hector Bellerin struggled to sum up Arsenal's latest setback, a 2-1 Premier League defeat by Brighton & Hove Albion on Thursday, but the defender is confident that if they keep doing what they are doing the results will come.
Brighton's Neal Maupay headed home an 80th minute winner to leave Arsenal without a win in any of their last nine games in all competitions - their longest winless run since 1977.
"I have the feeling that whatever we do it doesn't come out right," he told Amazon Prime.
"The team gave its best, we created chances, we defended good but it seems like we need so many chances to score and teams score every chance against us. I am lost for words a little bit.
"It's hard to take... we have to keep going, I am sure 100% that results will come."
Bellerin also said Freddie Ljungberg, who was placed in temporary charge after coach Unai Emery's dismissal last week, had lifted spirits in the dressing room.
"Football is like life sometimes, you go through ups and downs," he added.
"Freddie has helped the team a lot this week. He has added a lot of energy to the dressing room."
Wolves file complaint with UEFA over fans treatment in Braga
Wolverhampton Wanderers said they have lodged a complaint with UEFA over the way travelling fans were treated during their Europa League match against Portuguese club Braga last month.
The English club said they had received a number of complaints from fans who were left "distressed and in some cases injured" as they tried to enter the Estadio Municipal de Braga.
"Wolves takes the safety of its supporters extremely seriously, and these type of incidents are not what is expected when attending events organised by UEFA or its member clubs," the club said in a statement.
"We sincerely thank all supporters who have taken the time to share their experience with us to help form our report and now await a response from UEFA."
Wolves and Braga played out a thrilling 3-3 draw as both teams qualified for the knockout stage from Group K.
Cardiff City appeal to CAS over verdict in Sala case
Cardiff City have appealed against the decision ordering them to pay six million euros ($6.61 million) to Nantes for the transfer of Emiliano Sala, who died in a plane crash on his way to join the Welsh club, the Court of Arbitration for Sport (CAS) said on Thursday.
After signing for Cardiff for 15 million pounds ($19.25 million) in January, Sala was travelling there from the French club when his plane crashed in the English Channel.
The body of the 28-year-old Argentine striker was recovered nearly three weeks later after an underwater search found the wreckage.
In October, FIFA ordered Cardiff to pay a six million-euro sum, relating to the first instalment of his transfer fee, to the French club.
"Cardiff City FC seeks to have the (decision) set aside and requests the CAS to declare that no amount shall be payable by Cardiff City FC to FC Nantes," said CAS in a statement.
CAS added that a hearing was expected to take place in the spring of 2020 and a decision was not expected before June. Cardiff, playing in the English Premier League at the time, were relegated at the end of the season.
Watford can avoid relegation with an English coach, says Foster
Watford can improve their performances and avoid relegation from the Premier League if they appoint an English head coach to take over from the sacked Spaniard Quique Sanchez Flores, goalkeeper Ben Foster has said.
Watford fired Flores on Sunday less than three months into his second spell with the club after he led them to one win in 10 league matches, leaving them at the bottom of the standings and seven points away from the safety zone.
Foster believes the squad's English core can benefit from an English coach's pragmatism after failing to earn wins under Flores and his Spanish predecessor Javi Gracia, whose sides attempted to play expansive football.
"I think the fact that we have got an English core of players -- the spine of the team is English... It would suit us massively," Foster was quoted as saying by the London Evening Standard.
"The only way we are going to get out of the trouble we are in at the minute is by fight and grit and determination, and being dirty and clever, using your nous a bit more.
"The confidence is so low at the minute... all that poppy, lovely football, it's not an option at the minute because the lads aren't able to do it mentally."
Since Sean Dyche's departure in 2012 when the Pozzo family took over ownership of the club, 10 managers have come and gone -- including Flores twice -- none of whom were English.
Under-23 coach Hayden Mullins was in the dugout for Watford's 2-0 defeat by Leicester City on Wednesday and Foster said the 40-year-old's methods were a breath of fresh air.
"He is brilliant," Foster, 36, added.
"I don't know if he is going to be the man or what, but I can only tell you from my perspective and the other lads at the minute, it has been an enjoyable week.
"Hayden has been great... a typical English coach. I think that's exactly what you need as well."
Watford host Crystal Palace in the league on Saturday.
Spain announce March friendly with Germany
Spain will play Germany in an international friendly on March 26 at Atletico Madrid's Wanda Metropolitano stadium, the Spanish soccer federation (RFEF) announced on Thursday.
Both sides qualified comfortably for Euro 2020 and the match offers them the chance to test themselves against a top opponent less than three months out from the tournament.
It will be Spain's first match since Luis Enrique was reappointed as coach, having resigned from the role last June for personal reasons.
The RFEF added that the team will play another friendly later in March, which has not yet been announced.
The two sides last met in a friendly in Dusseldorf in March 2018, which ended 1-1.
Their last competitive meeting was in the 2010 World Cup semi-finals, which Spain won 1-0 on their way to lifting the trophy for the first time.
Saudi Arabia to meet Bahrain in Gulf Cup final
Saudi Arabia will meet Bahrain in the Arabian Gulf Cup final after Abdullah Al-Hamdan scored a first-half goal as they beat hosts Qatar 1-0 in the semi-finals on Thursday.
Al-Hamdan headed home after 28 minutes and the Saudis withstood late pressure from the Asian champions to reach the final for the fourth time in the last six editions.
Bahrain beat Iraq 5-3 on penalties after a 2-2 draw in the other semi. Ali Madan scored the decisive spot kick for the Bahraini team after another substitute Mohamed Qasim Majid missed his attempt for Iraq in the shootout.
Bahrain, who have never won the tournament, came from behind twice in the first half thanks to Abdullah Al-Haza'a and Mohamed Marhoon after Iraq led through Mohanad Ali and Ibrahim Bayesh.
Johnson to replace Gallop as new Australia soccer boss in January
Football Federation Australia have appointed former City Football Group executive James Johnson to replace long-serving CEO David Gallop.
Johnson, who represented Australia at youth level and has held administration roles across the globe, will start in the role in January.
"Having run a domestic and international executive search, and in a strong field of candidates, we have no doubt James is the right person for the role," FFA chairman Chris Nikou said in a media release on Friday.
"We are thrilled that he is coming back to Australia at this important time for the game.
"Football is in James' soul. He has demonstrated that he is a collaborative leader and team player and brings global and local experience and networks to the FFA."
Johnson will inherit an organisation that has been plagued by infighting and was rocked by a constitutional crisis last year that ended the 15-year reign of the influential Lowy family.
One of his first tasks will be to maintain good relations with the newly independent A-League, which was under FFA control until the governing body struck a deal to divest the league in July.
The FFA and the league have continued to cooperate on some operational tasks during the A-League's 2018/19 season while finalising the legal work of the separation.
Johnson will also need to usher in a national second division, slated for 2021-22, which may ultimately lead to a promotion-relegation system incorporating the A-League for the first time.
A lawyer by training, Johnson most recently served as a senior vice president of external affairs at Manchester City owners City Football Group.
He has held roles in Australia's professional players' union, at the Asian Football Confederation and at world governing body FIFA.
"Australian football is my first football community -- I grew up here, I first watched football here, I've played here, and I built the basis of my football administration career here," he said.
"I see my appointment as a responsibility to the game."