Germany captain Philipp Lahm will find out only next week whether he will play in his favourite right back position or be moved to the left for next month's Euro 2012 as coach Joachim Loew ponders his options.
Loew said on Tuesday he would try out a number of things in Thursday's friendly against Israel, Germany's last warm-up game for the tournament which starts in Poland and Ukraine on June 8, before deciding on where his captain would play.
The Germans, among the favourites at the tournament, suffered an embarrassing 5-3 defeat to Switzerland in a friendly on Saturday, prompting calls for a defensive re-organisation.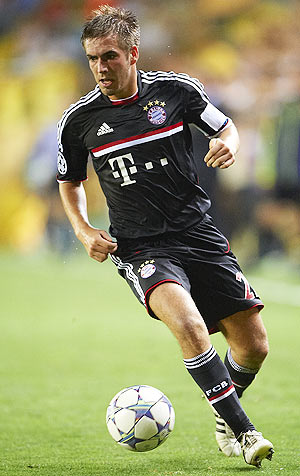 All eight Bayern Munich players, including Lahm, did not play against the Swiss, joining the team on Monday.
"Against Israel Philipp will start on the left because I want to try something out but it means nothing as to how we will play against Portugal (on June 9) in the first Group game," Loew told a news conference in southern France.
"The decision on (where he will play at the Euros) will be taken next week," he said.
Loew said he could imagine starting against Israel with Jerome Boateng on the right, a position the Bayern Munich central defender is uncomfortable with.
"I see this game as a test for us because I want to try a few things to see how some players adapt to them," Loew said.
"A good result, no doubt, is desirable as it would give us the push toward the tournament but the Euro euphoria with fans and in Germany will start climbing next week, regardless of the result against Israel."
Loew will also have to finalise his plans for the central defence after Mats Hummels and Per Mertesacker looked out of sorts against the Swiss. Bayern central defender Holger Badstuber is likely to get the starting nod at Euro 2012.
"It may not have worked 100 percent in the co-ordination between (Mertseacker and Hummels) but the two can work outstandingly together," said Loew.
"All three play at a very good level as central defenders at the highest level internationally. We are in a position where they all fit well together, no matter who plays."
"What we need to do now is fine tune those little nuances," said Loew.
Germany take on Portugal in their Group B opener before playing Netherlands and Denmark.
Ukraine, Poland angry at racism charges
Poland and Ukraine reacted sharply to British press charges of racism and mob violence on their terraces and gave assurances that foreign footballers and fans alike would be safe during the Euro 2012 tournament they will co-host next month.
The neighbours, who will share matches between 16 countries throughout June leading to a July 1 final in the Ukrainian capital, moved to counteract a BBC Panorama investigative programme on soccer violence filmed in their countries.
The programme, aired on Monday, contained footage of fans giving Nazi salutes, taunting black players with monkey noises, anti-Semitic chants and a group of Asian students being attacked at the Metalist Stadium in Kharkiv, one of the four Ukrainian cities which will be hosting group matches.
Polish Prime Minister Donald Tusk said: "Nobody who comes to Poland will be in any danger because of his race."
"This is not our custom, as is not pointing out similar incidents in other countries, although we know they take place. In Poland, they're a rarity," he told a news conference in Rome.
In Kiev, Ukraine's foreign ministry went further, saying the allegations were a "dreamed up and mythical problem".
"You can criticise Ukrainian society for a lot of things ... but, in the practice of racism, European Union member countries are a long way ahead of Ukraine," said ministry spokesman Oleh Voloshyn in comments reported by Interfax news agency.
For Ukraine, the racism allegations have only added to a deluge of other bad publicity ahead of Euro 2012, a competition which the former Soviet republic had hoped would showcase it as a modern state eligible to join the European Union.
Photograph: Manuel Queimadelos Alonso/Getty Images