'You don't live on your past achievements. We want to achieve something even more significant'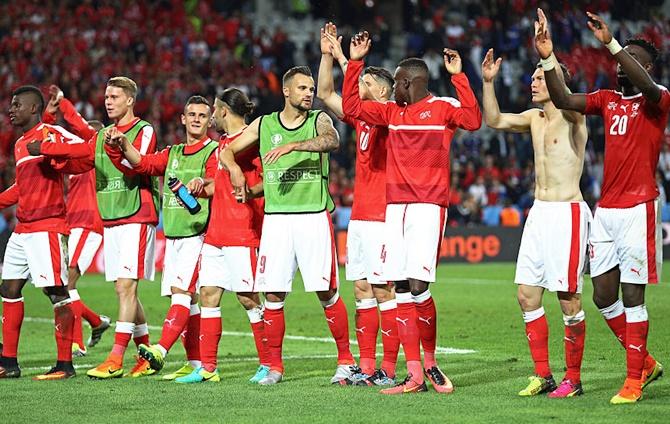 IMAGE: Switzerland players applaud the supporters after the draw in the Euro 2016 match against France. Photograph: Paul Gilham/Getty Images.
Switzerland coach Vladimir Petkovic has no preference over which side his team will face next after the scoreless draw against France that saw his men advance to the knockout stages of the Euros for the first time.
The Swiss rode their luck for much of the game with France hitting the woodwork three times and goalkeeper Yann Sommer producing a man-of-the-match performance to hold on for the draw they needed to secure second place.
"We played excellently in the first half. In the second half it was a bit different with the playing surface. We faded a bit, but we kept our heads up," a bullish Petkovic told reporters.
"All we know now is that it's Saturday at three o'clock and in St-Etienne. The other sides will need to run and be good enough to play against us."
Next up for the Swiss will be the second-placed side in Group C -- Germany, Poland or Northern Ireland.
"All three are good. We played Poland in a friendly a couple of years ago (and) they are very good," Petkovic said.
"Nothing needs to be said about Germany, and Northern Ireland are pretty solid."
Petkovic brushed aside all talk of his side making history by qualifying for the knockout stage for the first time.
"I'm not looking at that. History is behind us. You don't live on your past achievements. We want to achieve something even more significant," he said
Despite the French team having several chances and hitting the woodwork three times, Petkovic singled out his goalkeeper and defensive unit for special praise.
"Many teams are based on a good defence (and) playing compactly. Today that was the case. There were chances, then (they) had shots off the posts. Yann Sommer put in a great effort.
"It is due to the defence most of all," he said of their success at Euro 2016, where they have conceded just one goal in three games.