Manchester United captain Nemanja Vidic has a chance of making his return from injury against Sunderland at Old Trafford on Saturday, manager Alex Ferguson said.
-Pressure mounts on Wenger in denial
The Serbian international's availability is a timely boost for Ferguson because Jonny Evans suffered a hamstring injury in last weekend's Manchester derby win.
-Photos: Van Persie scores on Manchester derby debut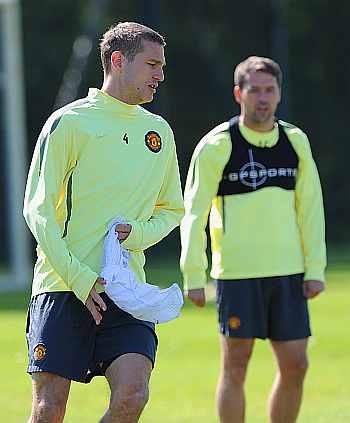 Vidic, who was not risked in the game against City despite United's well documented defensive frailties, has been restricted to five matches this season and underwent knee surgery in September.
"It would have been crazy to play him against City, but against Sunderland -- definitely," Ferguson was quoted as saying in The Daily Mirror on Wednesday.
"Evans had a hamstring problem. He got it in the first half in a challenge from (Mario) Balotelli but he played on while I had Chris Smalling warming up," Ferguson told United's website after Sunday's match.
United have used several different central defensive pairings this season and conceded 23 goals in 16 Premier League games but they still top the table and have opened up a six-point lead over champions City.
Sunderland should be lifted by Tuesday's 3-0 win over Reading but defenders Danny Rose and Phil Bardsley suffered injuries along with midfielder Adam Johnson.
The victory lifted the Black Cats up to 15th but they remain just one point clear of the relegation zone.