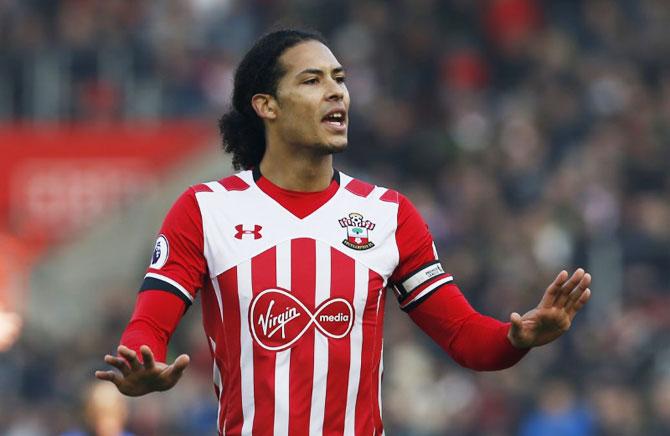 IMAGE: Southampton's Virgil van Dijk. Photograph: Paul Childs Livepic/Action Images via Reuters
'Nobody is for sale that we don't want to sell and so he is not for sale in this window. We have said it more than once'
Southampton's recent takeover has not altered the Premier League club's strategy of trying to hold on to their best players, chairman Ralph Krueger has said, while reiterating that defender Virgil van Dijk will not be sold in this window.
Chinese businessman Jisheng Gao purchased an 80 percent stake in the club for around 210 million pounds ($271 million) this week and Krueger said the sale would not have any immediate impact on the club's business strategy.
"This partnership gives us an opportunity to move differently into the global arena," the chairman told local newspaper the Southern Daily Echo.
"Great football teams are not built by permanent change. They are built by holding groups together, by building on it."
Dutch international Van Dijk has been forced to train on his own after putting in a transfer request amid interest from Liverpool, Chelsea and ManchesterCity, but Krueger said Southampton were still hopeful of reintegrating him.
"Nobody is for sale that we don't want to sell and so he is not for sale in this window. We have said it more than once," he added.
Southampton have lost a large number of players to their domestic rivals in the past few seasons, but Krueger said he was keen to end the perception that they were a selling club.
"We thought this was a good summer for that," he added.
"This is a group that (has) tasted winning and keeping them together would give us the chance to reach another level.
"Virgil is not the only player that is involved in this. He is part of the whole strategy of not selling."
($1 = 0.7748 pounds)