West Brom's Dawson is villain and hero as Spurs' chances at League title fades; Leicester now need just one win from three games to claim EPL crown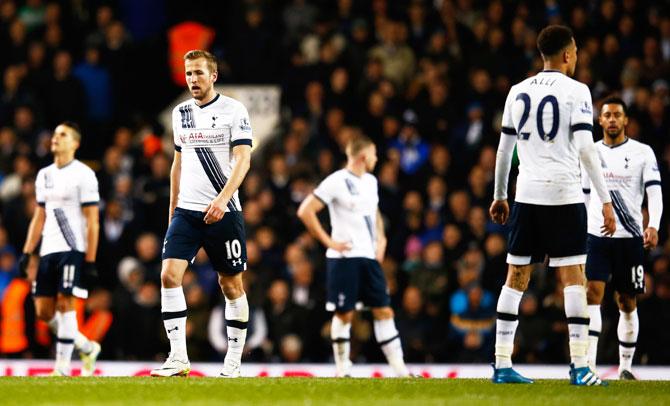 IMAGE: Dejected Spurs react after conceding a goal and level the scores at 1-1 during the Barclays Premier League match between Tottenham Hotspur and West Bromwich Albion at White Hart Lane in London on Monday. Photograph: Julian Finney/Getty Images
Tottenham Hotspur's faint hopes of a first league title since 1961 faded into the White Hart Lane gloom on Monday after a draw against West Bromwich Albion left the door wide open for LeicesterCity to claim the crown.
Spurs were unlucky not to win after hitting the woodwork three times but the 1-1 Premier League result means the Foxes need one win from their remaining three games to be champions for the first time in their history.
"We were unlucky in the first half and created a lot of chances but this always happens in football," said Tottenham manager Mauricio Pochettino, whose team are seven points adrift of Leicester.
"We allowed them to believe and we conceded a goal, but I am very proud because it was a big effort. Seven points is difficult but we still need to fight in the next three games," he added with a look of resignation.
"We felt comfortable on the pitch and created chances, but we lost control of the game and allowed them to create chances. But I think we deserved the three points."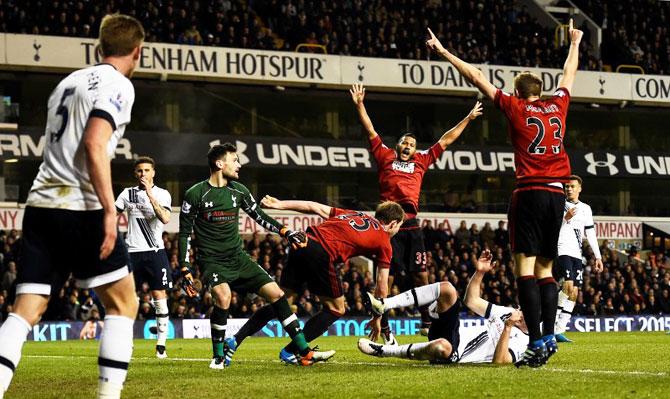 IMAGE: West Brom's Craig Dawson (centre) celebrates with Salomon Rondon and Gareth McAuley after scoring. Photograph: Dylan Martinez Livepic/Reuters
Leicester can claim the title with a win at Manchester United on Sunday with Tottenham visiting London rivals Chelsea next Monday. Pochettino has not conceded the title yet but he knows the odds are stacked against his exciting young team.
"Mathematically it is still possible," he said.
"I have nothing to complain about and we need to be strong in our mind and prepare for the next game. It is difficult but we need to fight for the points. We are not going to give up.
"We understand it was a game we must win. I must now lift the players for the game against Chelsea."
West Brom defender Craig Dawson scored at both ends, with an own goal in the 32nd minute cancelled out by an equaliser in the 72nd -- in a match Spurs dominated in the first half but strangely allowed to slip from their grasp after the break.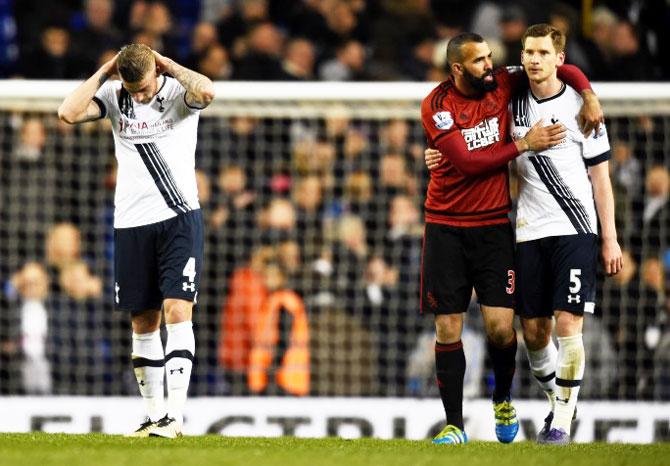 IMAGE: Tottenham's Toby Alderweireld (left) is dejected after the game as teammate Jan Vertonghen is consoled by West Brom's Sandro. Photograph: Dylan Martinez Livepic/Reuters
Asked if the title race was over, Spurs striker Harry Kane said: "It has not gone. We need to keep fighting. We felt we needed to win this game so we are disappointed.
"We had enough chances in the first half to put it to bed. But we weren't good enough in the second half.
"We felt we could easily have won the game if we played in the second half like we did the first. All we can do is keep fighting. Hopefully Man United can do us a favour."
After they last won the title Tottenham went on to clinch the first double of the 20th century by winning the FA Cup final. However, this year it looks like their 1961 FA Cup final opponents -- none other than Leicester -- will be the ones celebrating.