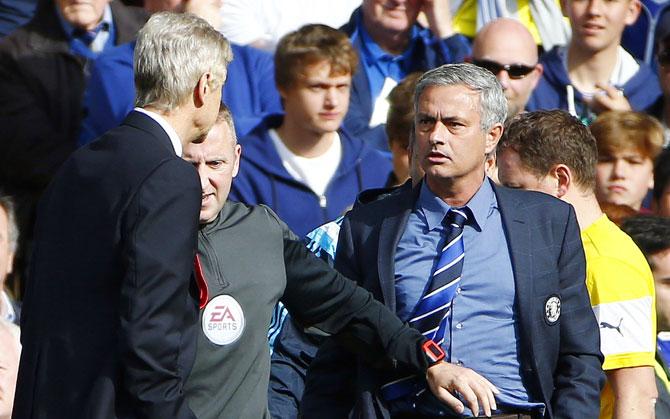 Chelsea manager Jose Mourinho (right) and his Arsenal counterpart Arsene Wenger react during their English Premier League match at Stamford Bridge. Photograph: Eddie Keogh/Reuters
The long-running feud between Arsene Wenger and Jose Mourinho shows no sign of healing after another high-profile falling out on Sunday, this time the result of a dispute over territory.
Midway through the first half of Chelsea's ultimately comfortable 2-0 victory over Arsenal which stretched their Premier league lead to five points, it became clear that Stamford Bridge was not big enough for two of the game's strongest personalities.
Especially when a seething Wenger encroached into Mourinho's technical area raging about a robust tackle by Gary Cahill on his Chile forward Alexis Sanchez.
What happened next was both comical and unedifying in equal measure with Mourinho facing off Wenger and then getting a hearty two-handed shove in the chest for his troubles.
With the crowd in uproar, all that was missing was a theatrical tumble to the ground by Mourinho, who continues to have the Indian sign over the Frenchman he has at various times labelled a "voyeur" and "a specialist in failure".
While Cahill's tackle on Sanchez was barely legal, Wenger's reaction could land him a touchline ban, especially considering that if it had happened on the pitch it would likely have resulted in a red card for a player.
Calmer after the heat of battle, Wenger played down the incident with a dash of humour.
"I wanted to go for A to B and some one confronted me without any sign of welcome," Wenger, told reporters, the faintest of smiles on his lips. "It was a little push.
"B was Sanchez to see how badly he was injured."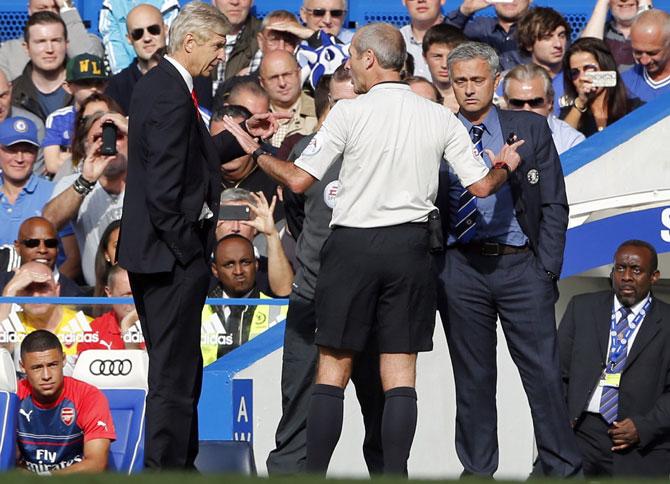 Chelsea manager Jose Mourinho (right) and his Arsenal counterpart Arsene Wenger (left) are spoken to by match referee Martin Atkinson during their English Premier League match at Stamford Bridge. Photograph: Stefan Wermuth/Reuters
Asked what Mourinho, who he is yet to get one over in 12 previous clashes, had said to him, Wenger added: "I don't listen to what he says."
Mourinho saw things slightly differently, despite saying the incident was "no problem" and that there were "no outstanding issues" between the pair.
"It became heated because of the game, a big game, big rivals, an important match for both teams. These conditions make a game of emotions... but there are two technical areas, one for me and one for him and he was coming to my technical area and not coming for the right reasons, and I didn't like that."
For all the pantomime antics of the two managers, the game itself was disappointing as a spectacle.
Arsenal looked the more fluid side on occasions without really menacing the Chelsea goal and it was telling that Wenger pointed at a possible handball by former skipper Cesc Fabregas from Jack Wilshere's shot as his side's best chance.
Ruthless Chelsea were simply too solid and in Eden Hazard they had the best player on the pitch by a long way. The home side had barely threatened the Arsenal goal in the opening 27 minutes but the Belgian whizzkid came to life.
His bamboozling run through Arsenal's defence invited Laurent Koscielny to hack him down in the area and he obliged, conceding the penalty which Hazard tucked away with aplomb. Hazard teased Arsenal after the break before Diego Costa sealed victory from a superb Fabregas through ball.
"In these matches you need one of your top players to take some magic cards out of his pocket and (Hazard) did it when the game was 0-0 and tight," Mourinho said.
It was also a complete performance by Mourinho who got the better of Wenger tactically once again, then claimed the moral high ground to boot.
"To be fair I do so many wrong things in football and sometimes you are emotional but not this time," he said. "I was in my technical area and it wasn't my problem."