Newcastle United's controversial director of football Joe Kinnear has quit seven months into a three-year deal after his second spell at the Premier League club in which they made no permanent signings for the first-team squad.
Kinnear, 67, had come under fire after Newcastle, who were thrashed 3-0 at home by local rivals Sunderland in the league on Saturday, did not buy any new players in the January transfer window and lost playmaker Yohan Cabaye to Paris St Germain.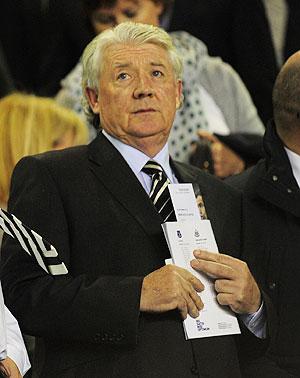 "Newcastle United can confirm that Joe Kinnear has this evening resigned from his position as director of football with immediate effect," the north-east club said in a statement on their official website (www.nufc.co.uk).
Kinnear was responsible for attracting talent to the club but strikers Luuk de Jong and Loic Remy, on loan from Borussia Moenchengladbach and Queens Park Rangers respectively, were the only players added to the first-team squad under his watch.
Newcastle, who lie mid-table in the league, failed to sign Clement Grenier from Olympique Lyon as a replacement for Cabaye, who left for a fee that British media said could reach 25 million euros.
After the Sunderland defeat, manager Alan Pardew told reporters: "If I was in charge, solely, of transfers, things might be different, but I'm not. I think I've made my opinions very clear this week and all the rest of it is confidential."
The club's difficulties in the January transfer window were the latest twist in Kinnear's difficult relationship with the fans, who never warmed to the outspoken Irishman.
He returned to Newcastle, where he was manager for four months in the 2008-09 season before his tenure was ended by a heart attack, in controversial circumstances.
Many fans and the media questioned whether the Irishman's appointment by United owner Mike Ashley would undermine Pardew's role at the club with speculation about who had the final say on transfers despite Kinnear saying it was a joint decision.
BIZARRE INTERVIEW
The day before Kinnear was officially appointed in June last year, the former Tottenham Hotspur and Ireland fullback gave a bizarre radio interview in which he rounded on his critics.
He also made a series of gaffes in which he pronounced the names of players and club officials incorrectly and claimed credit for a signing in his former spell as Newcastle manager when the player was actually recruited by another.
Kinnear, who has also had spells as manager of NottinghamForest, LutonTown and Wimbledon, had little time for critics.
"I don't know what angle they've got," he told Talksport.
"If they want to sit down and argue with me, some of them are talking out of their backsides, a load of tosh and I'm not accepting it. It's as simple as that. I've certainly got more intelligence than them, that's for sure."
He was first appointed at St James' Park after Kevin Keegan left in September 2008 before stepping aside in early 2009.
His initial spell in charge was marked by an expletive-ridden rant at a news conference when he swore 52 times at reporters. He also upset former Newcastle player Charles N'Zogbia by referring to him on television as Charles 'Insomnia'.
Last June he called current player Hatem Ben Arfa 'Ben Afri' and Cabaye 'Kebab' and boasted about his contacts within the game and how he could "pick the phone up and speak to any manager in the league, any manager in all divisions."
However, the club's only permanent signing during his second spell was teenager Olivier Kemen from Metz in July.
With Kinnear and Ashley absent during Saturday's derby defeat at St James' Park, Pardew was left to face the fury of fans alone.
Photograph: Stu Forster/Getty Images