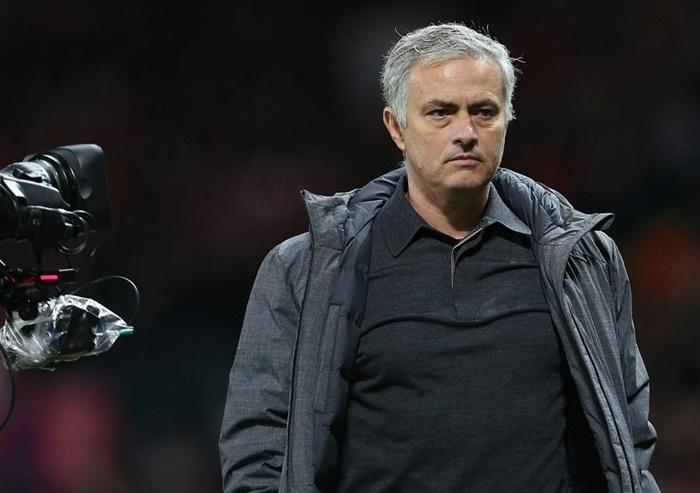 IMAGE: Manchester United boss Jose Mourinho. Photograph: MUFC/Twitter
Jose Mourinho lashed out at Manchester United great Paul Scholes on Monday after the former player's recent criticism of Paul Pogba and said the France midfielder always gives everything even if it does not always pay dividends.
Scholes, who has been a pundit for television network BT Sport since retiring in 2013 after spending his entire, trophy-laden career at United, had criticised Pogba for "strolling" during United's drab goalless draw with Southampton on Saturday.
Pogba set up Anthony Martial's opener at Everton on Monday as United roared back from three draws to win 2-0 and Mourinho backed the Frenchman, United's most expensive player ever at 89 million pounds ($120.30 million) from Juventus in 2016.
"Paul tries to do his best all the time and sometimes he plays very well, sometimes he plays well, sometimes he doesn't play so well, but it's not Paul's fault that he makes much more money than Paul Scholes," Mourinho told a news conference.
"It's not Paul Pogba's fault, it's just the way football is but I think Scholes will go down in history as a phenomenal player, but not as a pundit. He doesn't make comments, he only criticises."
In the 81st minute, Jesse Lingard added to Martial's strike to take United provisionally above Chelsea into second place in the Premier League standings and ease the pressure on Mourinho.
The Portuguese coach underlined his reputation for picking fights with key figures in the game with further comments aimed at Scholes and other former United players such as Ryan Giggs who have criticised his side.
"Our performance was really good so maybe I'm lucky this time and the kings of rock and roll that said I wasn't performing last month will say I'm performing now," he said.
"Some people think they have to be at the club but that's a problem I cannot solve."
Mourinho also praised former England midfielder Scholes, who was one of United's key players when they dominated the Premier League under Alex Ferguson between 1992 and 2013.
"Every day I try to do my best. If one day Paul (Scholes) decides to be a manager, I wish he can be 25 percent as successful as myself.
"If he can do that he will be quite happy, but in my mind Paul Scholes is one of the best players I have ever seen playing in midfield.
"He gave so much to my club that I only can thank him for that because the prestige of this club is based on people like him."
Leicester's Mahrez finds form in time for January sales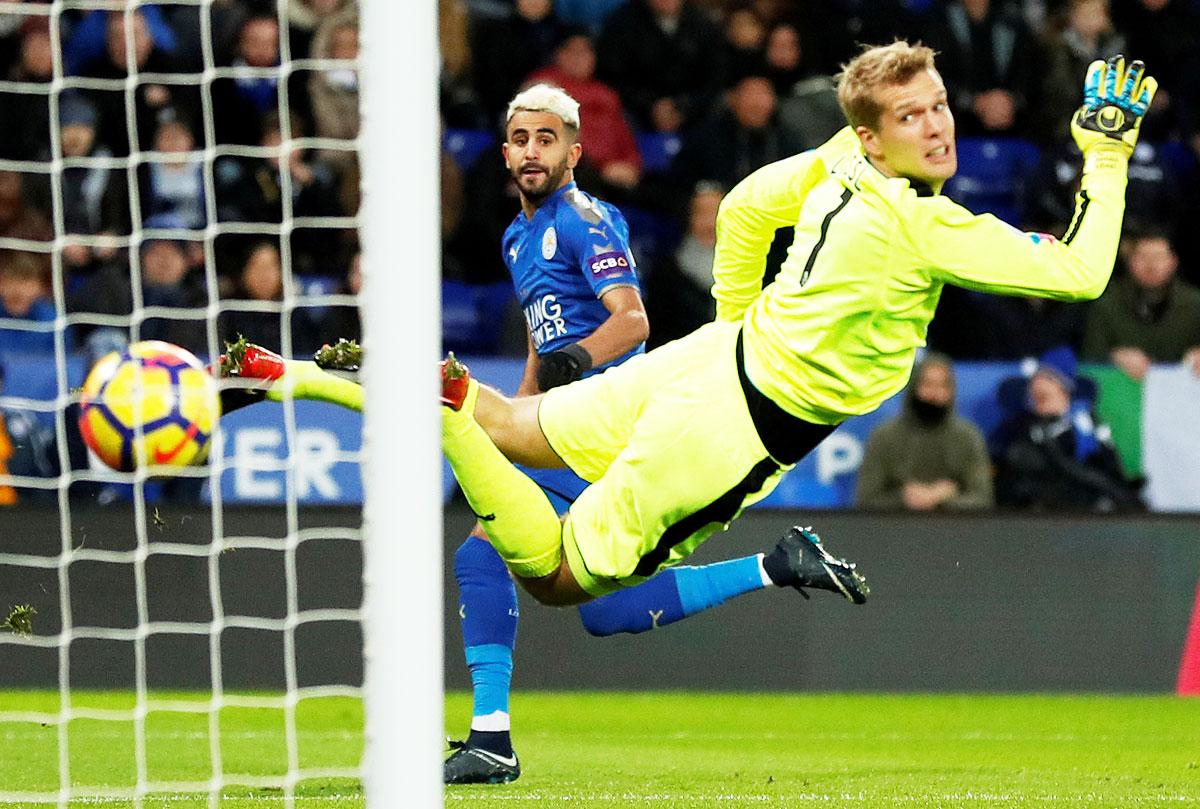 IMAGE: Leicester City's Riyad Mahrez scores their first goal against Huddersfield Town during their English Premier League match at King Power Stadium in Leicester on Monday. Photograph: Andrew Boyers/Action Images via Reuters
Leicester City's Riyad Mahrez continued his fine run of form in a 3-0 home win over Huddersfield Town on Monday that could well attract suitors with the January transfer window about to open.
After a potential move to Serie A side AS Roma broke down in the close season, unsettled Algeria international Mahrez found himself stuck at a club he felt he had outgrown.
"I am fiercely ambitious and feel now is the time to move on to a new experience," Mahrez said at the time in a statement.
The 26-year-old had seemed destined for the Italian capital but two bids were rejected and, when the transfer window closed, Mahrez was faced with a fifth season at Leicester.
"We wanted a left-footed winger to replace Mohamed Salah and put it all on Mahrez, but the only reason he didn't come was because the club (Leicester) wouldn't sell," Roma sporting director Monchi had told Italian newspaper Gazzetta dello Sport.
As a result, Mahrez did not seem his all-action self at the start of this season. Following two assists in his first two Premier League games of the campaign, he did not contribute to another Leicester goal in the next five matches.
However, he has been involved in 12 goals in 15 Premier League appearances since -- scoring seven and assisting five.
With Mahrez having already expressed a desire to leave, he could be angling for a move in the coming weeks. This time, Leicester may just get an offer they cannot refuse.
Van Dijk won't be rushed into Liverpool line-up: Klopp
Liverpool manager Juergen Klopp says he is in no rush to introduce new signing Virgil van Dijk into his starting line-up, despite having completed the signing of the world's most expensive defender early in the transfer window.
The transfer of the highly-rated Dutch international centre back was announced last week after the two clubs, who had failed to agree terms during acrimonious dealings in the close season, finally reached an agreement.
Liverpool did not reveal the transfer fee but Southampton announced it was "a new world-record for a defender" with English media reporting that it was a 75 million pounds ($100.5 million) deal.
But with the Reds on a 16-match unbeaten run in all competitions after the 2-1 New Year's Day win at Burnley and an FA Cup derby clash with Everton on Friday, Klopp has little time to integrate the former Celtic man into his team.
Asked whether Van Dijk could make his debut in the third round tie at Anfield, Klopp said: "I don't know. We made a few tests. No rush. He is on fire, really wants but we have to make sure he can perform.
"Centre half is a position which depends on the others in the pitch. That means you have to tune it so you work together. Pre-season is for that usually," he added.
Klopp suggested that the 26-year-old might be given more time to get used to his team mates.
"After Friday, we have a little bit more time. It is a long-term project. It is not important when his first game (is) but how many good games he plays," he said.
The Liverpool boss said that he was not surprised by the solid displays from Dejan Lovren and Ragnar Klavan, who also combined for the late winner at Turf Moor.
"I never thought we had a defence problem or thought we need an extra player, though Virgil will help us a lot. We are fourth in the table, absolutely OK. We need to keep the distance not bigger to the teams ahead of us, if we can make it smaller then it is better," he said.
The German's options in midfield have also increased with Adam Lallana making his first start of the season at Burnley and delivering an impressive performance.
"Outstanding. Especially after 1-0, he played really good football. He was really enjoying the game. He was really strong in the beginning, then average, then back again. Good news for all of us," he said.