A summary of sports events and sports persons, who made news on Tuesday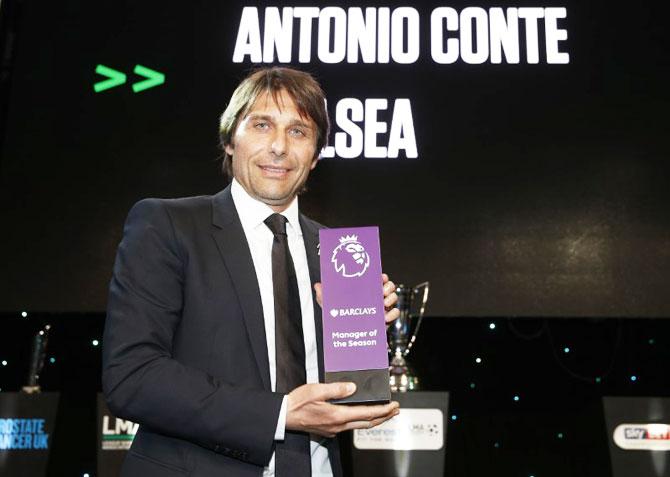 IMAGE: Chelsea manager Antonio Conte poses with the Barclays Premier League Manager Of The Season award at the League Managers Association Annual Awards Dinner at The Grosvenor House Hotel in London on Monday. Photograph: Action Images/Matthew Childs
Chelsea's Antonio Conte was named Manager of the Year at a League Managers Association awards ceremony on Monday after leading his side to the Premier League title and FA Cup final.
The 47-year-old Italian, whose team finished seven points clear of second-placed Tottenham Hotspur, will lead Chelsea out against Arsenal in the Cup final at Wembley on Saturday.
Chelsea's 93 points was the second highest total since the Premier League began in 1992 and they became the first Premier League team to register 30 victories in one season.
"I think I've had a lot of incredible emotions in my first season here in England. I want to say thank you to all the people who voted for me. It's great to receive this award. I hope I deserved this," Conte said.
"It's fantastic to read all the names that won this trophy and to stay with these managers is a great achievement for me. I hope to continue in the best way," he added after receiving the award from former Manchester United manager Alex Ferguson.
Chris Hughton, 58, was named Championship (second-tier) manager of the year after guiding Brighton & Hove Albion into the Premier League as runners-up to Newcastle United.
FA wants betting information on Terry substitution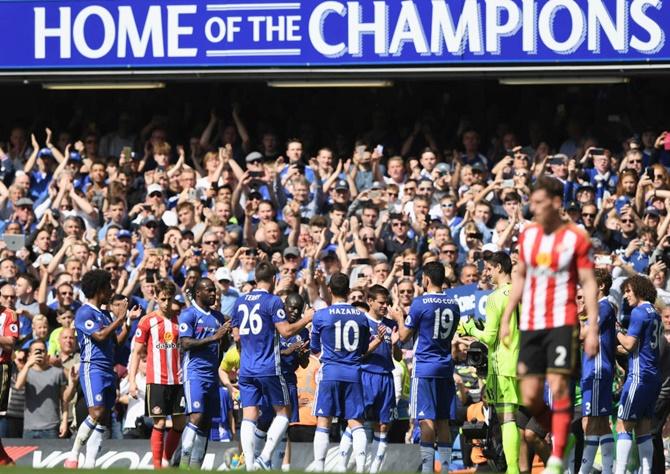 IMAGE: Chelsea players form a guard of honour for John Terry as he leaves the pitch for a last time at Stamford Bridge on Sunday. Photograph: Shaun Botterill/Getty Images
The English Football Association (FA) have asked betting companies to provide information on wagers placed on John Terry's stage-managed substitution during Chelsea's 5-1 win over Sunderland last weekend, British media reported on Monday.
Terry, who will leave champions Chelsea at the end of the season, was given a guard of honour as he left the pitch in the 26th minute of his final Premier League game at Stamford Bridge. He later confirmed that the send-off in the minute that matched his shirt number was orchestrated following talks with Chelsea manager Antonio Conte.
Bookmaker Paddy Power also confirmed that they had accepted and paid out bets at odds of 100-1 on the substitution.
"We replied to a novelty request for odds on John Terry's substitution -- one of hundreds on the Chelsea game -- and fair play to the three punters who were on at odds of 100-1," Paddy Power said in a statement.
Manchester United cancel Europa League final news conference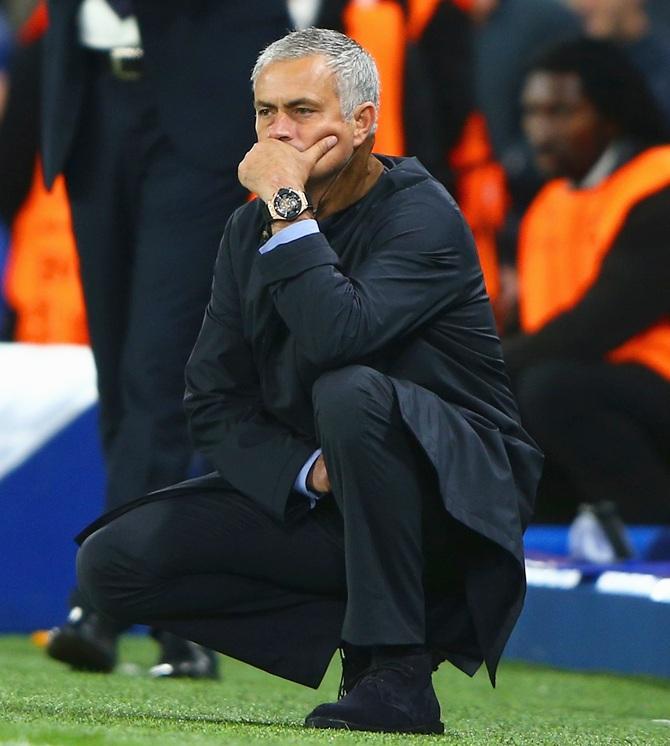 IMAGE: Manchester United manager Jose Mourinho. Photograph: Ian Walton/Getty Images
Manchester United have cancelled their news conference ahead of the Europa League final in Stockholm following Monday's suicide attack at a pop concert in their own city which killed 22 people.
European soccer body UEFA said it had agreed to a request from United to cancel Tuesday's conference, which was due to be held at the Friends Arena, the venue for Wednesday's match against Dutch side Ajax Amsterdam.
UEFA said the team would practice at their own ground on Tuesday as planned before flying to Sweden. A team walk at the stadium in the evening would go ahead.
At least 22 people were killed and 59 were wounded when the suicide bomber struck as thousands of fans streamed out of a concert by U.S. singer Ariana Grande in Manchester on Monday night.
Liverpool eye silverware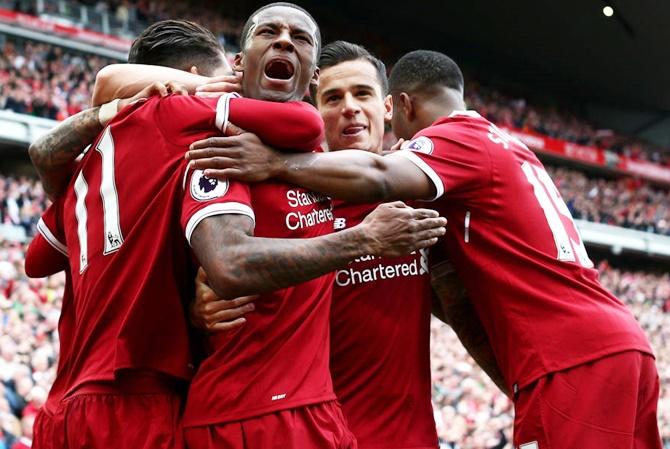 IMAGE: Liverpool's Georginio Wijnaldum celebrates scoring. Photograph: Jan Kruger/Getty Images
Liverpool need to experience the feeling of winning trophies again to take the next step and compete with Europe's best, defender James Milner has said.
Liverpool, who secured fourth spot in the Premier League with a 3-0 win over Middlesbrough on Sunday, have not won a major trophy since their League Cup triumph five years ago.
Liverpool lost out in last year's League Cup and Europa League finals and Milner, who won the FA Cup with ManchesterCity in 2011 before their run of two league titles in three years, said winning one trophy is a catalyst for more.
"Personally the biggest thing for us at City was winning the FA Cup: getting that first trophy under our belt, winning something, giving you that belief," Milner said.
"Champions League was a step along the way. Last year we came close (to a trophy) but couldn't get over the line. But playing in those sort of occasions and in those big games is important.
"Hopefully now we can stick a few trophies in the cabinet. That is the next step."
Midfielder Adam Lallana also expected Liverpool to be ready to compete for silverware next season.
"It has been a good season, not just myself but I think the team has come on leaps and bounds," Lallana told the club's website.
"There is still a lot of room for improvement and hopefully we can continue that in the Champions League next season.
"We've got top four now... Hopefully we can add to this great squad and really compete for silverware next year."
'Double bonus awaits Manchester United in Stockholm'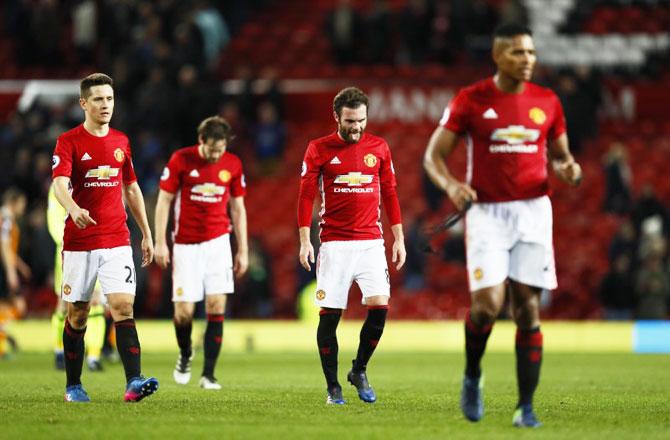 IMAGE: Manchester United's Juan Mata and Ander Herrera. Photograph: Jason Cairnduff Livepic/Action Images via Reuters
Manchester United have had a long, hard season but the prospect of winning a European trophy and booking a spot in next season's Champions League will be enough to revitalise tired minds and bodies for one more match, midfielder Juan Mata has said.
United, who finished sixth in the Premier League, face Ajax Amsterdam in Wednesday's Europa League final knowing victory will earn them a berth in next season's elite club competition.
"The Champions League is the best competition ... now we are playing in the Europa League and if we win it as I did a few years ago (with Chelsea), it's a double bonus, as it's a trophy and a Champions League spot, so it's very important," Mata told The Telegraph.
The final will be United's 64th game of the season after competing across four competitions and winning the League Cup but Mata is confident that fatigue will not a play a role in Stockholm on Wednesday.
"It's been a long season, but when you have a game like this, the very last game, all the fatigue and tiredness in your legs and body goes away because the desire of playing and winning it is much bigger than any possible fatigue."
'Arsenal must ensure Sanchez, Ozil stay'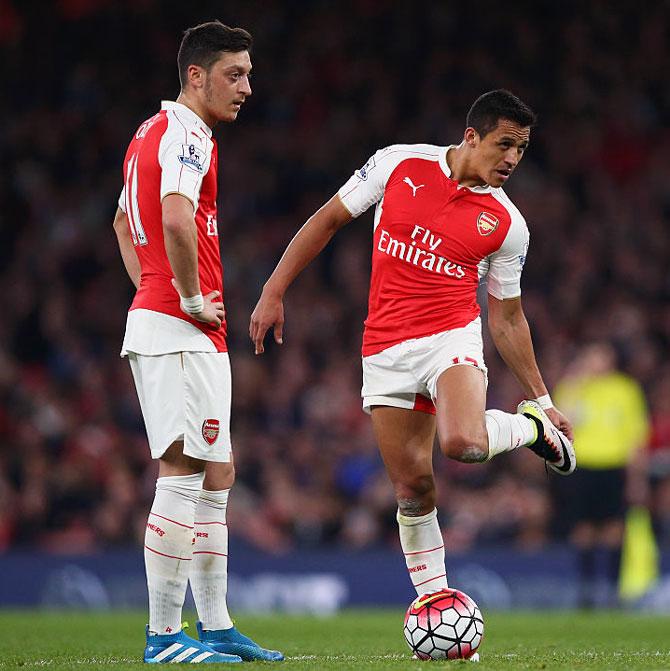 IMAGE: Alexis Sanchez, right, and Mesut Ozil of Arsenal. Photograph: Paul Gilham/Getty Images
Arsenal must focus on keeping Alexis Sanchez and Mesut Ozil at the club before trying to strengthen other areas of the team for next season, goalkeeper Peter Cech has said.

Arsenal's leading goalscorer Sanchez and playmaker Ozil are out of contract in 2018 and talks on an extension have been put on hold until the end of the season.

"The main thing is we need to keep the team together and try to strengthen it in the areas where the manager would like to, and then we will be ready to go again," Cech told British media.

Arsenal failed to qualify for the Champions League for the first time in 20 years under manager Arsene Wenger, but Cech said Premier League champions Chelsea had benefited from not being involved in the competition this season.

"If you have one odd year in 20 years, it is not a problem," said Cech. "I think the club has a strong foundation, a strong organisation and everything to be one-year out and come straight back in, like Chelsea did last season.

"Obviously, it helped them not to be involved this season because they could keep all their energy for the league."

Cech said Arsenal only had themselves to blame for an inconsistent season that led to a fifth-placed finish.

"We have four more points than last season, so in a way you would think that we improve by four points..." Cech added

"But unfortunately the other teams ahead of us had a very good season. They managed to get points and we had a few results which didn't go our way. It was our mistake."

Arsenal play Chelsea the FA Cup final on Saturday.
French defender Clichy to leave Manchester City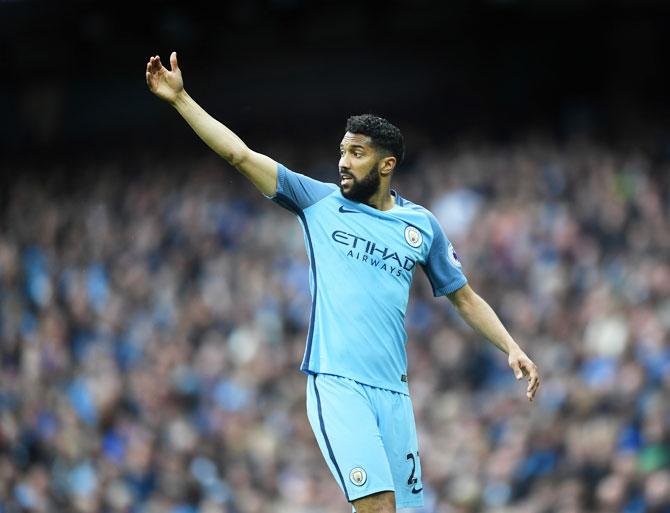 IMAGE: Manchester City's Gael Clichy. Photograph: Laurence Griffiths/Getty Images
Defender Gael Clichy is set to leave ManchesterCity when his contract expires next month after six years at the Premier League club, the 31-year-old Frenchman said at an event on Tuesday.
Clichy, who joined City from Arsenal in 2011, made 39 appearances for the Manchester side this season as they secured a third-placed league finish. He has made a total of 203 appearances for City, winning two league titles.
"It's hard. I'm not sure whether or not Joe will be here next season, and I won't be here next season," Clichy said when asked if he would ever play with former City team mate Joe Hart again, during a Q&A session.
The Frenchman is the second senior City player to leave the club after Pablo Zabaleta announced his exit earlier in May.