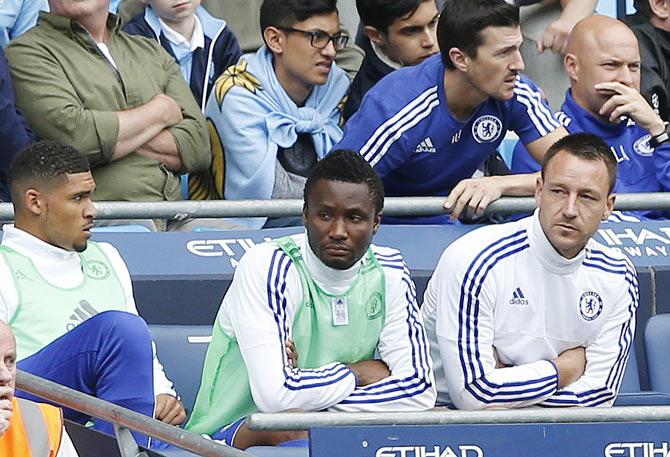 Chelsea's John Terry (extreme right, bottom) sat on the bench after being substituted at half time during the Premier League match against Manchester City on Sunday. Photograph: Carl Recine/Action Images via Reuters/Livepic
When Chelsea faced one of their heaviest defeats in recent times when they lost 3-0 to Manchester City on Sunday, the Blues manager Jose Mourinho seemed disillusioned, terming it a "fake result".
- 4 reasons why City were better than Chelsea on Sunday...
A listless display at City's Etihad Stadium, particularly in the first half, allowed Chelsea's main title rivals to steal a march and move five points clear.
But the tactics adopted by the Portuguese manager raised a few eyebrows.
Mourinho dropped a big bombshell when long-term captain and defensive colossus John Terry was substituted at halftime for tactical reasons -- the first time Mourinho had ever taken his trusty skipper off in the heat of battle.
Terry's position in the team will dominate the week ahead as Chelsea prepare to face West Bromwich Albion.
"I had to decide on John or (Gary) Cahill because Zouma is the fastest player we have in our defensive line," Mourinho explained of his decision to hook Terry.
"The point was not to bring John out but to bring Zouma in. I wanted to have my fastest player on the pitch.
"I'm the one that plays John every game, made him captain, brought him back from a difficult situation with other managers."