Last week Manchester United destroyed Premier League champions Leicester City 4-1 with a performance that thrilled Old Trafford while Chelsea fought back from two goals down to knock Leicester out of the League Cup.
After a string of defeats, defender Danny Simpson admits that his team is struggling. Here is how they can do better.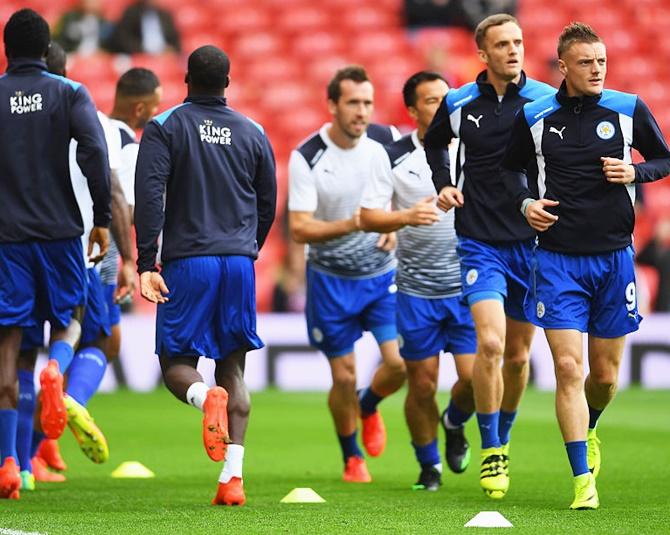 IMAGE: Jamie Vardy of Leicester City, right, warms up with his team mates prior to kick off during the Premier League match. Photograph: Laurence Griffiths/Getty Images.
1. Defender Danny Simpson says Leicester City need to adapt quickly to a clampdown by referees on pushing and holding in the penalty area after Saturday's 4-1 defeat by Manchester United.
Last season, centre backs Wes Morgan and Robert Huth provided Leicester with great defensive solidity and they conceded only 36 goals on their fairytale run to the title.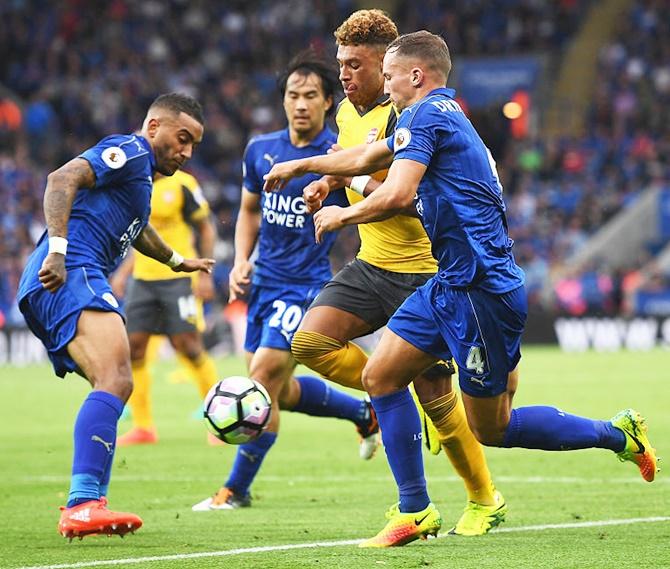 IMAGE: Alex Oxlade-Chamberlain of Arsenal, centre, attempts to take the ball past Danny Simpson of Leicester City, left, and Daniel Drinkwater during the Premier League match. Photograph: Michael Regan/Getty Images.
2.They have already conceded 11 in six games this campaign, including the four at Old Trafford at the weekend - three of which came from corners.
3. Simpson said the new interpretation of the rules could be contributing to the club's defensive frailty.
"Err, I have to be careful what I say," Simpson told British media.
"It is in your mind, yes, we have seen a few decisions this season. It is in your mind. It is something we have to learn to adapt to as players. They have changed the rules.
"The way it was last season, I thought we were very good at defending set-pieces and we made it tough for the opponents.
"You have been doing that for all your career and suddenly you have got to change it, but it's the same for everyone, it's something we have got to work on and look at."