'When I look back at 1992, I look at it with a bright view. I didn't get a gold medal, but it was certainly a victory for many South Africans'
'For many years all my focus was what do I need to do, but at the end of my career I was tired being selfish'
Elana Meyer looks back on the disappointment of missing out on competing internationally early in her career because of the sporting boycott of South Africa in conversation with Laxmi Negi/Rediff.com.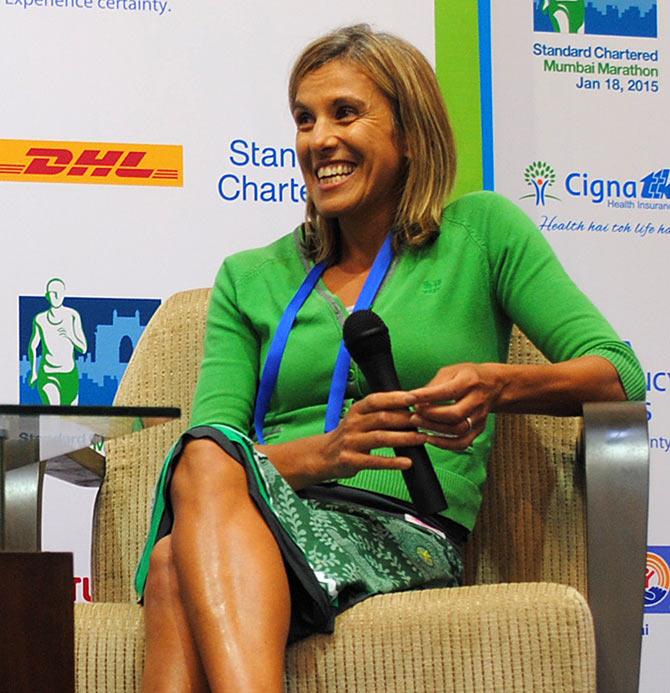 Image: South Africa's Elana Meyer at a media interaction for the Standard Chartered Mumbai Marathon. Photograph: Reuben NV/Rediff.com
South Africa's Elana Meyer is a well-known name in the world of long-distance running. Although the early part of her career was quashed by the sporting boycott of South Africa during the apartheid era, she did not lose hope and went on to bring laurels to her country.
Meyer was among the world's elite athletes for over 10 years and set a 15 km road-running African record of 46:57 minutes in 1991 at Cape Town.
After apartheid was abolished the same year and South Africa returned to the Olympics, she got her chance and excelled at the 1992 Barcelona Games, winning silver in the 10,000 metres final.
Now retired, the 48-year-old, who won the Mumbai Half Marathon in 2005, is on her second trip to the city for the mega event, which will be run on Sunday, January 18.
"But this time I am not here to run; I'm here as an outsider," asserts the 48-year-old, crediting the country's late President, Nelson Mandela, for the change in her fortunes.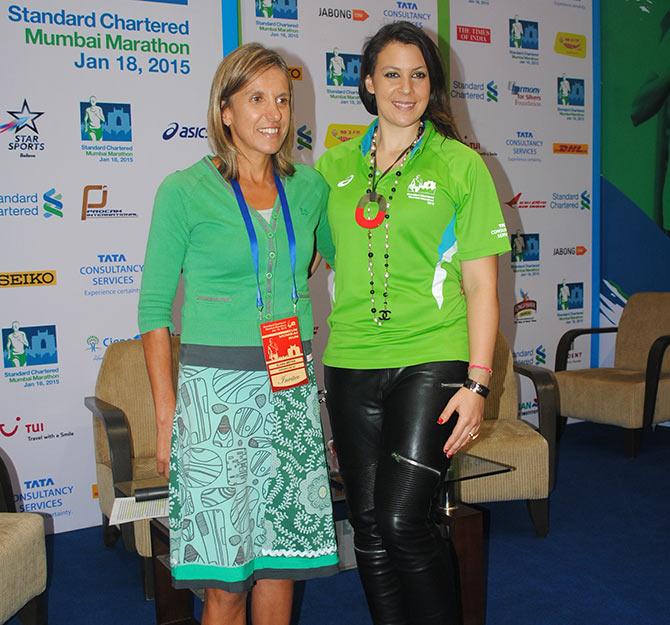 Image: Elana Meyer with French tennis ace Marion Bartoli at a media interaction for the Standard Chartered Mumbai Marathon. Photograph: Reuben NV/Rediff.com
Was the Barcelona Olympics the highlight of your career?
I had qualified for the 1984 Los Angeles Olympics but had to sit at home watching the television. I think coming form South Africa and not competing since I was very young was very frustrating.
It took me eight years to get another chance at the Olympics track. So when Nelson Mandela was freed from prison (in 1990) I had this feeling that things would change and I would have a chance to compete internationally. Mere walking on to the track in Barcelona was a dream that I chased for many years. There were times when I thought it would not become reality, but I hung on.
Often people do not realise how long the journey was before I stepped on the Olympic track after I had first qualified. Some people had given up their careers. It was a long chase. Barcelona (South Africa's first Games since 1960) came at just the right time. I was 25 then and certainly I could not have waited a moment later.
Barcelona was certainly an emotional highlight. Only when I was on the track did I realise that it was reality and I was competing against the best athletes. Finally, I was beaten by another fighter (Derartu Tulu of Ethiopia) and a faster woman than me. But that silver medal meant like a gold medal to me. (Tulu won the first ever gold medal by an African woman. After the race both Meyer and Tulu did a victory lap together with their respective county flags wrapped around them)
Did the frustration of not being able to compete in the previous two (1984 and 1988) Olympics fire you up for that race?
Certainly! I missed out on the 1984 and 1988 Olympic Games. When I was racing Zola Budd in the eighties there was so much good competition in South Africa, but when Zola left for Great Britain there was a void. I tried going to the United States and was competing there.
In 1990, the moment Nelson Mandela walked free from prison, things started changing. We had to put our house in order in South Africa and achieve unity. It boils down to the inner desire to win and it was certainly very strong in 1992.
Did finishing second leave you unfulfilled?
I was 25 when I ran my first international race. I think being second at the Olympics came from a strong desire to compete.
When I look back at 1992, I look at it with a bright view. I didn't get a gold medal, but it was certainly a victory for many South Africans. For me, it was the end of years of isolation. That is why it is so significant.
How frustrating was it to wait to compete?
For many years there was enough stimulation. First of all, you want to be fastest in your club, then your province and that doesn't happen overnight when you realise that you are lacking competition.
It took me many years to be the best in my country, and only for a certain number of years I really had the desire to run internationally.
Things kept me motivated and then it was closing up. If it had to continue for another six years I probably wouldn't.
After school I went to university and that was all. We were in isolation. So I started studying. I did my degree (commerce), then my Honours degree, then my teaching degree with the anticipation of South Africa being allowed back in international competition
Do you have any regrets?
I have had a satisfying career. I believe I could have run faster marathons, but I have achieved all my goals. I feel like celebrating what I have learnt from the sport. I like my running career apart from things that were out of my control.
What is the beauty of marathons?
Every single runner who crosses the finish line achieves something very significant. It is the beauty of marathons. The distance challenges every runner. Whether you finish first or last, everyone experiences the same sense of achievement, which makes the marathon very equal.
It doesn't matter where you come from. It feels a sense of achievement and it is accessible for many people who choose to run a marathon and prepare for it. I believe that if you can walk you can definitely run. It is just the matter of putting in time for the preparation.
Marathon is truly a challenging event where an average person can run alongside a world record holder and at the end both individuals/participants feel the same high when they finish. There are not so many sports where you can do that.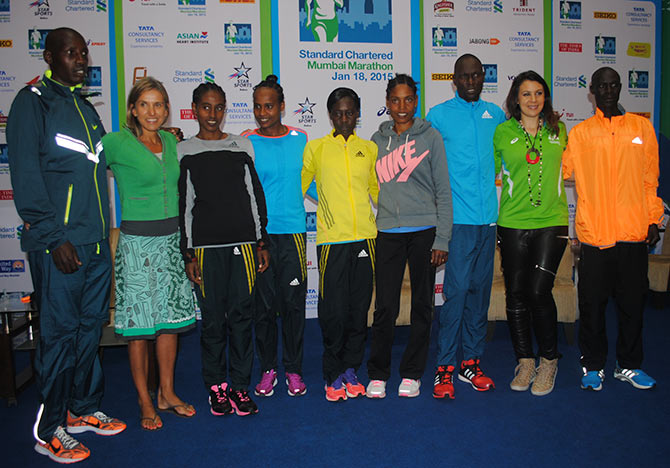 Image: Elana Meyer with Elite marathon runners at a media interaction for the Standard Chartered Mumbai Marathon. Photograph: Reuben NV/Rediff.com
How important are genes in the making of champion marathon runners?
There is a very good gene pool in Kenya and Ethiopia and other African counties. But the bigger strength that they have is that they are born into a belief system that they can run.
So the moment a Kenyan is born people believe that he/she can run and become a world champion. In many other countries it is against the odds. They have to prove that they can do it.
I come from a very small town and my father is not a Kenyan and my mother is not an Ethiopian.
I am not born on a high altitude place, but I could break many world records because I was committed to working hard for a long period of time.
If you look at the success of Japanese female runners -- looking at those women, people don't say this is the next Olympic champion, but they have a history of bringing back Olympic medals.
I wouldn't be so narrow-minded to say that if you are born outside Kenya and Ethiopia you can't become a world champion in marathon.
What are you thinking when you run?
In a race you are focused to stay in the moment. If you exit your mind to the finish then you lose the power of the moment. You don't jump your mind and think what is going to happen at the finish.
My focus has always been on the moment ... NOW. I always think -- 'how do I achieve the time per kilometre? am I going at the right pace? tactically, am I in the right position?'.
Distance running is the execution of your own persona; it is not only about competitors.
Ten years after retiring when I go for casual run I think about my family and a lot of other creative things. But when you are a professional and it is your job to run, you cannot think about your beautiful kids because you are going to lose the moment. Often, in that period, if someone makes a tactical move, you are not there; you were with your family.
When did you decide to call time on your career?
I started running when I was nine and I ran at the highest level. I achieved all my goals and ran as hard as I could for many years. But to get your goal you have to be focused and compromise on a lot of other things in life.
Like, you can't go skiing because the risks of getting injured are just so high. At the end of the career I have realised that I have achieved my goals and it is also time to give time to other stuff which I have denied myself.
I wanted to go into the second part of my life and career which is not focused on me but on others. So I started a charitable academy to pass the baton on to a new generation.
I have learnt so much through this sport. It has given me a life and I really want to give youngsters an opportunity to learn from what I have learnt. I want the youngsters to take the focus away from me. For many years all my focus was what do I need to do, but at the end of my career I was tired being selfish.