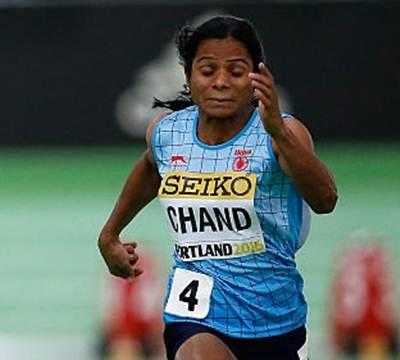 Promising sprinter Dutee Chand bagged her second gold medal, winning the women's 200 metres, in a clean sweep of medals by Indians at the Taiwan Open Athletics Championships, Taoyuan City, Taiwan, on Friday.
She clocked 23.52 seconds in the 200m final to win gold while compatriots Srabani Nanda and H M Jyothi bagged silver and bronze, with timings of in 23.55s and 23.92sec respectively.
However, all three were way off 23.20secs, the Olympics qualification standard for the event.
The trio were part of the Indian quartet that set a National record in the women's 4x100m relay at the IAAF World Challenge in Beijing on May 18.
The women's relay team, however, could not repeat the Beijing show on Thursday as they were disqualified in the heats after a botch up with the baton exchange.
Dutee had won gold in the women's 100 metres on Thursday in a slow time of 11.50secs, thereby failing to qualify for the Rio Olympics, for which she needed to touch 11.32secs.
In the Federation Cup National Athletics Championships in New Delhi last month, she clocked 11.33secs in the 100m, raising hopes of a Rio Games berth in the coming days.
Friday's 200m timing of both Dutee and Srabani were below their 23.34s and 23.36s (heat timings) efforts in New Delhi.
Meanwhile, the other Indians in the fray on Friday came up with disappointing performances, raising questions why they have been sent at all outside India at a time when athletes are seeking Olympics qualification.
Kirpal Singh Batth hurled the discus to 58.20m to win the men's gold in the event, which has 65 metres as the Olympic qualification standard. Compatriot Arjun was second with 55.50m.
National record holder Om Prakash Karhana continued to disappoint with a mediocre performance of 17.85m to bag the silver in men's shot put. The Olympic qualification standard in this event is set at 20.50m.
Karhana has a personal best of 20.69m, attained in 2012.
In the men's triple jump, Arivu Selvam Devendran won the bronze with an effort of 15.62m. The Olympic qualification standard in the event is set at 16.85m.
Image: Dutee Chand
Photograph: Christian Petersen/Getty Images for IAAF