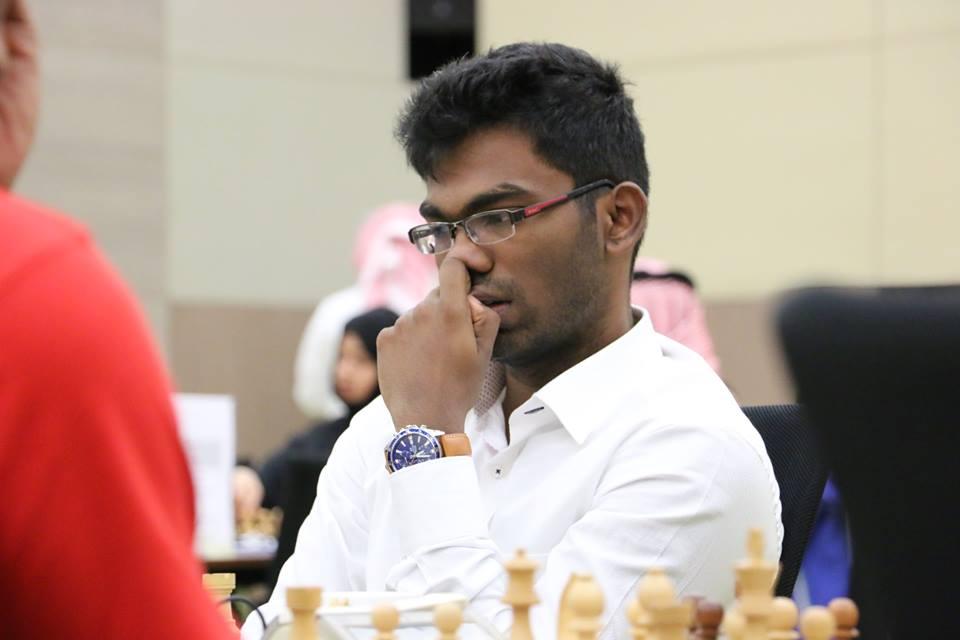 IMAGE: Grandmaster S P Sethuraman. Photograph: Facebook
Grandmaster S P Sethuraman continued with his dream run and played out a fighting draw with higher ranked Anish Giri of Holland in the first game of the third round of World Chess Cup in Tbilisi, Georgia.
After victories over Ruslan Ponomariov of Ukraine and compatriot P Harikrishna in the first two rounds, Sethuraman displayed some fine form here too and the Indian did not face any trouble against Giri, a top-10 player for several years.
It was a King pawn opening wherein Sethuraman had slightly passive but perfectly normal position for a long time. The exchange of pieces became inevitable at some point and the resulting position was just level when the players shook hands.
Grandmaster Vidit Gujrathi missed a great opportunity against Ding Liren of China and had to settle for a draw. At one point in the middle game, a beautiful tactic could have turned the tide decisively in favour of the Indian.
However, once Gujrathi missed the tactic, the resulting position was level.
Both Gujrathi and Sethuraman will play white in the return game now.
Meanwhile, world champion Magnus Carlsen of Norway suffered a shock defeat at the hands of Bu Xiangzhi of China and now faces the elimination as he is in a must win situation with black pieces.
While Carlsen's loss was big news, it was overshadowed by a massive controversy that spread like wildfire much before the world champion collapsed.
Grandmaster Anton Kovalyov of Canada was the centre of attraction following his victory over former world champion Viswanathan Anand in the second round.
The trend continued after the third round too albeit for the wrong reasons.
As he arrived at the hall, Kovalyov was informed by the Chief Arbiter that he was not appropriately dressed and will have to change his 'Shorts'.
Thereafter an animated discussion ensued with Zurab Azmaiparashvili of Georgia, the organiser and Chairman of Appeals Committee, after which the Canadian left the tournament hall and forfeited his game due to non-appearance against Maxim Rodshtein of Israel.
Some hours later Kovalyov was seen checking out of the hotel and only later did the Canadian put his side of the story on his Facebook page.
According to Kovalyov, and pictures available, he had played the first two rounds with the same dress, including in his victory over Anand. No one either informed or raised any objections but it happened in the third round only.
The Canadian apparently left the city and will not come for the return game.
The World Cup had started with 128 players with US$1.6 million as prize fund. Each round has two games, followed by tiebreak games in case of a tied result.
Important results round 3 game 1: Magnus Carlsen (Nor) lost to Bu Xiangzhi (Chn); Vladimir Onischuk (Usa) drew with Peter Svidler (Rus); Vassily Ivanchuk (Ukr) drew with Vladimir Kramnik (Rus); Anish Giri (Ned) drew with S P Sethuraman (Ind); Levon Aronian (Arm) beat M Matlakov (Rus); Francisco Vallejo Pons (Esp) lost to Wesley So (Usa); Ian Nepomniachtchi (Rus) drew with Baadur Jobava (Geo); Maxim Rodshtein (Isr) w/o Anton Kovalyov (Can); Ding Liren (Chn) drew with Vidit Gujrathi (Ind).