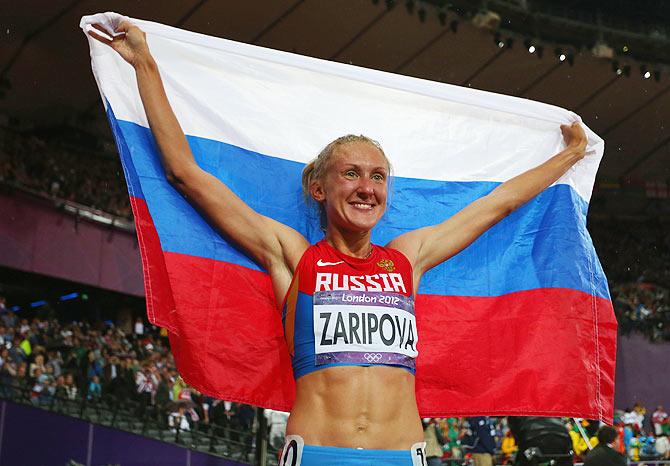 Yuliya Zaripova of Russia celebrates after winning the gold medal in the Women's 3000m Steeplechase at the London 2012 Olympic Games. Photograph: Alexander Hassenstein/Getty Images
Russian steeplechaser Yulia Zaripova has been banned for two and a half years for doping offences, the Russian anti-doping agency RUSADA said (www.rusada.ru) on Friday.
Zaripova, 28, was suspended after her biological passport showed abnormalities and her results from June 20 to August 20 2011 and July 3-September 3 2012 have been annulled.
Zaripova won gold in the women's 3,000 metres steeplechase at the London Olympics in 2012, setting a new personal best in the process. But the result has been annulled and Zaripova could lose her gold medal.
She also won gold in the world championships in South Korea in 2011, but this result has not been called into question.
Zaripova missed the 2013 world championships in Moscow because of injury and has not competed since.
Russian heptathlete Tatyana Chernova has also been banned for taking illegal substances, RUSADA said on its website.
The double Olympic bronze medallist had a sample from the 2009 world championships in Berlin retested in 2013 following a request by the International Association of Athletics Federations (IAAF).
The 27-year-old tested positive for the banned anabolic steroid Oral Turinabol and has been suspended for two years, starting from July 22 2013.
Her results from August 2009 to August 2011 have been annulled. Chernova won gold at the 2011 world championships, outside the period when her results have been annulled.
RUSADA announced last week that three Olympic walking champions, Olga Kaniskina, Valery Borchin and Sergei Kirdyapkin, as well as 2011 world champion Sergei Bakulin and silver medalist Vladimir Kanaykin had been suspended for doping offences.
Two Russian cross-country skiers, 20-year-old Nikita Mashkin and 19-year-old Arina Kalinina, were handed two-year bans this week.
Kenya's marathon queen Jeptoo handed two-year doping ban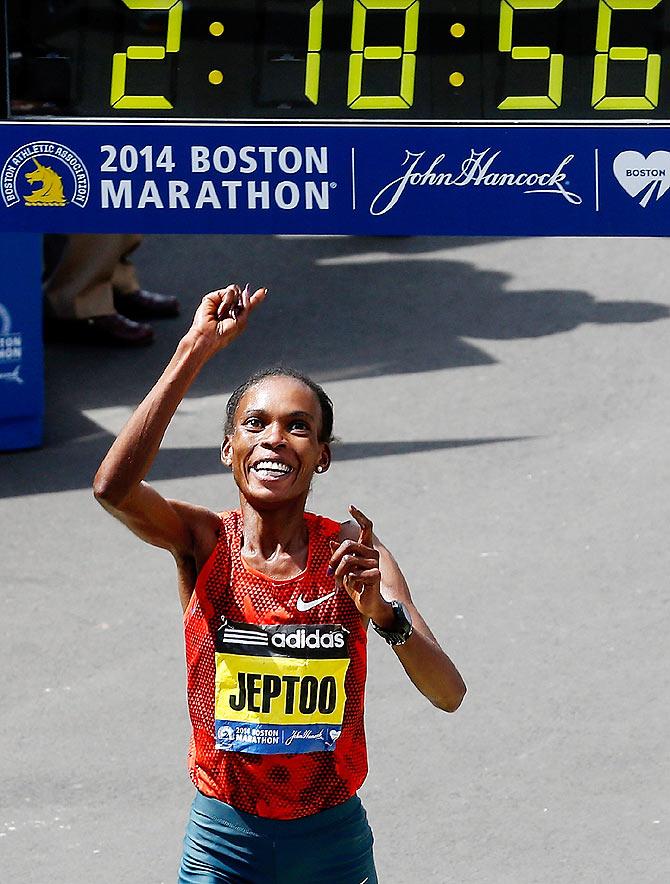 Rita Jeptoo of Kenya crosses the finish line to win the 118th Boston Marathon on April 21, 2014 in Boston, Massachusetts. Photograph: Jim Rogash/Getty Images
Kenya's Rita Jeptoo, winner of the Boston and Chicago marathons, has been banned from for two years after failing a drugs test, Athletics Kenya (AK) said on Friday.
The biggest doping scandal to hit the East African country in recent years, Jeptoo's case has focused attention on Kenyan athletes who are among the world's best middle and long distance runners but have failed a number of drug tests.
Kenya's sports minister this week said the rise in doping has "embarrassed" his country. David Rudisha, the Olympic 800 metres champion, said he fears for Kenya's hard-won reputation after repeat allegations of doping.
"AK followed due process in her (Rita Jeptoo) matter and it was appropriate that she serves a two-year ban," AK chief executive Isaac Kamande told Reuters.
Jeptoo, provisionally suspended from athletics after the A sample proved positive, had asked for a B check which also tested positive for a banned substance.
Jeptoo,33, has denied doping, telling reporters last year that the accusations against her were "lies".
She could not be reached for comment on Friday.
Dozens of Kenyan athletes have failed dope tests in the past two years. Kenyan government officials have blamed the growing doping cases on foreign agents and AK's failure to educate its athletes properly.
Kenya on Wednesday signed a partnership agreement with Chinese and Norwegian anti-doping agencies to help root out drugs cheats.