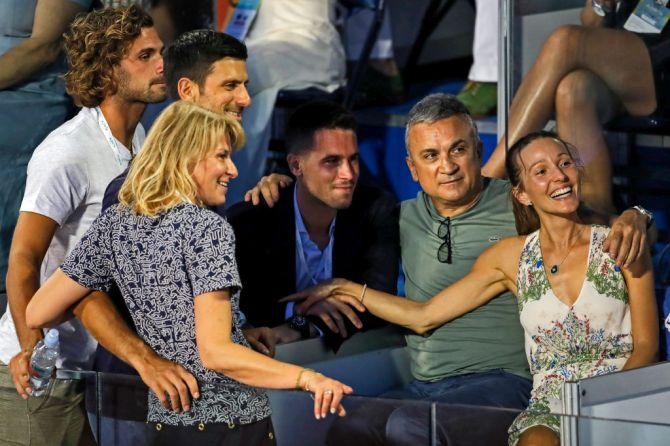 Novak Djokovic's dad, Srdjan on Wednesday blamed Grigor Dimitrov for spreading the Coronavirus among players at the Adria Tour exhibition tournament played in Serbia and Croatia.
World No 1 Djokovic and his wife, Jelena tested positive for the virus on Tuesday. The 17-time Grand Slam champion then apologised online for organising the Adria Tour events, which brought together professional players from various countries to play matches in Serbia and Croatia.
World No 19 Dimitrov was the first player to go public and reveal he was COVID-19 positive in an Instagram post on Sunday before the Adria Tour was cancelled. Later Borna Coric and Viktor Troicki tested positive for the virus.
Djokovic's father blamed the cancellation of the tour on Dimitrov. There is nothing to suggest that Dimitrov spread the virus to others.
"Why did it happen? Because that man probably came sick, who knows from where," Srdjan Djokovic told RTL Croatia TV.
"He didn't test here, he tested somewhere else ... I think that's not fair. He inflicted damage to both Croatia and to us as a family in Serbia," Srdjan Djokovic said.
"Nobody is feeling well because of this situation."
Dimitrov pulled out of the tournament on Saturday after he felt unwell following his opening singles match against Croatian Borna Coric.
With international tennis suspended due to the COVID-19 pandemic, Djokovic organised the Adria Tour as a charity event designated to be contested over four legs across the former Yugoslavia.
Austria's world number three Dominic Thiem won the opening leg in Belgrade, where a capacity 4,000 crowd turned up on each day at Djokovic's tennis centre by the Danube river.
With both Serbia and Croatia easing lockdown measures weeks before the event, players were not obliged to observe social distancing rules in either country and were seen embracing at the net at the end of their matches.
Fans in Croatia, however, were subject to the rules and had to keep their distance, meaning that the 9,000-capacity Visnjik tennis complex was half-full for the event.
In other updates, AFP has reported that NBA player Nikola Jokic, a Serb who plays for the Denver Nuggets, has also tested positive for the coronavirus. He was pictured shaking hands with Djokovic at an exhibition basketball event in Belgrade this month.
Jokic is reportedly recovering in his hometown of Sombor.