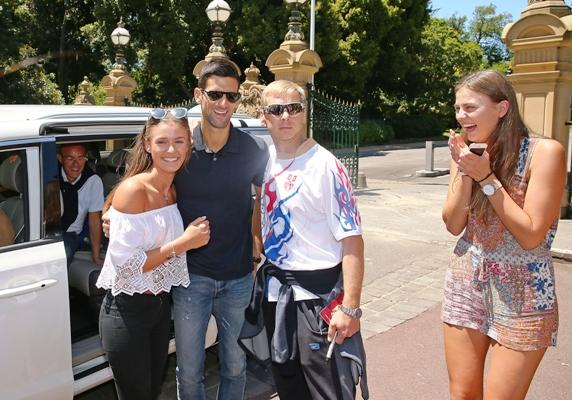 IMAGE: Novak Djokovic of Serbia poses with supporters. Photograph: Scott Barbour/Getty Images
Novak Djokovic has vowed not to become over-confident as he seeks to extend a 15-match winning streak when he returns to action in Dubai, his first tournament since winning a sixth Australian Open title last month.
The Melbourne Park victory earned the Serb an 11th grand slam trophy, bringing him level with Bjorn Borg and Rod Laver, and the 28-year-old admitted such milestones are important to him after winning four of the past five majors.
"People start talking about the all-time greats and me coming closer to them, but I still would like to follow the same approach and philosophy of focusing only on the next tournament," Djokovic told reporters.
"I try not to be over-confident because I have lots of respect for other players … but being at the peak of my career I'm trying to use this momentum and take everything out of myself and achieve more."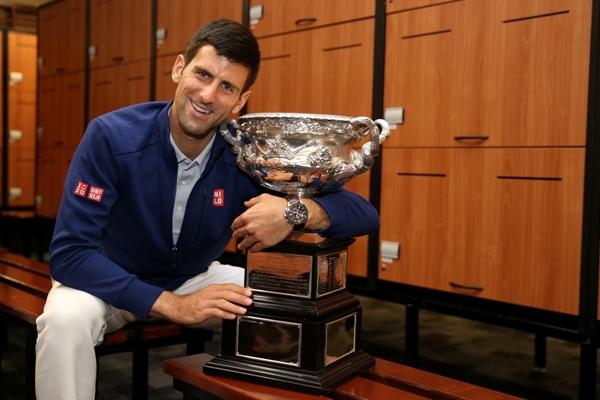 IMAGE: Novak Djokovic of Serbia poses with the Norman Brookes Challenge Cup in the players change rooms. Photograph: Cameron Spencer/Getty Images
After winning 34 of his last 35 grand slam matches, it is not inconceivable that Djokovic could end up eclipsing Roger Federer's record of 17 majors before too long.
But for all his success, Djokovic has yet to crack the French Open, finishing runner-up on three occasions.
But with rivals such as Federer, Andy Murray and Rafa Nadal unable to keep pace with him in the best-of-five set contests, the Serb is hoping to end his Roland Garros jinx in 2016 and perhaps even become the first man to achieve the calendar year Grand Slam since Rod Laver in 1969.
"I try to approach each tournament optimistically and I believe that I can win every match that I play against anybody on any surface," said Djokovic.