As the Venky's Mumbai Fighters' fight night approaches, Olympian Diwakar Prasad is jostling against time. After a lull of almost seven years, all of a sudden, his life is witnessing too much activity.
Prasad, who recently won the Senior Nationals in Tamil Nadu, has a crucial World Series Boxing (WSB) bout against Mussafirov Yerzhan of Astana Arlans at the T-Box, Inorbit Mall in Mumbai, on Friday.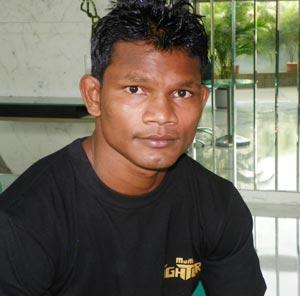 Since competing in the bantamweight division (- 54 kg) at the 2004 Summer Olympics in Athens, where he lost in the second round to Nigeria's Nestor Bolum,  Prasad's life has taken a full circle in boxing. Now, he is on a threshold of a professional career in the sport.
As recently as September, he had give up all hope, shunned the gloves and returned home in Jamshedpur for good.
Following the Athens Games, his life took a sharp turn. After successfully battling Hepatitis B in 2005, he was struck by typhoid in 2007 just before the Beijing Olympics selections.
Worse followed. He lost his father in 2009 and the pressure of sustaining a home forced him to concentrate on his job in the Railways as nothing was happening on the boxing front.
But his heart still yearned for the blood sport. Thus, as soon as he heard that the World Series Boxing would be in Mumbai, he set out to the city of dreams to try his luck.
"I had not seen Mumbai at all. I might have touched the airport, but never got to see the city. So I said to myself even if I don't get though the WSB trials, I will move around the city."
And even as he did do some sight-seeing in the city on his first visit, destiny had different plans for Prasad. He made a name for himself in World Series Boxing, emerging as one of the leading Venky's boxers.
Having won his inaugural bout in Pune, he is raring to go when his team takes on the Astana Arlans pugulists. Victory over the No 1-ranked Yerzhan, who has a 7-3 WSB record will not only enhance his reputation but prove his comeback is right on track.