'Dipa has shown India just what female gymnasts are capable of doing. By becoming the first Indian woman gymnast to go to the Olympics, she has broken down so many barriers. She has paved the way for girls who might want to follow in her footsteps.'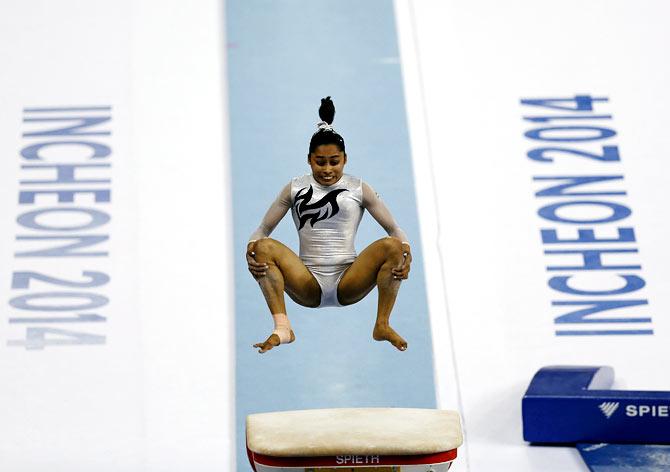 IMAGE: Dipa Karmakar in action in the women's vault final of the artistic gymnastics competition during the 17th Asian Games in Incheon, on September 24, 2014. Photograph: Issei Kato/Reuters
When Dipa Karmakar launches into her soaring vault at the Rio Olympics, chances are that only a handful of people will be aware that the foundations of the skill were built on Do-It-Yourself apparatus made from second-hand parts of a discarded scooter.
"We initially had no apparatus and had to use our imagination to improvise," Karmakar's coach, Bisweshwar Nandi, told Reuters in an interview in his native Bengali.
"For example, we stacked eight to 10 crash mats on top of each other to make a vaulting platform. We bought second-hand springs and shock absorbers from discarded scooters, then asked a local carpenter to make some kind of a spring board with the bits.
"So when Dipa first started to vault, she used to jump from this onto a pile of mats."
In August, the gymnast will get a chance to show the world just how far she has come since her rather primitive start in the sport when she attempts a daring Produnova vault.
It is a skill so difficult -- consisting of a front handspring and two front somersaults -- that Karmakar is one of only five women to have landed it in competition.
But, as the first Indian female gymnast to qualify for the Olympics, she knows she has to pull off something spectacular if she wants the world to take notice.
"My coach was frightened when I first started doing the vault because he thought I could break my neck or end up dead, but I wanted to push the boundaries," Karmakar, the only Indian to reach an apparatus final at the World Championships, told Reuters.
"But my coach and I felt we had to take some risks if we wanted to compete with the best."

SO SCARED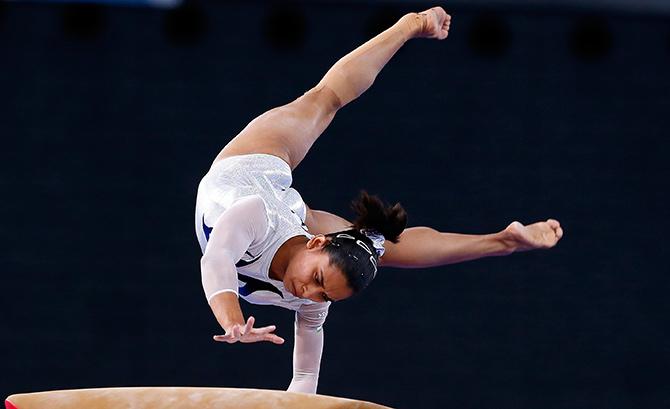 IMAGE: Dipa Karmakar in action. Photograph: Andrew Winning/Reuters
Her coach added: "At times my heart was in my mouth when she took off for the vault. I was so scared but she was fearless."
Such has been her dedication in perfecting the skill, that she decided to note down her attempts for one week in a diary she keeps. The final tally? -- 127 vaults.
In comparison, American gold medal favourite Simone Biles attempts about 15 complete vaults a week.
But, then again, Biles had access to top-of-the-range apparatus from the start and did not have to overcome the challenges faced by Karmakar.
"I don't think my rivals know what obstacles and hardships I have had to face to get myself to Rio," Karmakar, who hails from Agartala in north-east India, said.
"There were barely any world class gymnastics facilities in the whole of India so in a small city like Agartala there was practically nothing.
"So I feel that to get to Rio is a really big deal and it means the world to me.
"To have started off with nothing and get to the level I have today proves that Indian gymnasts have the kind of talent people expect to see from someone like Simone Biles."
Success at the 2014 Commonwealth Games, when Karmakar claimed a bronze on the vault, had initially failed to change her fortunes.
"Dipa also faced sex discrimination because whenever we went to the national camp, the officials used to hype up the achievements of the male gymnasts," added Nandi.
"Ashish Kumar got so much recognition for the silver and bronze medals he won at the 2010 Commonwealth Games.
"I was really disappointed that women's gymnastics was not getting the same recognition or investment and I always had big dreams for Dipa. I was determined she was going to make a name for herself, no matter what the obstacles."

BREAKING BARRIERS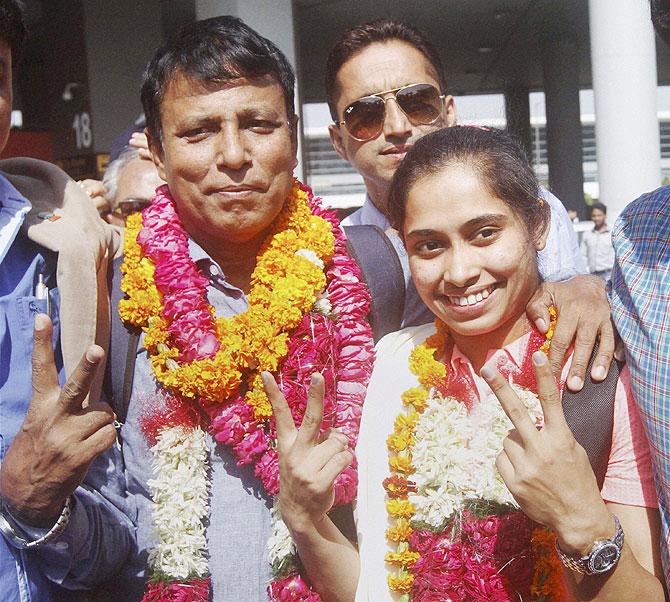 IMAGE: Coach Bisweshwar Nandi and Dipa Karmakar receive a rousing reception on their arrival at the Indira Gandhi International airport in New Delhi, April 21, 2016. Photograph: PTI
With next to no funding available, Karmakar had to make do with practising her skills on out-of-date apparatus.
When Delhi hosted the 2010 Commonwealth Games, manufacturer Gymnova gave her the cast offs from that competition. Until three months ago, those were the equipment she used even though the world of gymnastics had moved on to more high-tech gear.
But when she qualified for the Olympics at the Rio test event in April, the recognition and funding finally started to flood in.
"Dipa has made India proud and brought glory to its name. She has achieved the feat through her determination. Lack of resources never came in her way," said Indian Prime Minister Narendra Modi.
The Sports Authority of India spent $120,000 importing state-of-the-art apparatus from France. Another $45,000 has been allocated for her day-to-day expenses, including training and commuting costs.
In addition, Nandi said the Indian government is also giving Karmakar $1,500 a month "in pocket money" from May until August.
"The problem with India is that you have to first prove what you are capable of achieving before any help comes your way," added Nandi. "There is no system of nurturing gymnastics talent at grassroots level.
"Dipa is so excited. She can't train enough. She keeps telling me to push her harder in training.
"Dipa has shown India just what female gymnasts are capable of doing. By becoming the first Indian woman gymnast to go to the Olympics, Dipa has broken down so many barriers. She has paved the way for girls who might want to follow in her footsteps."
And what are Karmakar's expectations in Rio?
"I don't want to jinx myself by setting sights on a medal but I would be hugely disappointed if I did not at least make the vault final," said Karmakar, who will celebrate her 23rd birthday during the Games.
"I am attempting the vault morning, noon and night so I can get it right for the Olympics. My goal is to produce my best performance."