'The plan is to play but it is going to be difficult'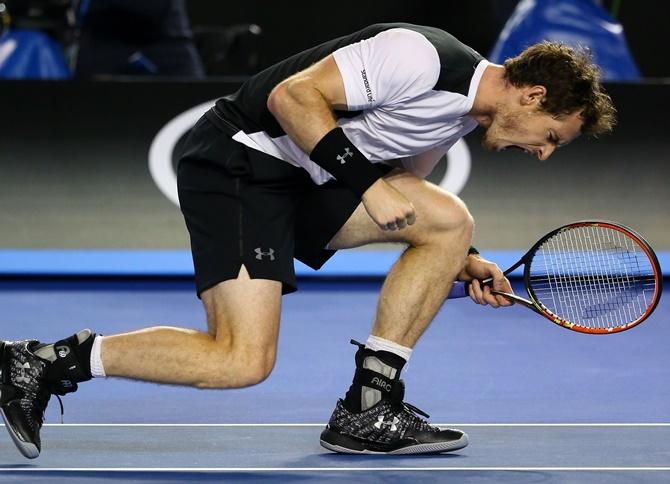 IMAGE: Andy Murray celebrates. Photograph: Quinn Rooney/Getty Images
Andy Murray is prepared to switch from grasscourts to clay in a matter of days to play for champions Britain against Serbia in the Davis Cup, the world number two said on Friday.
The 28-year-old, who almost single-handedly won the trophy for Britain last year for the first time since 1936, could face world number one Novak Djokovic in Belgrade a week after this year's Wimbledon finals.
Serbia have not surprisingly chosen clay as the surface, knowing that Murray would find the transition from the slick Wimbledon lawns to clay difficult.
Murray, however, plans to play even if his schedule is further complicated this year by the Rio Olympics where he will be the defending champion.
"The plan is to play but it is going to be difficult," Murray, the 2013 Wimbledon champion, told BBC Sport.
"I need to play it a little bit by ear, as well, because I just don't know how the body is going to respond."
"These next couple of months are going to be extremely difficult," he added.
Murray has suffered from back problems and is wary of putting too much strain on his body, although he has been ferociously committed to the Davis Cup.
He has played in every tie since 2013, winning 21 of his 22 rubbers in that period.
"Changing surfaces -- almost on a weekly basis -- does increase the chance of injury significantly.
"Not many players would go from playing a grass court tournament one week straight onto the clay the following week with only a couple of days preparation time," he said.