Canadian, US women open with wins
IMAGE: Rebecca Johnston of Canada celebrates a goal with her teammates during the Women Preliminary Round Match against Olympic Athletes from Russia at Gangneung Hockey Centre in Gangneung in South Korea on Sunday. Photograph: Brian Snyder/Reuters
The only two teams ever to win Olympic gold medals in women's ice hockey opened their 2018 tournaments with wins on Sunday, with Canada grinding down the Russians 5-0 and the US edging past Finland 3-1.
Both teams struggled to find their scoring touch early on, but Canada recovered more quickly, opening a three-goal lead in the second period on their way to an easy win. Rebecca Johnston and Melodie Daoust each scored two.
The US had to come from behind after Finland struck first with a goal in the final six seconds of the first period from forward Venla Hovi.
Second-period goals by Kendall Coyne and Monique Lamoureux-Morando put the US on top. Their two-goal margin of victory came courtesy of a late empty netter by Dani Cameranesi with Finnish goaltender Noora Raty pulled for an extra attacker.
Sunday's result -- on the scoreboard at least -- was a stark contrast to the typical opening Olympic clash for the two teams.
In the previous five openers, the US had outscored their opponents by a combined 36-2 and Canada had amassed 59 goals and given up none, although the outcomes began narrowing in Sochi when the preliminary round structure was revamped to place the top teams in the same group.
"I think it is a testament to the parity within our sport and how close it's getting," Canada head coach Laura Schuler said.
"You're really seeing that at the U-18 level and how close it is. It's a positive thing."
The US came into the game with a scoring problem. In their last four pre-Olympic international friendlies, all against arch-rival Canada, the Americans were outscored 9-3. The two face each other again in the final round-robin game on Thursday.
Like Canada in their game against the Olympic Athletes from Russia, the US dominated time of possession and put plenty of pucks on the net - out-shooting Finland by a 42-24 margin - but struggled to capitalise.
"We believe this tournament is going to be very hard fought and it was tonight," US head coach Robb Stauber said.
"It's an absolute great way to start because you want it to be tough. It is a great indication of what it is going to take to win the Olympics."
Medvedeva sets world record, Canada lead team event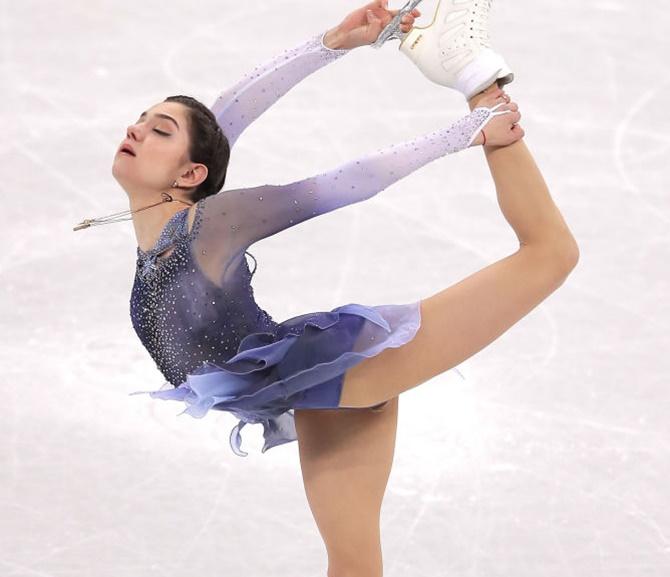 IMAGE: Evgenia Medvedeva of Olympic Athlete from Russia competes in the Figure Skating Team Event . Photograph: Richard Heathcote/Getty Images
Evgenia Medvedeva set a new world record on Sunday in the women's figure skating short programme, with a brilliant skate that helped the Olympic Athletes from Russia (OAR) into second place in the team competition behind Canada.
Medvedeva, the reigning world champion who is competing in her first Olympics, was awarded 81.06 points for her performance, sparking cheers from Russian fans in the crowd.
The 18-year-old overcame a number of hurdles to make it to Pyeongchang, including a broken foot that forced her to drop out of the Grand Prix Final last year and a doping scandal that cast doubt on whether the Russians would be allowed to participate at all.
Medvedeva said her injury and the uncertainty surrounding Russian Olympians had just made her and her team mates stronger.
"I competed to feel the magic of the Olympics," she said.
Following the women's short programme the top five teams - Canada, OAR, the United States, Italy and Japan - advanced to the final round of the team event.
Trailing Canada and the OAR, the United States are currently in third place after solid performances by 20-year-old Bradie Tennell and the husband-wife pair of Chris and Alexa Scimeca Knierim.
In the pairs free skate, Canadians Meagan Duhamel and Eric Radford had a solid performance but did not cleanly land their throw quad Salchow, an element that pushes the technical limits of the sports. The pair earned 148.51 points.
"It's nice to have a strong performance but not a perfect one here, so we have room left to improve for the individual event," Radford told Reuters.
Italy's Valentina Marchei and Ondrej Hotarek skated a personal best score of 138.44 points, helping Italy into fourth place, while Olympic Athletes from Russia Natalia Zabiiako and Alexander Enbert finished third with 133.28 points.
Earlier on Sunday, Canadian ice dancers Tessa Virtue and Scott Moir produced a sizzling routine to bolster an already strong Canadian team performance.
The reigning world champions and three-time Olympic medallists dazzled with an impressive midline step sequence that earned them 80.51 points.
American brother and sister Maia and Alex Shibutani's energetic performance that included smooth twizzles and an impressive rotational lift, finished second with 75.46 points.
"It was our strongest performance that we were looking to put out, I think we made a lot of big steps coming out of Nationals," Alex told reporters, referring to the US competition last month.
"The programme felt great. We went out there with a job and we're very happy that we did it," he said, although he added they were a little disappointed at their score.
Ekaterina Bobrova and Dmitri Soloviev, part of the Russian team that won gold at the 2014 Sochi Games, were third with 74.76 points.
"We had trouble with our rumba," Soloviev told reporters. "Of course we're disappointed because we worked on this element more than on the others."
The first day of the team competition, which included the men's and pairs short programmes, were marked by falls by Canada's Patrick Chan and American jumping ace Nathan Chen, although the overall team scores were lifted by the later pairs results.
The final rounds of the event take place on Monday.
Olympics: Laffont wins moguls gold for France
France's Perrine Laffont clinched gold in the women's moguls at Pyeongchang's Phoenix Snow Park on Sunday.
She out-performed 2014 champion Justine Dufour-Lapointe of Canada, who claimed silver while Kazakhstan's Yulia Galysheva finished with bronze.
Laffont scored 78.65 in the third final to edge out Sochi gold medallist Dufour-Lapointe by 0.09 points.
Canada's Andi Naude had the chance to claim glory on the final run but slid off the piste and did not finish.
It was a tight competition in brutally difficult conditions, with a blizzard blowing up the mogul piste.
Dufour-Lapointe set high scores in all three finals, including the highest score of the day in the first final of 79.50.
But as the conditions deteriorated, it was the 19-year-old Laffont who showed the greatest staying power to come out on top.
"It wasn't like I had dreamed it. It was much harder than in my dreams," Laffont said shortly after her podium presentation.
Dufour-Lapointe, a winner four years ago in Sochi at 19, said that this silver medal was harder-earned than her Olympic gold.
"After everything these past four years, this one means so much," said the smiling Canadian.
"I am so proud of my performance out there. I was so determined to lay down a good performance and I have done that."
Dufour-Lapointe's sister Chloe, who sneaked into the final with an eighth place finish in the second round of qualifying, failed to progress.
The Sochi silver medallist finished 17th and was in tears.
"It is not easy to express the emotions," she told reporters.
"I am looking deep down inside to search for my emotions tonight."
Laffont's gold is the first medal for France at the Games.
Gerard wins first US gold of Games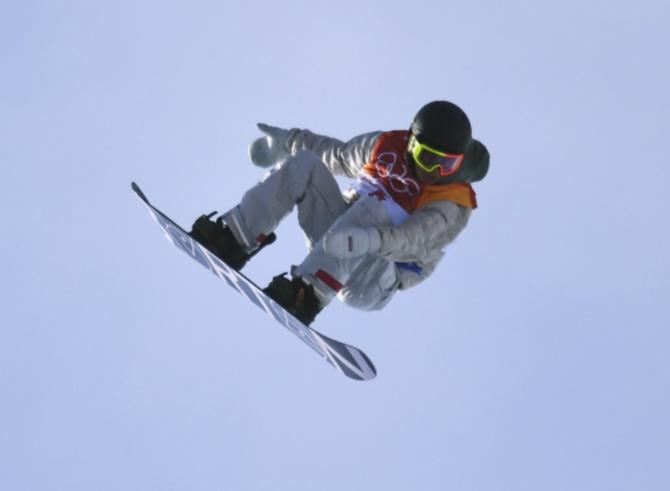 IMAGE: Redmond Gerard of the US competes. Photograph: Dylan Martinez/Reuters
American Redmond Gerard claimed the United States' first gold medal of the Pyeongchang Winter Games with his victory in the snowboarding slopestyle competition.
Gerard scored a run of 87.16 to hold off Canadians Max Parrot and Mark McMorris, who finished second and third respectively.
The 17-year-old Gerard, the youngest in the competition, landed a perfect backside triple cork 1440 on his final run and despite Parrot landing the same trick on the final run of the day the judges favoured the American.
Gerard believes taking a risk in the final run was the difference between himself and Parrot.
"I haven't had time for it to sink in yet," Gerard told reporters minutes after the final result.
"I just look for different lines. I thought about (taking an easier line) but then I realised my trick over (the second jump), going straight over, isn't as good so I probably would have got fourth or fifth. So I might as well try and do good."
In a later news conference, Gerard said he was already looking forward and would be taking a break from competition after the Olympics to make snowboarding films.
Every boarder had three cracks at the course, with each athlete's result calculated as the best score of the three as assessed by the nine judges.
Despite frigid temperatures of -13 Celsius, the sun shone down on the fans gathered at the foot of the slope to cheer on the riders. However, it was a strong cross-wind of 2 m/s, combined with nerves, that caused problems for the athletes on their first run.
Over half the competitors suffered a fall on the first run, including a heavy fall for Parrot, before New Zealand's Carlos Garcia Knight kick-started the competition with a switch backside 1260 on the final kicker to lead after the first heat. He would never improve on that to finish fifth.
With rivals Sebastien Toutant, Gerard and Parrot still struggling to land a clean run, McMorris took control of the contest with a spectacular second run, finishing with a backside triple cork 1620 to score 85.20 and take the lead.
Gerard raised the bar with his backside triple cork 1440 during his final run to take the lead off McMorris and the Canadian couldn't respond, falling on the final kicker.
Parrot landed the same trick on his third run but could only score 86.00 to finish second. Afterwards, Parrot admitted to feeling the pressure going into the final run of the morning.
"I felt a lot of pressure, especially after bailing my first two runs and not putting a score down. I had to land this run so the pressure was at its maximum level but I think I dealt pretty well with it," Parrot told reporters.
"I knew my run would be on the podium so with that being said I was happy and when the score came out and I was second it was something very special."
It was a disappointing day for Norway, who had three riders in the competition. Sochi Games silver medallist Staale Sandbech was fourth, with teenage sensation Marcus Kleveland a disappointing sixth.
Russian player dedicates medal to banned compatriots
Russian speed skater Semen Elistratov, who earned Russia its first medal at the Pyeongchang Winter Olympics, dedicated the medal to his compatriots who have been banned from the Games in an "unfair way".
After winning a bronze medal in men's 1500m short track speed skating, following a crash that took out two skaters, Elistratov said, "I have difficulties to hold back my tears. I am incredibly happy that I did it, in spite of all the circumstances around Russian sport."
"I dedicate this medal to all guys that have been excluded from these Games in such a hard and unfair way. This medal is for you," the Guardian quoted Elistratov as saying.
Russia were banned from competing at the Winter Olympics because of state-sponsored doping at the 2014 Games in Sochi.
However, 169 Russian athletes are allowed to compete in the Games as neutrals under the OAR team banner and Elistratov is one of them.
"I still have two distances to contest and I will fight until the end," he said.
Elistratov comments are, however, under investigation as they appear to breach the rule over making any political statements.
The 2018 Olympic Winter Games in Pyeongchang were kicked off on February 9.
The first medal of the Games was won by Sweden's Charlotte Kalla in the ladies' skiathlon while Hyo-jun Lim provided the home nation with their first gold.