Sweden's Kalla wins first Pyeongchang gold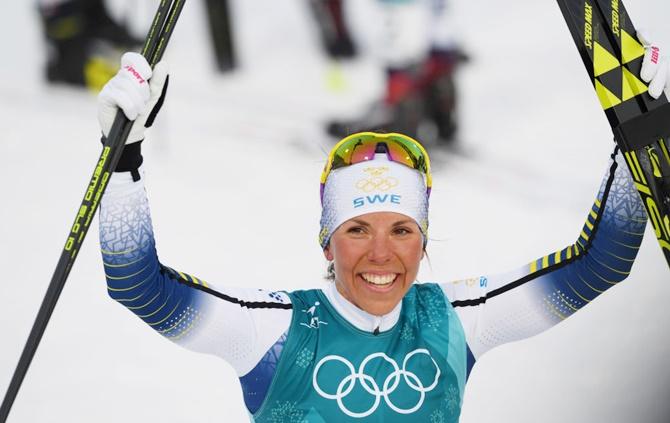 IMAGE: Charlotte Kalla of Sweden celebrates winning gold during the Ladies Cross Country Skiing 7.5km + 7.5km Skiathlon on Day 1 of the PyeongChang 2018 Winter Olympics. Photograph: Matthias Hangst/Getty Images.
Sweden's Charlotte Kalla won the first gold medal of the Pyeongchang Winter Olympics on Saturday after powering away from the field to secure victory in the women's 7.5km + 7.5km skiathlon.
Sochi Games champion Marit Bjoergen of Norway, who has decided to skip Thursday's 10km sprint race, took the silver 7.8 seconds behind and Krista Parmakoski of Finland won the bronze.
Kalla made her break midway through the last of the four laps, leaving Bjoergen to battle Parmakoski and Swede Ebba Andersson for the podium places.
It was the third Olympic gold medal for the 30-year-old Kalla, who won the 10km freestyle at Vancouver in 2010 and followed that up with a win in the 4x5km relay in Sochi four years later.
"I'm very happy today, it feels incredible," a beaming Kalla told a media conference.
With about a dozen racers close together as they made the switch from freestyle skiing to skating style, Kalla began evaluating when she would attack.
"During the first skating lap I knew it felt very good, so my plan was to try to do something quite early on the last skating lap," she explained.
"I didn't know exactly where Marit was, I knew that she was in the group somewhere, so I just tried to focus on my performance and not evaluate what the others did."
Kalla barely looked over her shoulder during the final three kilometres as she dug deep for victory.
"There were thoughts about maybe what are the others doing, but I just tried to focus on my performance all the time and just look forward," she said, acknowledging that she had found it tough.
"I know that I have been in the zone of pain many times in the summer and fall, and just looked forward all the time," she said.
Silver medalist Bjoergren has decided not to participate in Thursday's 10km race, but said it had nothing to do with her performance in the skiathlon.
"It's a decision I took a long time ago. I don't feel like I have a chance of a medal, so that's why I made this choice," she told broadcaster Eurosport.
Lim wins gold in 1500m to give hosts South Korea first medal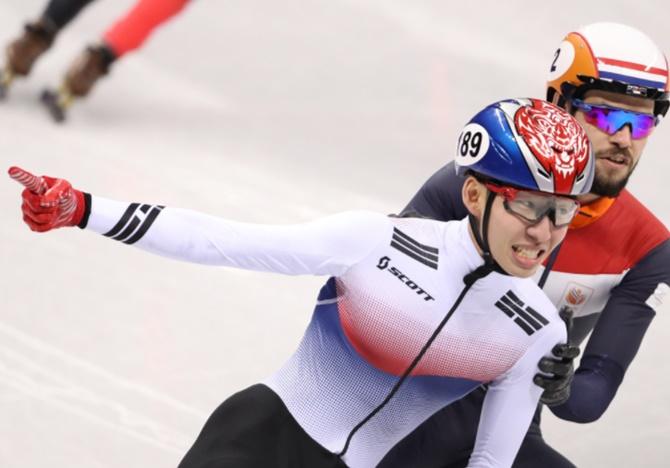 IMAGE: Lim Hyo-jun of South Korea celebrates ahead of Sjinkie Knegt of the Netherlands. Photograph: Lucy Nicholson/Reuters
Lim Hyojun won gold in the 1500m short track speed skating to give Olympic hosts South Korea their first medal at the Pyeongchang Games in front of a jubilant crowd at the Gangneung Ice Arena.
Sjinkie Knegt of the Netherlands took silver, while Olympic Athlete from Russia Semen Elistratov won the bronze. Defending Olympic champion in the 1500m, Canada's Charles Hamelin, had a penalty.
Dutch sweep women's 3,000m as Wust settles for silver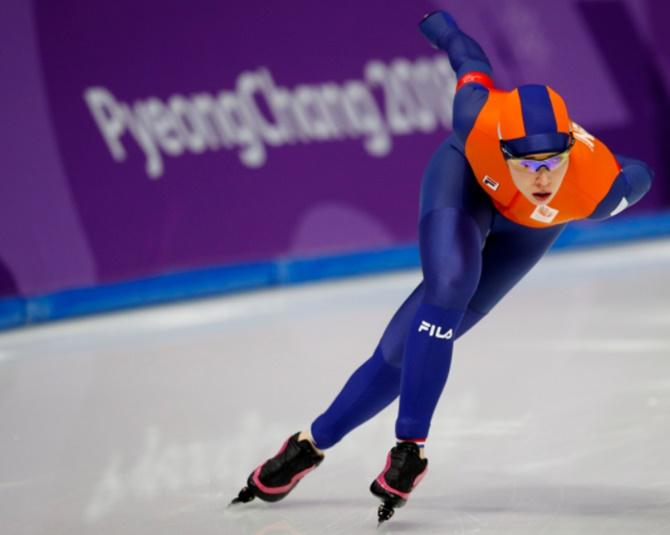 IMAGE: Carlijn Achtereekte of the Netherlands competes. Photograph: Phil Noble/Reuters
Dutch speed skaters got their campaign off to a blistering start with a clean sweep of the medals in the women's 3,000 metres at the Winter Olympics on Saturday as Carlijn Achtereekte edged out defending champion Ireen Wust to claim gold.
Wust finished 0.08 seconds behind Achtereekte at the Gangneung Oval, with Antoinette de Jong winning the bronze medal.
The 31-year-old Wust, who will retire after the Pyeongchang Games, was ahead of Achtereekte until the last lap but slowed coming out of the final corner to just miss out on gold.
The gold was Achtereekte's first-ever Olympic medal, while Wust's silver draws her level with Germany's Claudia Pechstein on nine career Olympic medals, the most by any speed skater.
Skier Vonn in tears over memory of grandfather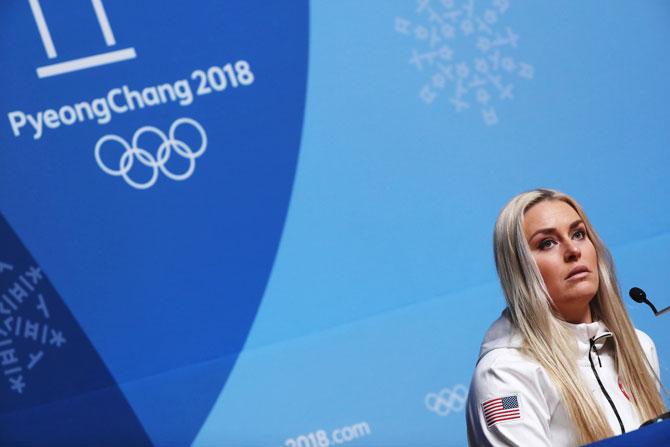 IMAGE: United States' alpine skier Lindsey Vonn attends her press conference at the Main Press Centre during previews ahead of the PyeongChang 2018 Winter Olympic Games in Pyeongchang in South Korea on Friday. Photograph: Ker Robertson/Getty Images
American skier Lindsey Vonn burst into tears during her arrival press conference at the Winter Olympics on Friday when asked about the passing of her grandfather.
Vonn's 88-year-old grandfather Don Kildow passed away last month and the skier has spoken several times of his importance in her life.
Kildow served in the U.S. military in Korea during the war in the country in the 1950s.
Asked by a reporter how his memory resonated with her now she was in Korea, Vonn said: "It's really hard. I wish you hadn't said it. It's really hard for me not to cry.
"I want so badly to do well for him. I miss him so much, he has been such a big part of my life and I really had hoped that he would be alive to see me," she said in tears after pausing.
"But I know that he is going to help me and I am going to win for him."
Vonn, who is the most successful woman skier on the World Cup circuit with 81 career victories, is looking to repeat her downhill gold from Vancouver in 2010 after missing out in Sochi four years ago due to injury.
Jamaica's women proud to carry on 'Cool Runnings' legacy
Thirty years on from the Jamaican men's bobsleigh team's Olympic breakthrough that inspired the cult movie 'Cool Runnings', a women's team from the Caribbean nation will blaze a similar trail at the Winter Games in Pyeongchang.
Driver Jazmine Fenlator-Victorian, who competed for the United States at Sochi, and Carrie Russell booked their qualification only weeks ago on a sled named 'Cool Bolt', a nod to both the film and great Jamaican sprinter Usain.
"A lot of people know of bobsleigh because of the movie 'Cool Runnings' and Jamaica making that launch in 1988 and really pushing bobsleigh with their popularity," Fenlator-Victorian, born to a Jamaican father, told reporters on Friday.
"But we're also humbled and honoured to be compared to those men that started and fought so hard to represent Jamaica.
"I mean, in less than six months they competed in the Olympics and although it didn't have a great result it was more about taking those steps and pathway and paving a way and that helped a lot of us be here today."
As Jamaica's first Winter Olympians, the men's sledders were considered the ultimate underdogs at the 1988 Calgary Games and their appearance drew huge media attention.
Fenlator-Victorian and Russell are determined to bring more than novelty value, however, and have made huge strides in recent months, finishing seventh at a World Cup event in Winterberg, Germany, in December.
\"It's important for us as a women's team to show people that women can do dangerous, speedy, strong, fast sports as well as," Fenlator-Victorian said.
"It's important for us to show that Jamaica can do it.
"It doesn't matter that we're a small island and that it's 30 degrees Celsius in here. The other day in training it was minus 30."