Sweden beat Britain to win men's curling gold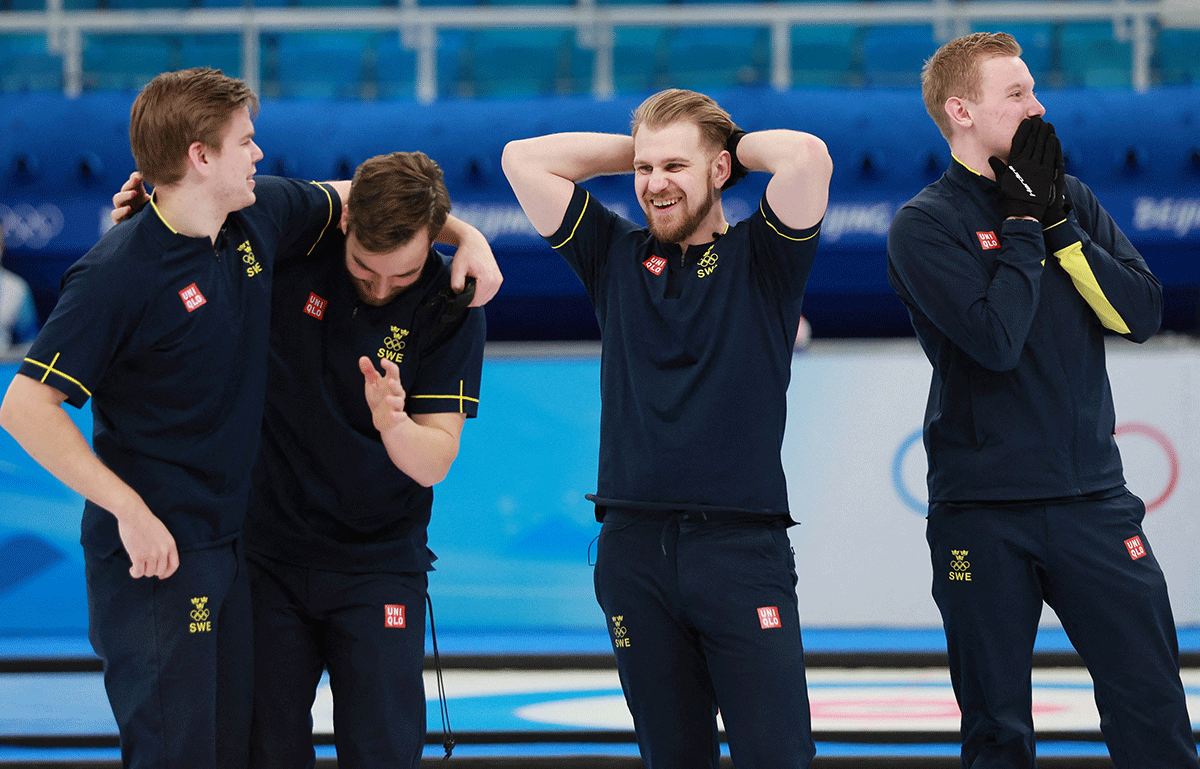 Sweden clinched their first men's Olympic curling gold medal after skip Niklas Edin led them to a 5-4 extra-end victory over Britain in a controlled but tensely-fought contest at the National Aquatics Centre on Saturday.
Edin read the ice to near-perfection in a close, tactical battle, forcing Britain to draw for one in the 10th end before he delivered the knockout blow in the extra end without playing his final stone.
The door was open for Britain's Bruce Mouat to potentially lie two and seal the win but he could not dislodge the red Swedish rock in the button despite frantic efforts from his sweepers.
There was a literal silver lining for Britain, however, as their second-placed finish brought the nation's first medal at the Beijing Olympics.
Edin's Sweden surprisingly finished runners-up to the United States four years ago in Pyeongchang, while they also won bronze at the Sochi Games in 2014.
On Friday, Canada beat the U.S. 8-5 to win bronze and ensure the country avoided a podium shutout at the Olympics, after their mixed doubles and women's teams missed the playoffs.
Cross-country skiing - Red-hot Bolshunov braves cold to take gold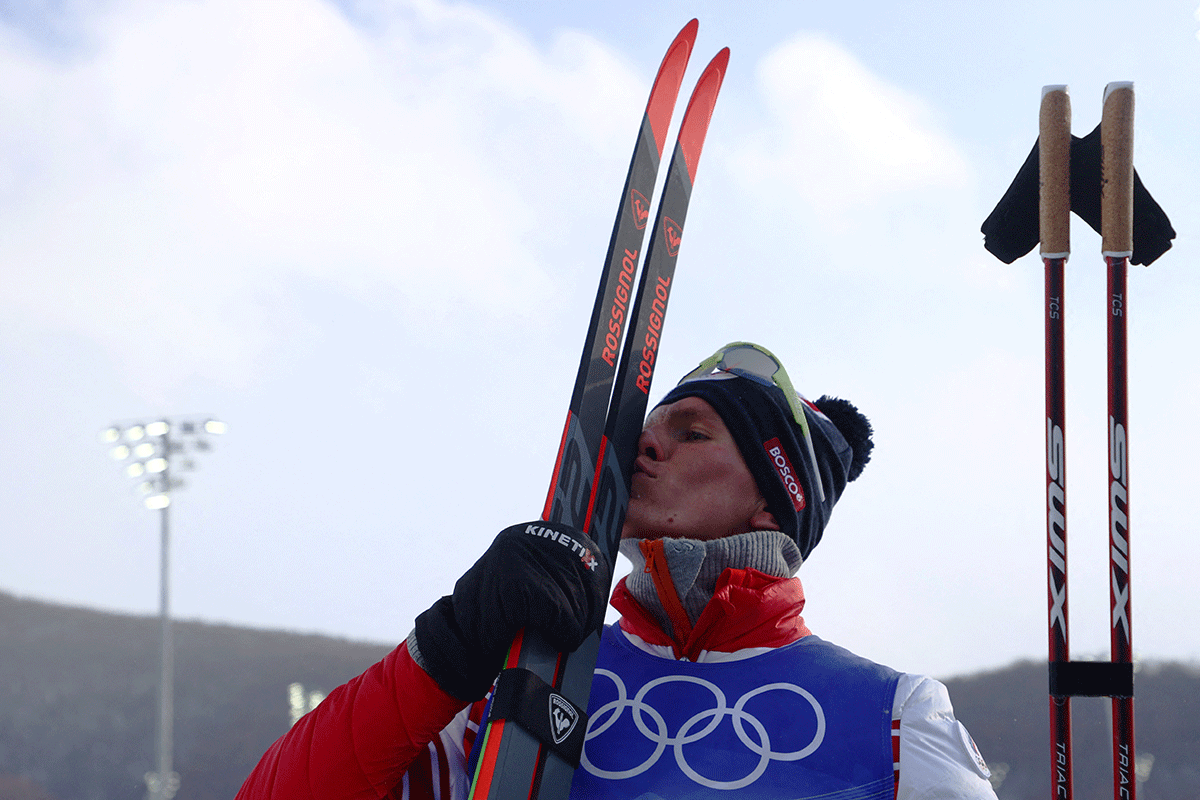 Alexander Bolshunov brushed off fears of frostbite to take gold for the Russian Olympic Committee in the men's 50km freestyle race on Saturday, saying the harder the conditions, the easier it was for him and his team.
The race was put back by an hour and cut to 30km due to bitterly cold temperatures and biting winds at the National Cross-Country Centre but the changes did not bother Bolshunov, who would have preferred to go the full distance.
"I wouldn't exactly feel good with this kind of weather, but I did say that the more challenging it is, the easier it is for us (the Russian team)," he told reporters.
"When I found out that the race would be shortened, I was a bit upset, I was getting ready for 50km but then I understand with the gusty wind like that and freezing temperatures, the outcome wouldn't have been as good, possibly.
"Then as we started skiing we eventually got warmer, picked up the pace but, all in all, I can say in retrospect we could have done all 50 kilometres."
Conditions improved as the afternoon wore on, making for a brilliant spectacle as the Russians battled it out with their Norwegian rivals as Simen Hegstad Krueger took the bronze medal.
"In the morning the weather was harder, the wind was stronger and the temperature was colder. When we started the race, the weather got a bit better," said Bolshunov, who set a record of five cross-country medals at a single Winter Olympics.
Silver medallist Ivan Yakimushkin said the distance did not matter and that there was only going to be one winner in the final men's race of the Games.
"Alex wanted to go the full distance and he would have won anyway, but on a longer distance he would have been much more uncomfortable and he would have to wait for us and get cold," he said.
Speed skating - Swings wins mass start, brings first Belgian Winter gold in 74 years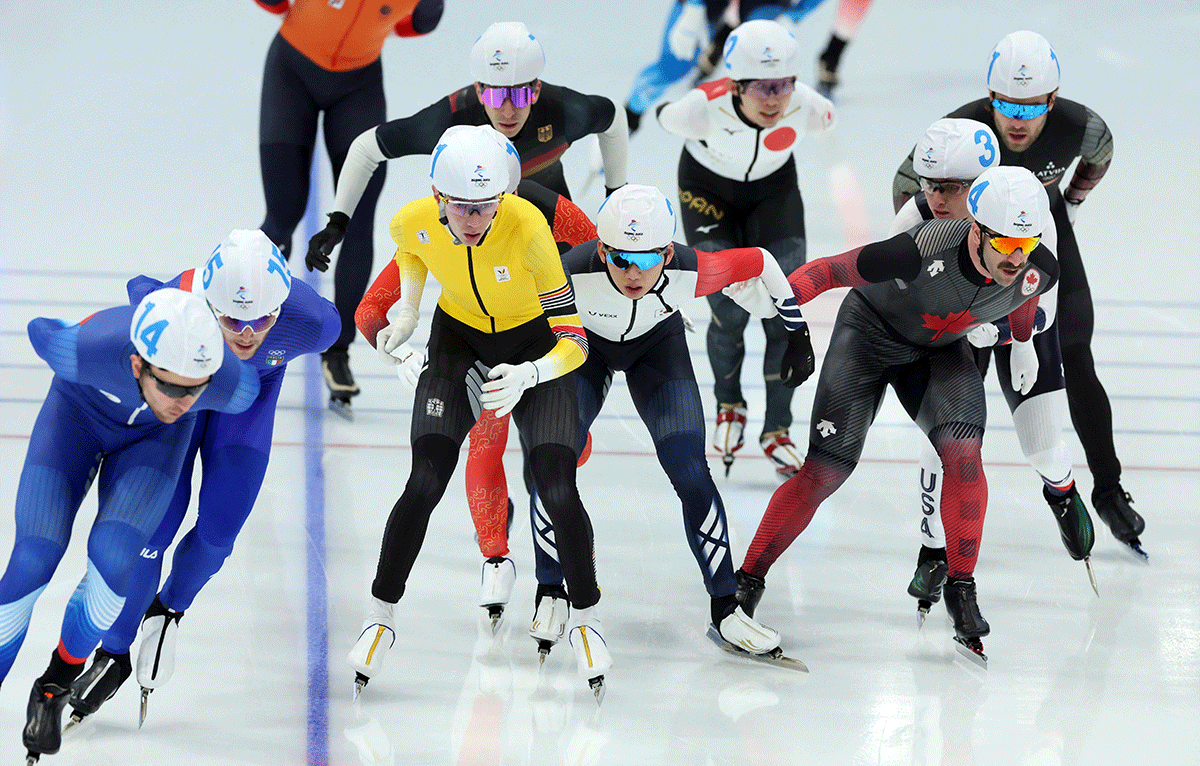 Belgian Bart Swings beat rivals in a blistering skate rounding the final corner of the men's mass start at the Beijing Olympics on Saturday to win his country's first Winter Games gold medal in 74 years.
The silver medallist from Pyeongchang initially hung back before the race turned into a blistering sprint to the finish line.
Still in second place, Swings skated for his life as he rounded the final corner to overtake bronze medallist Lee Seung Hoon and thrust his legs out at the finish line in desperate hopes to be the first to cross it.
He immediately looked up to see the results, and threw his hands up in delight when he saw that he had clinched the first Belgian Winter Games gold since 1948 when Micheline Lannoy and Pierre Baugniet won in the pairs figure skating competition.
"It's historical and it's unbelievable," the 31-year-old said after his race.
"I always want to raise the bar and the next thing after silver is gold. I know it was ambitious and it's a dream to work towards. I knew today everything could happen so I was just going to go as hard as possible and eventually I achieved it," the three-times Olympian added.
In a sport that has been long dominated by the Netherlands, Swings was also the first Belgian-born speed skater to stand on the podium at the Winter Games when he won silver in Pyeongchang in the same event.
"I had a lot of pressure for myself because I had a goal and I wanted to achieve it," Swings said.
"But I also know at the mass (start) everything can happen so I was super nervous the last days last week, because once you have that medal you know how bad you want it again," he added.
In the final frenzy of the race, Chung Jae Won of South Korea took a separate, inner line to come in second and claim the silver.
Chung's compatriot Lee looked set for gold as he rounded the last corner, but lost steam in the last stretch as he was overtaken by Swings and landed bronze instead.
Dutchwoman Schouten wins gold in women's mass start
Dutchwoman Irene Schouten swept around the National Speed Skating Oval on Saturday to win gold in the women's mass start and continue the Dutch dominance of the event at the Beijing Olympics.
In a dramatic showdown between Schouten and Canadian Ivanie Blondin, Schouten broke away from the pack as the bell sounded signifying the last lap, before Blondin took an inner line to overtake her with half a lap to go.
Blondin still had the lead when they rounded the last corner, but Schouten skated with everything she had left to overtake Blondin in the last few metres before the finish line.
The mass start title marks the third Beijing gold for the 29-year-old.
Ivanie Blondin of Canada claimed silver and Francesca Lollobrigida of Italy took bronze.
Skier Kenworthy urges IOC to consider China's human rights stance
Freestyle skier Gus Kenworthy, an advocate for LGBT+ rights, said on Saturday the International Olympic Committee (IOC) should take a host nation's stance on human rights issues into consideration when awarding the Games.
Rights groups have long criticised the IOC's choice of Beijing as 2022 host, and several countries including the United States and Britain mounted diplomatic boycotts to protest China's treatment of its minority Muslim Uyghur population, which the United States deems to be genocide.
China denies allegations of human rights abuses.
"I am absolutely a fan of Olympics. I also think, that being said, because it's the world stage and everyone is watching, there is an opportunity to create positive change and the IOC could help dictate that change by pushing on certain issues," he said after the men's freeski halfpipe final on Saturday.
"Those issues are human rights issues," he said.
The British-born Kenworthy, who won silver for the United States in slopestyle in Sochi in 2014 and is now competing for Britain, said China had put on an impressive Games, given the pandemic, but stressed that the Olympics had the ability to bring about positive change.
"When there's human rights and the country's stance on LGBT, those issues should be taken into consideration by the IOC," he said after finishing eighth.
The IOC has said human rights will be protected for all participants as part of the host contract, but emphasised that it does not have the power or mandate to change laws or interfere with a sovereign state.
Homosexuality is legal in China, which until 2001 had classified it as a mental disorder, but same-sex marriage is not recognised and concerns over stigmatisation still discourage many people from coming out to their families.
Kenworthy has said that when he competed in Sochi, he was worried that someone would find out that he was gay, given Russia's anti-LGBT legislation. That experience ultimately led him to come out, he said earlier this week.
Website OutSports estimates that there are more than 30 LGBT+ athletes competing in Beijing.
Taiwan premier orders probe of speed skater who wore Chinese uniform
Taiwan Premier Su Tseng-chang has ordered an investigation into a Taiwanese speed skater who posted a video of herself wearing a Chinese uniform shortly before the Beijing Winter Olympics began.
Huang Yu-ting put the video on her Instagram page but removed it after attracting fierce online criticism in Taiwan, where many people view China, which claims the island as its own territory, as a grave threat to their freedom and way of life.
Huang, one of only four Taiwanese athletes at the Winter Games, later defended herself on Facebook saying "sports is sports" and when competing everyone is "good friends". Those comments prompted further anger towards her in Taiwan.
In a Saturday statement, Su's office said the premier believed Huang's actions were "extremely inappropriate" and has asked the Education Ministry and the Sports Administration under it to investigate her and give an "appropriate punishment".
Taiwan's Presidential Office added in a separate statement that it supported the "necessary" investigation and punishment.
"Members of the national team represent the country in competitions, and there should not be any controversial words or deeds that damage the nation's honour," President Tsai Ing-wen's spokesperson Xavier Chang said.
Huang, who carried the team flag at the opening ceremony, did not immediately respond to a request for comment, but speaking to reporters in Beijing on Thursday reiterated the uniform had been given to her by a Chinese friend.
"For me, it was just the friendship. She gave it to me, the suit, and I just wore it when I was practicing. I didn't mean anything. I posted the video because I just want to tell everyone that I go to the Olympics. I am happy with that," she said, speaking in English.
The Olympics has only added to tensions between Taiwan and China, though the Games are supposed to put politics aside.
Taiwan's government rebuked China on Friday for using the Games to assert its sovereignty claims over the island, saying the country had "cast a shadow" over the peaceful spirit of the event to spread "propaganda".
Figure skating-Chinese pair banish fraught Games with home gold
China's Sui Wenjing and Han Cong made sure the Beijing Games' controversial figure skating competition ended in celebration on Saturday by winning the pairs title for the sport's final gold medal to the rapture of local fans.
Fevered cheers and thunderous applause filled the Beijing Capital Indoor Stadium as the pair's free skate score was announced in Mandarin, giving China the first figure skating trophy since pairs Shen Xue and Zhao Hongbo in 2010.
Sui and Han, partners for 15 years - their entire career since they were children - were clearly in their element on home ice as they executed a series of high-scoring elements.
Their opening quadruple twist lift in their free skate to "Bridge Over Troubled Water" sent spectators into a frenzy, with cheers erupting between hushed moments as they performed most of their jumps and throws with clockwork precision.
Their final score of 239.88 beat the world record of 239.82 held by Russians Anastasia Mishina and Aleksandr Galliamov.
Russians Evgenia Tarasova and Vladimir Morozov took silver with 239.25 points while the Mishina-Galliamov duo won bronze with 237.71.
The Games' figure skating competition has been embroiled in turmoil over Russian teen Kamila Valieva's doping case.
The 15-year-old, now back in Russia, was cleared to compete in the women's singles event despite having tested positive for a banned substance prior to the Games.
She finished in fourth place amid all the drama.
US skaters' bid to receive team silver medals denied
The American figure skaters who won silver in the Olympic team event will not receive their medals before the end of the Beijing Games, the Court of Arbitration for Sport (CAS) ruled on Saturday.
The nine skaters were appealing a decision by the International Olympic Committee (IOC) not to award any medals for the event until the doping case of Russian 15-year-old Kamila Valieva has been resolved.
That matter could take weeks or months.
Nolte and Levi of Germany take two-woman bobsleigh gold
Laura Nolte and Deborah Levi of Germany won the gold medal in the two-woman bobsleigh at the Beijing Winter Olympics on Saturday.
Mariama Jamanka and Alexandra Burghardt of Germany took silver with Elana Meyers Taylor and Sylvia Hoffman of the United States clinching bronze.