Zagitova gives OAR first Pyeongchang gold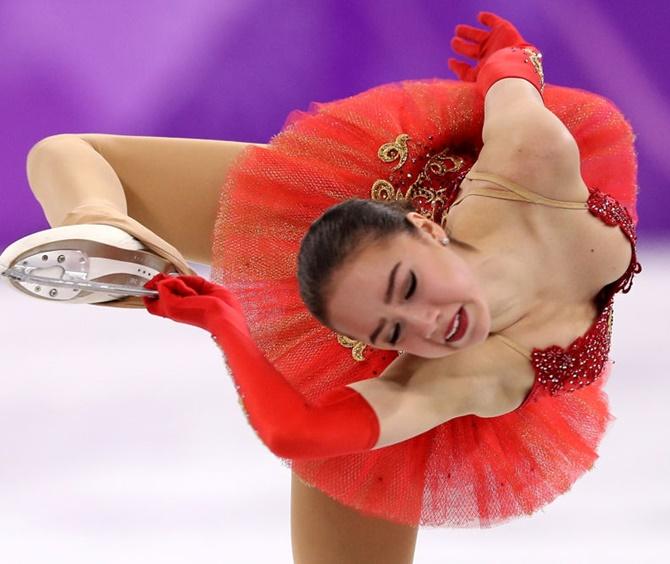 IMAGE: Alina Zagitova of Olympic Athlete from Russia competes during the Ladies Single Skating Free Skating. Photograph: Maddie Meyer/Getty Images
Russian teenager Alina Zagitova edged compatriot Evgenia Medvedeva with a stunning free skate on Friday that earned the Olympic Athletes from Russia a first gold at the Pyeongchang Games.
The 15-year-old, who lead Medvedeva by just over one point after a record-setting short programme on Wednesday, effortlessly executed every element of her jump-packed free skate, earning 156.65 points for the performance and 239.57 points overall.
Skating to Don Quixote by composer Leon Minkus in a flashy red tutu, Zagitova held on for her opening jump, a triple Lutz, and went on to land another six triple jumps.
Medvedeva, who trains with Zagitova under the same coaches, won silver with a spectacular skate that put her 1.31 points behind Zagitova in the overall score.
The training partners embraced after the competition, exchanging congratulations.
"I'm very happy that I was able to win a medal for our team," Zagitova told reporters. "I think this is only the beginning. Everything is still ahead."
Skating last, Medvedeva was visibly disappointed after her second-place score was announced. But the 18-year-old said she had been satisfied with how she had skated.
"I wanted to end these Olympics without any regrets. I was able to do that," Medvedeva said. "A great sports life awaits me. And like today, I will leave everything on the ice. I won't think of the past."
The performances of Zagitova and Medvedeva in Pyeongchang reasserted the dominance of Russian women figure skaters on the international stage with third-placed Canadian Kaetlyn Osmond more than seven points behind Medvedeva on 231.02.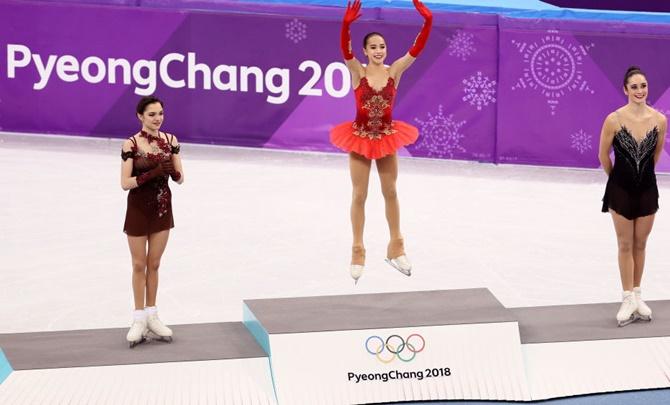 IMAGE: From left, silver medal winner Evgenia Medvedeva of Olympic Athlete from Russia, gold medal winner Alina Zagitova of Olympic Athlete from Russia and bronze medal winner Kaetlyn Osmond of Canada celebrate during the victory ceremony for the Ladies Single Skating Free Skating. Photograph: Jamie Squire/Getty Images
"The Russian girls are impressive," said Osmond, who helped Canada win gold in the team event. "They're consistent and do everything that the sport is asking for. That's just something that everyone else has to try to keep up with."
The Russian Olympic delegation in Pyeongchang last week said they were unhappy that Olympic gold had eluded Russian competitors in the first half of the Games, stressing it expected one of its female figure skaters to end the drought.
Russians in Pyeongchang are competing as neutrals, a penalty imposed over allegations that the nation had systematically manipulated anti-doping testing at the 2014 Sochi Games.
Some of Russia's top athletes were not cleared to compete by the International Olympic Committee (IOC).
With Friday's figure skating medals, the OAR now have one gold, five silver and eight bronze medals and are currently 15th in the medals table with two days of competition remaining.
A few months ago, it seemed that Medvedeva would easily clinch Olympic gold as she repeatedly extended her winning streak.
But she suffered a foot fracture that sidelined her from the Grand Prix Final in December and gave Zagitova, competing in her first senior season, a chance to fill the void left by Medvedeva's absence.
Zagitova last month spoiled Medvedeva's injury comeback at the European championships in Moscow, handing her a first defeat since November 2015 and establishing herself as a Pyeongchang gold medal favourite.
In third after the short programme, Osmond stepped out of her opening triple Lutz but recovered to cleanly complete her free skate.
The 22-year-old Canadian said she has been trying to catch up with the Russian skaters.
"I'm trying to close the gap as little as I can," Osmond said. "It takes just doing what we can, pushing as hard as we can."
Italy's Carolina Kostner, who was competing in her fourth and final Olympics and was sixth after the short programme, stepped out of her triple flip and put her hand down, finishing fifth overall.
Freestyle skiing: Serwa leads Canadian one-two in ski cross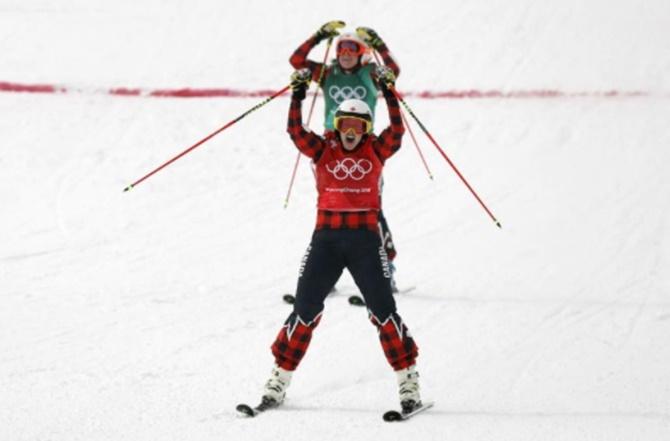 IMAGE: Kelsey Serwa of Canada reacts after winning the event. Photograph: Issei Kato/Reuters
Kelsey Serwa pulled away from compatriot Brittany Phelan to claim ski cross gold on Friday as Canada secured a one-two finish ahead of Switzerland's Fanny Smith, who edged out Swede Sandra Naesland in a bustling battle for bronze.
Serwa's comfortable victory enabled Canada to continue their domination of the event, the country having now won all three ladies ski cross golds since it was added to the Olympic program at Vancouver in 2010.
The 28-year-old Serwa improved on her silver medal from Sochi four years ago but it was a bittersweet event for the Canadians after reigning champion Marielle Thompson crashed out in the first heat, catching the ski of Sweden's Lisa Andersson.
There was also a worrying crash for the fourth Canadian, India Sherret, who lost control entering a jump in her heat, before flying over the top and into a hard bank of snow.
The extent of her injuries remains unclear, although the Canadian team confirmed Sherret was in a stable condition and being assessed at a hospital.
With two Canadians in the final, it promised to be yet another fruitful return for the team and so it proved as Smith and Naesland become embroiled in an early barging match, leaving their two rivals a chance to pull away.
"It was just great. It was just perfect," an ecstatic Serwa told reporters after crossing the line ahead of her best friend. "There are no secrets between us because we want each other to succeed and it worked."
A silver medal is Phelan's reward for switching from Alpine skiing after competing at Sochi and she praised Serwa for teaching her the intricacies of ski cross.
"She is my best friend and is someone who has taught me everything about this sport when I switched from Alpine," the former slalom skier said.
"I love Alpine and I definitely miss it but I was made to be a ski cross racer and I proved that today."
As the Canadians raced away, a controversial battle was ensuing between Smith and Naesland for third.
After the race, both accused the other of using elbows to gain an unfair advantage, with Naesland distraught at having missed out on a medal.
"It was an unfair fight I think," said the Swede, who added that she would be seeking a conversation with Smith once she had cooled down.
"I did the same back also so I wasn't any better but she started it when I was on the way to passing her."
"She put her elbow out and stopped me."
Smith argued that it was just part of the sport.
"It is ski cross. We are not doing Alpine. For sure we pushed but she pushed, I pushed," the 25-year-old said.
"We are equal in this fight. We were both there and both did the same. It is what ski cross is."
Thompson, who qualified in first position coming into the heats, said she was pleased just to be competing at another Olympics after rupturing knee ligaments back in October.
"I am disappointed with how the race run but I am really proud that I was able to race here and compete for Canada," the Sochi gold medalist told reporters.
"That was an accomplishment in itself."
Norway curlers to get Russia's doubles bronze in Pyeongchang
Norway's mixed doubles curlers team will be awarded the bronze at a ceremony at the Pyeongchang Olympics after the medal was stripped from the Russian pair for doping earlier this week, the International Olympic Committee (IOC) said on Friday.
The Norwegians will have the rare honor for athletes to receive the medal they lost out on at the same Games, as the procedure of medal reallocation for doping can often last months or even years.
The IOC is now in the process of reallocating some medals from as far back as the Beijing 2008 Olympics after re-tests of drugs samples returned several positive tests.
Earlier this week, Russian curler Alexander Krushelnitsky tested positive for the banned substance meldonium and he and his wife, Anastasia Bryzgalova, were stripped of their medal after he accepted the anti-doping rule violation.
"We are hoping there will be a reallocation ceremony for the bronze medal winners before the closing ceremony (on Sunday)," IOC spokesman Mark Adams told reporters. "We are very confident it will happen. I cannot say when yet."
Krushelnitsky and Bryzgalova have agreed to surrender their medals, with the case coming at a delicate time for Russia, which has been accused of running a state-backed, systematic doping program for years, an allegation Moscow denies.
Russians are competing at Pyeongchang as neutral athletes, and the country had been hoping that a clean record at the Games would enable it to return to full Olympic status.
Canada won gold in the mixed doubles event and Switzerland earned the silver medal.