Zagitova leads with world record, Medvedeva close behind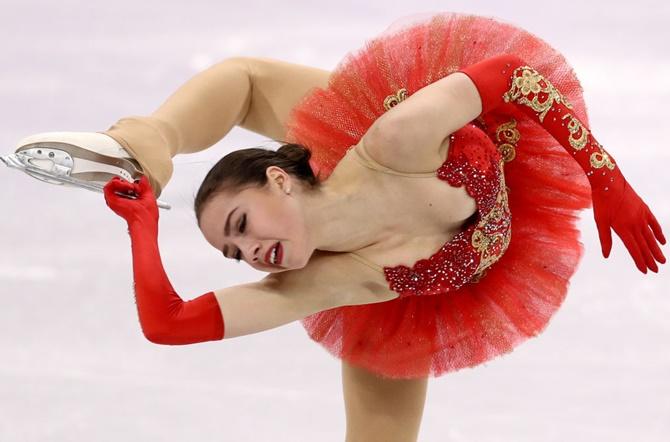 IMAGE: Alina Zagitova of Olympic Athlete from Russia competes in the Figure Skating. Photograph: Maddie Meyer/Getty Images
Alina Zagitova took the lead in women's Olympic singles figure skating with a world record short skate, on Wednesday, giving her a strong chance of becoming the first Olympic Athlete from Russia to win gold in Pyeongchang.
Zagitova's routine to "Black Swan" featured three triple jumps, including a triple Lutz and triple loop combination, and was awarded 82.92 points.
"I'm happy to have a clean skate and really grateful to myself for that," the 15-year-old said via a translator.
"I don't think it was my best, I can be better. My next goal is to of course have a clean free skate."
Should she win gold in the final on Friday, Zagitova will be the second youngest to do so. America's Tara Lipinski was also 15 when she topped the podium in Nagano in 1998, but was about a month younger than Zagitova.
Her compatriot Evgenia Medvedeva, who set a world record before Zagitova broke it about 15 minutes later, was second on 81.61 points. Canada's Kaetlyn Osmond was third on 78.87.
"It was not my best but it was okay," Medvedeva told reporters. "Every day I see Alina working so hard and she did her best today," added the 18-year-old who trains with the same coach as her compatriot.
Medvedeva was for a long time favored to top the podium in Pyeongchang but suffered a broken foot which reduced her training time and she lost for the first time in two and half years in January when she was beaten by Zagitova at the European Championships.
"I was calm performing the routine, the game will go on. I am happy with setting a new personal record," Medvedeva said.
"I'm good friends with Alina, I practise together with her and talk with her all the time."
Olympic Athletes from Russia have yet to win a gold medal at the Games, but both skaters shrugged off the prospect of changing that.
Mirai Nagasu of the United States came into the event with high expectations but fell on her triple Axel after becoming the first American to nail it in the Olympics during the team competition and she bobbled her triple loop to end up ninth.
'Samurai' Goggia denies Vonn to win downhill gold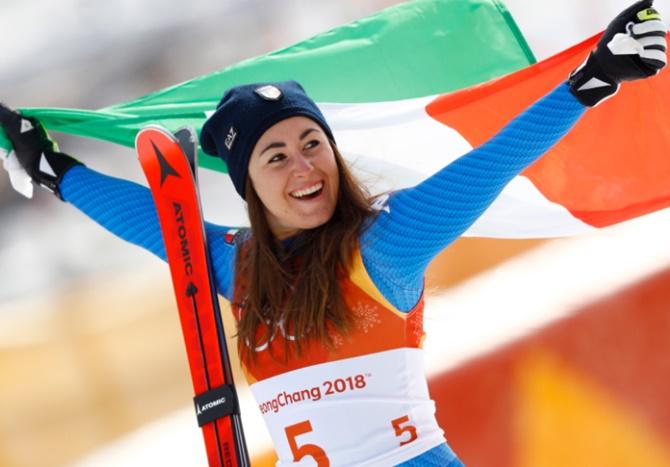 IMAGE: Sofia Goggia of Italy reacts during the victory ceremony. Photograph: Kai Pfaffenbach/Reuters
Italian Sofia Goggia carved up the Jeongseon slope 'like a Samurai' to win the women's downhill and leave American Lindsey Vonn with a bronze medal in her final run in the marquee event of Olympic Alpine skiing.
The bubbly 25-year-old from Bergamo clocked one minute, 39.22 seconds to take gold ahead of Norwegian Ragnhild Mowinckel, whose time of 1:39.31 won her a second silver after her second place in giant slalom last week.
"I still don't realise I'm first, I was really focused, I moved like a samurai," said Goggia.
"Usually, I'm really chaotic but I wanted to take in every little detail, every particular in the morning. I believed in myself - and then what counts, counts."
Mowinckel's late run meant Vonn had to settle for third place in 1.39.69, her third Olympic podium making her the oldest female medallist in Alpine skiing at the Winter Games.
"I gave it all today, skied a great race. Sofia just skied better than I did," said the 33-year-old, who was reduced to public tears for the third time at Pyeongchang after the race.
"It was tough to contemplate this being my last Olympic downhill. I struggled to try to keep the emotions together, but I left it all on the mountain like I said I would.
"I skied really well, but I think Sofia is untouchable today."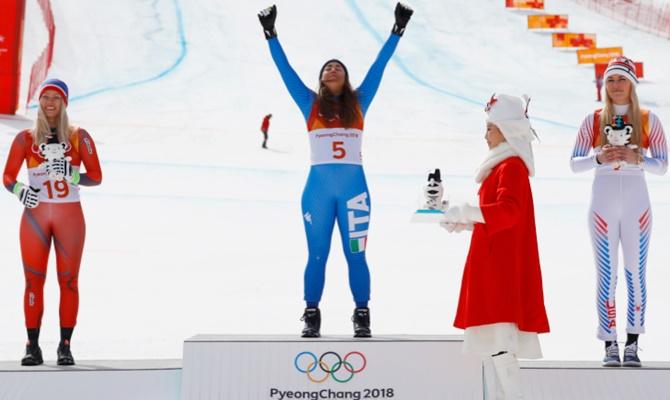 IMAGE: Gold medallist Sofia Goggia of Italy celebrates her victory as she is flanked by silver medallist Ragnhild Mowinckel of Norway and bronze medallist Lindsey Vonn of the US during the flower ceremony. Photograph: Leonhard Foeger/Reuters
This was no shock in the manner of snowboarder Ester Ledecka's win in the super-G at the weekend as Goggia leads the World Cup downhill standings, even if the Italian had finished second behind Vonn in their two most recent meetings.
Looking charged with confidence as she exploded out of the start, Goggia really hit her straps in the mid-section of the run and produced a run that perfectly mixed her natural aggression with iron control.
"I didn't take any risks," Goggia added. "I just used my brain because I have one sometimes and I use it. I just tried to focus on two points of the slope and I skied really focused."
Goggia gave a shrug after crossing the line knowing that Vonn, the most decorated female skier of all time, was going to be going out two spots behind her.
Vonn won downhill gold in Vancouver eight years ago and, after missing the chance to defend it in Sochi because of one of the many injuries that have scarred her career, had hoped to reclaim the title in Pyeongchang.
She made a strong start on the icy slope but looked a little tentative as she tried to stick to her racing line at the top of the mountain, leaving herself too much to do in the bottom part of the run.
The American four-times overall World Cup champion still looked destined for a silver medal until flying Viking Mowinckel, who has never graced the podium in a World Cup downhill, threw caution to the wind to claim a surprise silver.
"This is a really big surprise," said Mowinckel, whose medal was a record sixth in Alpine skiing for her country at the Games.
"I couldn't have done it much better than this, this was my best downhill ever."
Mowinckel's thrilling run in bib 19 knocked Tina Weirather out of the medals and deprived the Liechtensteiner of a second bronze to add to the one she won behind Ledecka in the super-G.
Weirather was fourth in 1:39.85 ahead of American Alice McKennis, who along with seventh placed team mate Breezy Johnson will give the American team hopes of a strong future in Olympic speed racing once Vonn has hung up her skis.
"It's sad," Vonn added. "I wish I could keep going, I'm having so much fun and I love what I do, but my body just can't take another four years.
"During Sochi I was on the couch watching the Olympics after my second ACL surgery. I've had a lot of ups and downs, mostly downs, in that time ... It's all worth it."
Goggia paid tribute to her American rival.
"Lindsey is a great skier, the greatest skier, a great person and a great woman," she said. "It's always an honour to take part in the same race as her. It's fun too."
Sochi bronze medallist Lara Gut, who was pushed off the podium by Ledecka's sensational run on Saturday, had another disappointing day and failed to finish after coming wide off a jump and missing a gate.
South Korean 'Garlic Girls' savour overnight fame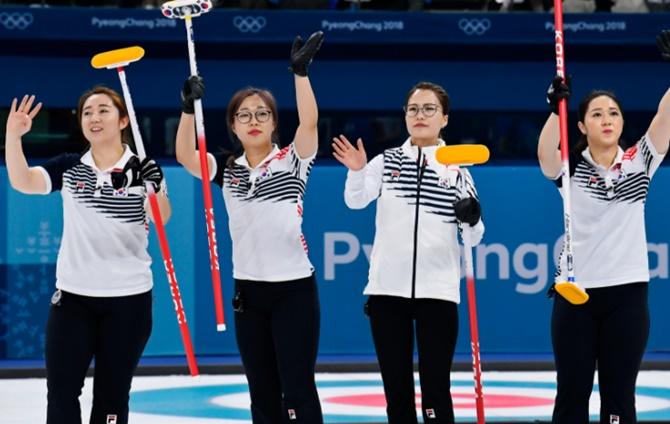 IMAGE: Kim Eun-jung, Kim Kyeong-ae, Kim Seon-yeong and Kim Yeong-mi of South Korea celebrate. Photograph: Toby Melville/Reuters
South Korean women curling team, nicknamed "Garlic Girls" to go with their other monikers, have become overnight internet sensations following their stellar performance and cool-headedness at the Pyeongchang Games.
Kim Eun-jung's foursome became the first Korean rink to reach the Olympic semi-finals after Tuesday's a 9-6 win over the United States. At the 2014 Sochi Olympics, South Korea's women team finished eighth.
Their fairytale run has been celebrated on social media by fans who posted memes and parody videos, with floor mops and robot vacuum cleaners, that went viral.
One of the best-known memes is a collage of South Korean curling skip Kim's never-changing facial expression, irrespective of the situation.
Team member Kim Yeong-mi said they had no clue about their newfound fame as they had turned off mobile phones to avoid distractions.
"Even when we had a national competition, we played without any crowd because curling has been unpopular and not well known, we didn't expect many people would come and watch us," she told reporters on Wednesday.
"We're just grateful for that."
Several factors worked in their favour.
For starters, all the five curlers -- Kim Eun-jung, Kim Yeong-mi, Kim Kyeong-ae, Kim Seon-yeong and Kim Cho-hi, have the same last name.
No wonder fans also call them "Team Kim."
While Kim Yeong-mi and Kim Kyeong-ae are siblings, all five hail from the same hometown of Uiseong, a county famous for garlic. Understandably, they are called the "Garlic Girls."
Furthermore, they are linked to Kim Yeong-mi in one way or the other. They are either Yeong-mi's sister, or a friend of Yeong-mi's sister, or at least her close friend.
Reflecting South Koreans' newfound interest in curling and the players, the Gangneung Curling Centre was nearly packed with spectators when games were held.
On Wednesday, the curling team beat Olympic Athlete from Russia 11-2 in the round robin session 11, continuing their winning streak.
Diggins delivers long-awaited US gold
Kikkan Randall and Jessica Diggins delivered the first Olympic cross-country medal for the United States since 1976 with a stunning victory in a thrilling finish to the women's team sprint relay.
Diggins held off the challenge of Sweden's Stina Nilsson in a furious sprint for the line to win gold and Norway's Marit Bjoergen became the most successful winter Olympian of all time with 14 medals after taking bronze with Maiken Caspersen Falla.
Sweden and Norway were hot favorites for yet another gold medal in women's cross-country skiing and the Nordic nations were at the head of the pack for almost the entire race.
With the racers each taking turns to speed around the 1,176-meter long track, Randall and Diggins fought to stay in touch with the leaders as the rest of the pack fell away after the halfway point.
Randall kept the Americans in the hunt on her final leg, handing over to Diggins for the sixth and final lap which was raced at a furious pace as the lead changed hands several times.
Well set up by team mate Charlotte Kalla, Sweden's Nilsson and Norway's Falla clashed as they approached the stadium for the final time, and skis touched again as Diggins sought a lane from which to make her push for glory.
She passed Falla and set her sights on leader Nilsson, who won gold in the individual sprint, as they rounded the final bend to set up an electrifying finish.
Diggins surged past and thrust her ski across the line 0.19 seconds ahead of Nilsson to claim a well-deserved golden reward for her 35-year-old team mate Randall in her fifth Olympics.
Finland claim bronze with win over Russians in ice hockey
Finland beat the Olympic Athletes from Russia 3-2 on Wednesday to claim the bronze medal in women's Olympic ice hockey.
The Finns built a two-goal lead twice and held off the Russians in the third period after they had narrowed the margin to one.
Petra Nieminen scored in the first period for the Finns, netting her third goal of the Games, and Susanna Tapani doubled the lead early in the second period.
Russia's Olga Sosina narrowed the margin to 2-1, but Linda Valimaki restored Finland's two-goal cushion later in the period.
Lyudmila Belyakova tallied on a Russian powerplay to make it 3-2 in the third and end the scoring.
Finland have now won three Olympic medals in women's ice hockey, all of them bronze. They last earned a medal in Vancouver in 2010 and their first came in Nagano in 1998 when women's hockey made its Olympic debut.
The gold medal game is set for Thursday, a showdown between Canada and the United States who are the only two countries to have won Olympic gold in the sport.