Ramkumar Ramnathan, on Friday, said encouraging words from Leander Paes and Rohan Bopanna helped him in getting India off to a winning start in the Davis Cup Asia/Oceania Group I tie against Uzbekistan.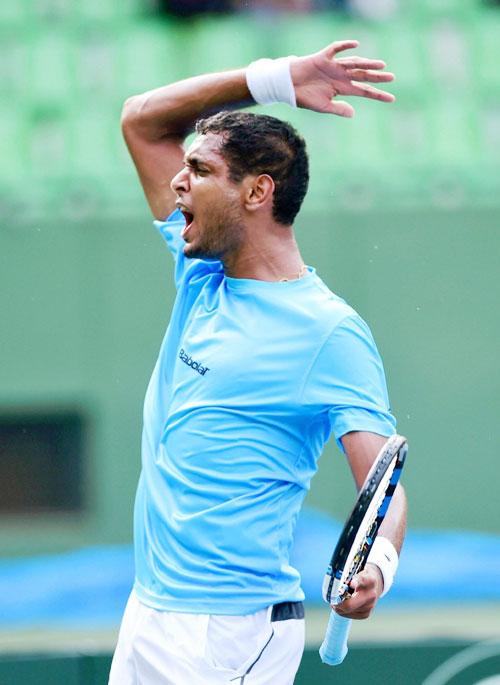 Ramkumar defeated Temur Ismailov in the first singles rubber in Bengaluru on Friday.
"Before the match I spoke to Leander and he told me to play for the country and 'Davis Cup is a great adventure, so give your best'," Ramkumar said.
Speaking to reporters after the match, he added, "Likewise, Bopanna also advised, but my physio made much of an impact."
On his unforced errors which cost him one set, Ramnathan said, "It happens in a long game, and yes I need to work on this. However, I played my best and happy to have played for the country."
Ramnathan said he wanted to play aggressively, but could not do so, as playing a tired opponent disturbed his rhythm.
"I wanted to play aggressive and wanted to play well, but I noticed he was struggling a bit with a pain, and realised he was tired. Playing a tired opponent is never easy as it disturbs my rhythm," he said.
Temur said his thigh was not okay and he felt some pain.
Lauding Ramnathan, Temur said he was a bit "brash".
"I played for the first time, the Davis Cup, and was a bit nervous. Ramnathan played solid and to the court. First set I was a bit brash and that is why it became 6-2. Then second one I won. Then slowly slowly I lost the 3-3 break, and eventually the match," he said.
Asked how severe was the pain in his thigh, Temur said, "I think I will be good by Sunday. I hope so."
Image: Indian Davis cup player Ramkumar Ramnathan celebrates after scoring a point during the first singles match of the Asia Oceania Group 1 tie against Temur Ismailov of Uzbekistan on Friday
Photograph: PTI