'The elements (weather conditions) is part of professional tennis and specially on this surface you have to be ready to adjust and acclimatise to the conditions'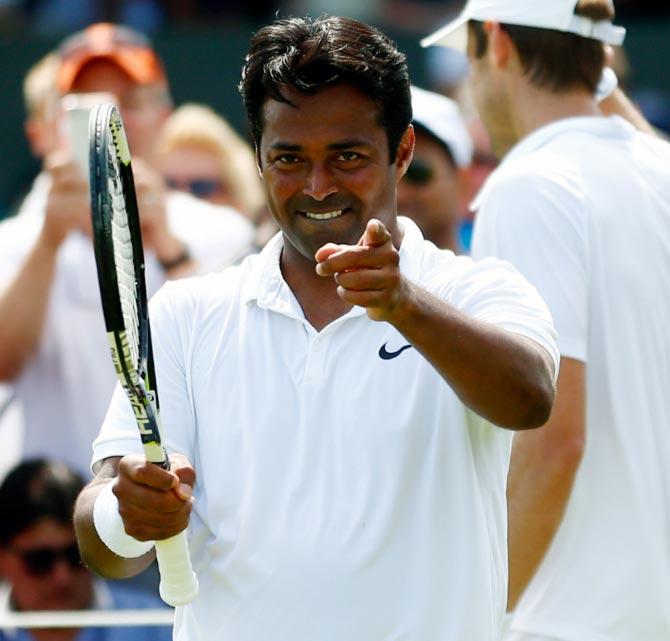 IMAGE: India's tennis legend Leander Paes. Photograph: Julian Finney/Getty Images .
With wet conditions, caused by incessant rain, adding to the challenge, veteran Indian tennis star Leander Paes says the team which adapts quickly will have the edge in the Davis Cup Asia-Oceania Group-I tie between India and South Korea, starting in Chandigarh on Friday.
"I think that tennis on grass is more technical; so the one who adjusts to these conditions faster is going to have a big advantage," Paes said after the draw.
The inclement weather in Chandigarh is likely to continue. According to the local MeT Department's director, Surinder Paul, more rain could occur in the city over the next 2-3 days.
Ram Kumar Ramnathan will take on Seong-Chan Hong, ranked more than 200 places below him, in the first singles on Friday.
"We were hoping that it would turn out like this, where Ram gets to play the first match.
"Also, we were thinking about whether Lim would play doubles or not. It will be interesting to see how the weather holds out and how the matches eventually get played. But, as a team, we are ready for any situation that arises," Paes said.
About wet conditions, he said, "We have played in wet conditions before, especially when we played against Switzerland in Kolkata. We had rain literally all through Thursday night and on Friday morning, when we got out there the court, it was really soft and damp. Being grass, we need to take care of that court really well."
The match will be played on the grass-courts of Chandigarh Club and Paes declared that the Indians are ready for the challenge.
"As a team we are all ready for the tie and hopefully we can start on time tomorrow, but if that doesn't happen, I believe we might be able to play three matches on Saturday -- two singles and a doubles -- which means we might have an earlier start on Saturday.
"We are all ready. The elements (weather conditions) is part of professional tennis and specially on this surface you have to be ready to adjust and acclimatise to the conditions," he added.
The 21-year-old Ram Kumar, who will make his Davis Cup debut for the country, said he is excited about taking the court first.
"That's what we wanted; I am looking forward to the tie," he said.
Asked if the rain could change the equations, India's non-playing captain Anand Amritraj said, "It was supposed to rain in last few days, but it has started now. We were lucky to get as much practice as we had. Now, today, of course, it is a complete washout.
"We hope we can start tomorrow, but it looks pretty bad. I am hoping we get this tie done by Sunday."
Rohan Bopanna, who will pair with Paes for the doubles, scheduled to be played on Saturday, against the pair of Hong Chung and Yunseong Chung, said the hosts are not taking the visitors lightly.
"Like captain (Amritraj) said, it's a great draw for us. As far as doubles goes, we have to play our best tennis. I don't think we were looking at any particular players (of the opposition) that we wanted to play with.
"They are a very good team. We have to play some good tennis."
Korea's non-playing captain Gap-taik Ro, meanwhile, also felt the weather conditions will play a part.
"Let's see how the weather plays out," he said, replying to a question.